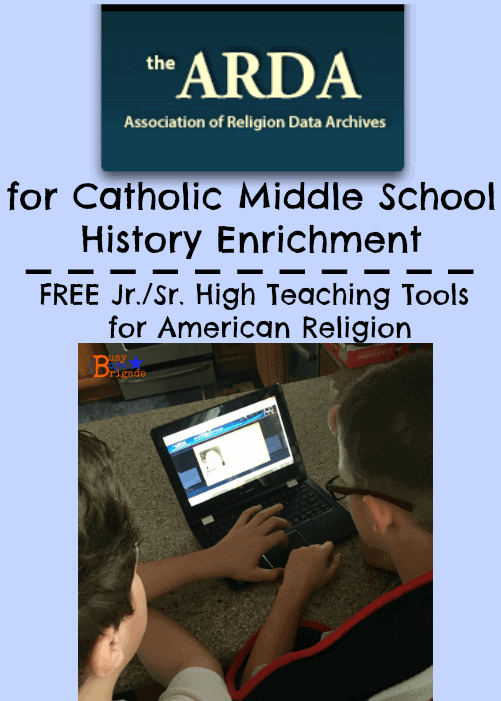 Disclaimer:  This is a sponsored post.  All opinions are honest.   I was not required to post a positive review.
Catholic middle school history was a subject matter that I both looked forward to and dreaded to teach.  As my boys get older, I know that I need to up my game as far as resources and curricula. I was excited to expand our history topics but felt challenged with how I could do that while incorporating our Catholic faith.
Our homeschool middle school history has been blessed by the addition of a free online resource, the ARDA (the Association of Religion Data Archives).  Through the use of the ARDA's Jr./Sr. Teaching Tools and Interactive Timelines, our current homeschool history curriculum is now enriched with Catholic archival data.
We finally found a homeschool middle school history curriculum that we adore.  My only concern with using this curriculum was that our Catholic faith and its American history is not included.  I like to incorporate as much as our Catholic values and beliefs into our homeschool when possible.  I supplement with Catholic materials but felt that our homeschool middle school history needed more.  I was thrilled to find the free resources available through the ARDA for Catholic middle schoool history enrichment.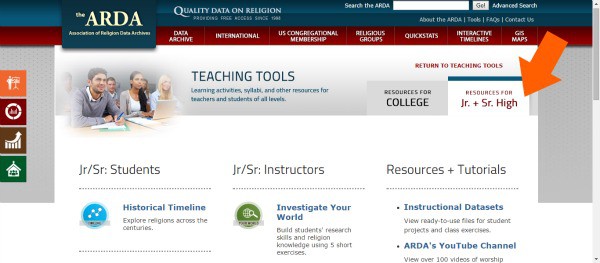 Middle School (Jr./Sr. High) Teaching Tools Found on the ARDA
Interactive Historical Timeline — Middle school students can explore various events and people throughout the centuries of American religious history.  Two specific (Catholic and Baptist) historical timelines offer a fantastic way to gather more information about people and events from those religions.


---

Quick Stats — Students can use this link to examine American's attitudes and beliefs on a host of issues, as well as their religious behaviors and beliefs.  This tool includes empirical evidence to support or refute assumptions about what others believe.  Useful resource for teaching about hypothesis testing.


---

Dictionary — The ARDA religion dictionary contains hundreds of entries and is full cross-referenced.  Great tool for studying world religions.


---

Compare Yourself Surveys — Students can answer a number of questions to see how they are similar or different from other youth across the United States.
---
The most valuable aspect of the ARDA for our homeschool middle school students is the inclusion of Catholic facts and figures.  My boys have learned so much from using the interactive historical timeline!  Images are included when possible to make the subject matter more interesting.  The ability to explore the ARDA for more Catholic biographical information, as well as Catholic events by date, has been clutch as we use our current homeschool history curriculum.
As the boys' primary teacher, I have found the ARDA Instructor Resources to also be valuable.  These resources for instructors include:
Investigate Your World — 5 learning modules (with each module including multiple lessons) for junior and senior high school students use a variety of data sources and develop multiple skills.  These lessons address critical reading and thinking skills, internet research skills, and group work.
ARDA Lesson Plans — Content from the ARDA and other resources are integrated into teachable units.  Specific learning objectives with relevant readings and learning activities are highlighted.
Press Room — Up-to-date news and religion research from around the world is available in this area.
Resources + Tutorials — Links to the ARDA YouTube channel with over 100 videos of worship services of a number of different resources.  This resource also provides information to help students and instructors effectively use the site.
---
My boys are currently learning about  post-Civil War (Reconstruction) American History.  They have used the ARDA interactive timeline to learn more about Catholic religious figures and events of that time period.  They were able to learn more about Frances Xavier Cabrini and the formation of the Knights of Columbus.  We are excited to continue to use the ARDA for Catholic middle school history enrichment.
[bctt tweet="Check out this FREE resource with Teaching Tools for Jr./Sr. High Religion studies! @ReligionData #ihsnet"]
I strongly encourage you to visit, bookmark, and use the ARDA in your religion and history studies.  This site is a one-stop place for teaching religion and its history.  It has made it easy for me to pull up the information we need in a moment's notice during our homeschool middle school history time.
To find out more about the ARDA, please visit and follow:
---
I hope that you and your family enjoys the use of the ARDA's free resources and Teaching Tools as much as we have!  Come back & let me know how you incorporated the ARDA into your homeschool!