Growth Mindset Fun with this Free Cootie Catcher
Growth mindset fun can be easy with your kids when you use this free cootie catcher!
Awesome hands-on and interactive way to help your kids embrace this powerful approach to learning and life.
Amazing Activity to Practice Growth Mindset for Kids
Are you familiar with a growth mindset and how it can help you enjoy your homeschool life?
Your thoughts and feelings have a tremendous impact on how you function in the world.
And I know you know that your kids have to deal with thoughts and feelings, too. Especially if you have tweens and teens! Lol!
Now, I'm going to let you in on a powerful little secret that I picked up during my years of counseling kids, teens, and adults: Those thoughts and feelings don't have to be static. You CAN change them and make them work to your advantage. For realz.
And the BEST way to make that change is to learn about and embrace a growth mindset 🙂
Enjoy a Fun & Positive Activity with Your Kids
One of the best ways to help you teach and practice a growth mindset for kids is Big Life Journal.
This resource is like a book and workbook in one. Through using this journal and other BLJ resources, your child learns and develops a growth mindset approach to life.
Why is a growth mindset essential to healthy functioning? As a former mental health therapist, I can attest to how vital it is to adopt and use positive thinking skills and strategies in our modern age. And our children are in dire need of having these tools in their belt to survive and thrive.
But, it can be hard to teach a growth mindset. Or even get your kids engaged long enough to care and see why it's so worthwhile.
For any obstacle that seems daunting as a parent, I always recommend making it as interesting and fun as possible.
And this free cootie catcher with a growth mindset theme can help you do just that!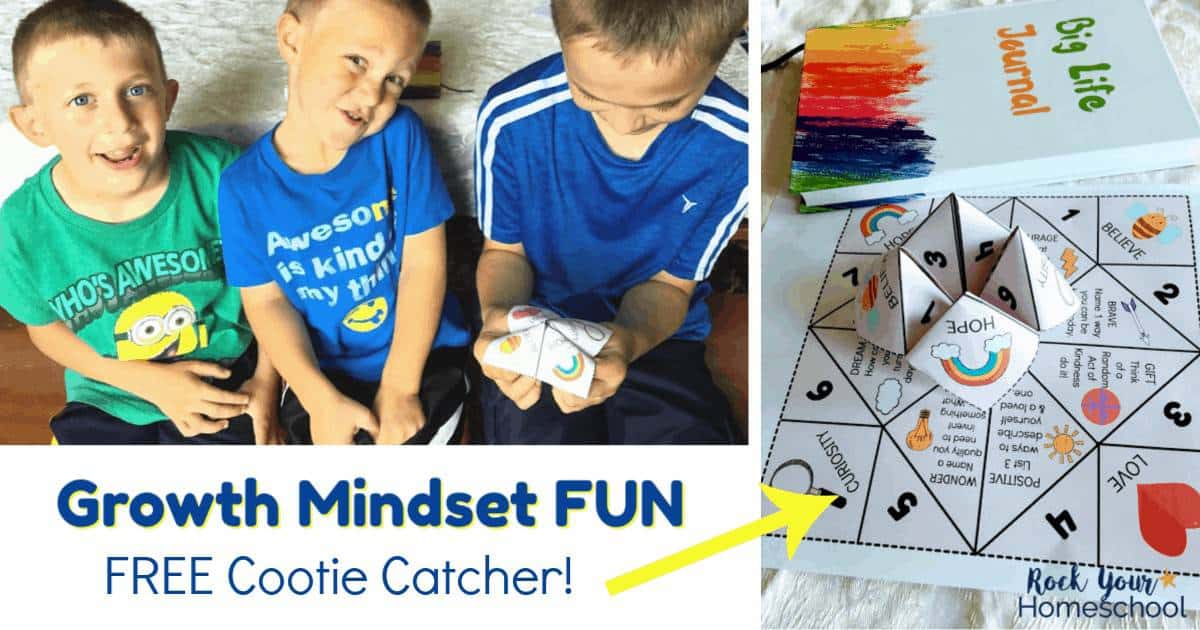 Use This Free Growth Mindset Cootie Catcher with Your Kids
Growth mindset concepts are often abstract, like hope, curiosity, and courage. And you may find yourself using a lot of words to explain what each of these concepts means. Your kids might nod their heads and say they understand.
But, do they really get it? Do they really understand what having a growth mindset is all about?
You can make these growth mindset concepts come to life by pairing them with hands-on, interactive fun. This free printable Growth Mindset Fun Cootie Catcher is an easy way for you to do just that with your kids.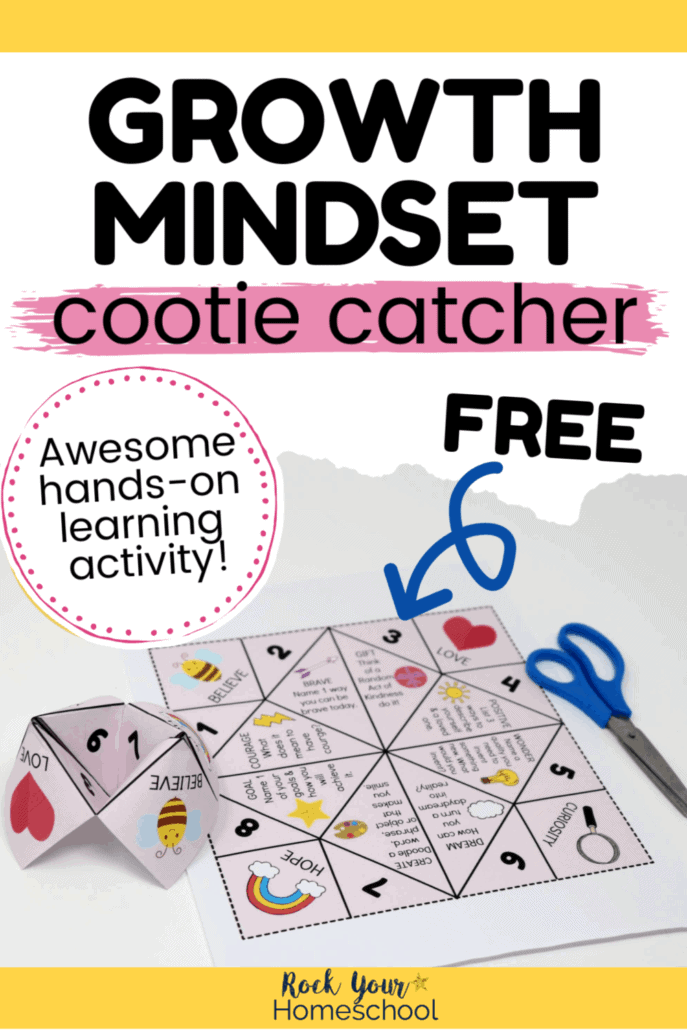 This cootie catcher is awesome for:
classroom fun
homeschool co-op
family activity
You can use this Growth Mindset Fun Cootie Catcher on its own, but I strongly suggest you pair it with the Big Life Journal. The inspirational stories and illustrations provide such a rich background and talking points to help your kids embrace a growth mindset.
Print out as many copies as you need for your kids, class, or library! Please feel free to use it in your homeschool co-op setting, too. I do ask that you share this post with friends if you think they'd enjoy using this resource with their kids 🙂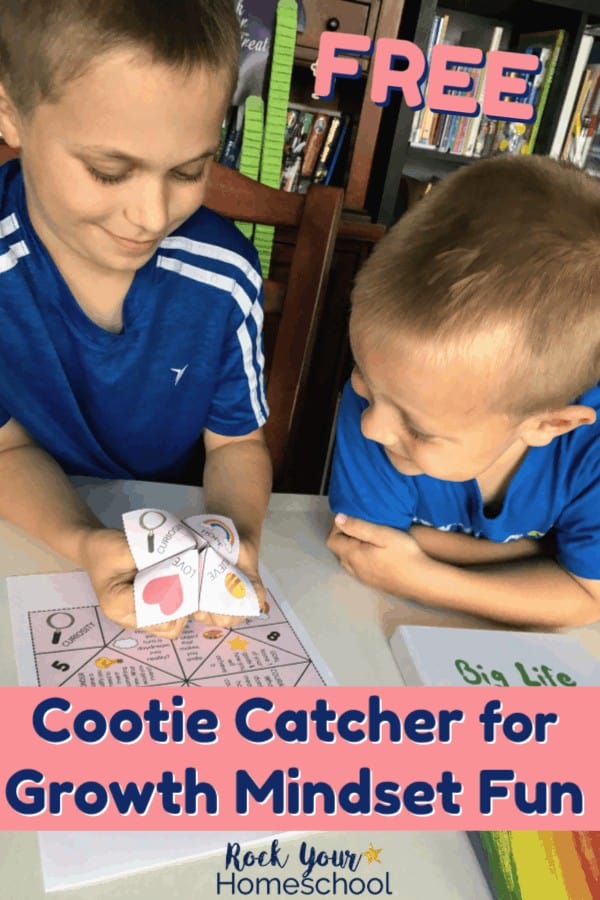 You CAN Teach Growth Mindset Today with This Free Cootie Catcher
When you subscribe and join the Rock Your Homeschool community, you'll receive this printable in a PDF download in an email, along with a super-secret password that opens the vault to all RYHS freebies.
In addition to your freebies, you receive emails with reminders, tips + tricks, and resources to make life and learning fun.
(Psst! Current RYHS members just need to access the Subscriber Freebies page and enter the password in your welcome email. Or get the instant download in the email the week of this post)
Click HERE or on the image below to subscribe and get started with your free printable Growth Mindset Fun cootie catcher for kids!
Speaking of growth mindset, have you tried affirmations for kids?
You can help your kids learn about and develop the positive practice of affirmations? These powerful self-statements are fabulous skills that any age can benefit from and use.
And it's a fantastic activity that you can enjoy with your kids
The Simple Guide to the Powerful Practice of Affirmations for Kids Bundle is here to teach you about affirmations and how you can help your kids customize the experience for maximum benefits. The guide provides you with the information you need to better understand what affirmations are and how to talk to your kids about them.
This bundle includes printable resources for you to use with your kids to determine an affirmations practice that best fits their current needs.
Check it out and start on the path to positive thinking with your kids today!