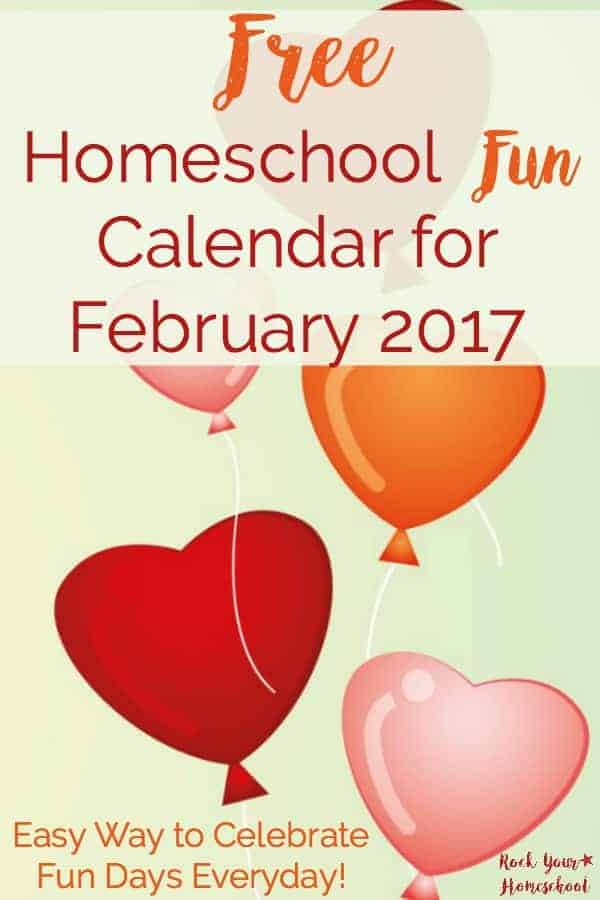 Are you ready for some more learning fun to add to your homeschool?  Here is the FREE Homeschool Fun Calendar for February 2017.  Be prepared for lots of activities, games, and crafts that cause smiles, giggles, and joy!
Homeschool fun monthly calendars are created to help you relax and enjoy your homeschooling adventures.  Planning, teaching, and completing work take a lot of energy and time.  These homeschool fun days are designed to add sparkle to your learning fun with as little prep work as possible.
[bctt tweet="#Free #Homeschool Fun Calendar for February 2017 #ihsnet" username="rockyourhs"]
Our Homeschool Fun Calendar for January was super popular.  Homeschool moms have reached out and shared how this easy-to-use printable has inspired them to include fun activities and crafts when possible.  The special time devoted to these homeschool fun activities has allowed families to connect in new ways with playful conversation and shared jokes.
You Can Add Fun to Your Homeschool Every Day!
These easy activities, games, and crafts do not take a lot of time or prep work. As a busy mom of five boys ages 2-14, I know that time is a precious commodity.  I also know what it feels like to want to add learning fun to your homeschool be have little to no time.
Your Free Printable February 2017 Homeschool Fun Calendar includes:
monthly calendar with daily prompts for activity, craft, or game
weekly checklist for suggested materials (save time during your homeschool day by preparing these on the weekend)
common household materials to make learning fun affordable
FREE Resources to Use with Your Homeschool Fun Calendar
To make it even easier to use this free printable homeschool fun calendar, here are suggestions of online resources, tutorials, and videos to enhance your learning fun.  Bookmark this page and come back when your calendar indicates (with more @RYHS).  Only certain days have recommended resources; the other days are self-explanatory.
Click here or on image below to subscribe to Rock Your Homeschool and
access your FREE Homeschool Fun Calendar for February 2017.
I am looking forward to all the homeschool fun we will be having in February.  I would love to see pictures or read comments here about your experiences with these activities.  Please use #RYHSfun when you share:)