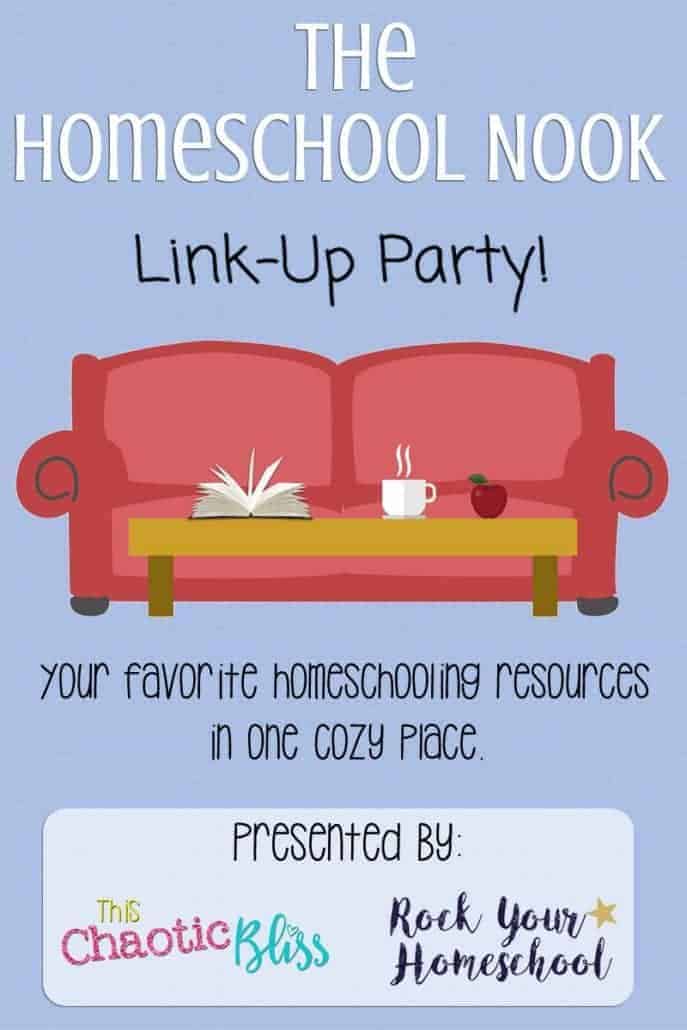 Welcome to the Homeschool Nook Link-Up Party #104!  
The Homeschool Nook is an awesome place to share and enjoy homeschooling resources.  I always look forward to finding new homeschool content to read and share.  Can' wait to see what you have been working on!
This week on Rock Your Homeschool, I shared my ideas and free printables for homeschool fun plus an awesome resource for elementary writing and history:
Wishing you a very wonderful week ahead! What special plans do you have for your homeschool this week?
**UPDATE:  This week is our very last week for The Homeschool Nook Link-Up Party. We have enjoyed sharing your homeschool posts and resources for two years. Thanks so much for your support!
We would LOVE for you to join our Homeschool Nook Pinterest board and Tailwind tribe.  Email Amy at rockyourhomeschool@gmail.com or Jenn at chaoticblisshomeschooling@gmail.com to request to join 🙂
The Homeschool Nook Link-Up Party #104

Presented by:
Jenn at This Chaotic Bliss
Amy at Rock Your Homeschool
Tweet it:
Do you #homeschool? Check out these awesome #resources at #TheHomeschoolNook #ihsnet
Click To Tweet
Homeschool Bloggers:  Join Our Party Tailwind Tribe!
Do you enjoy homeschool related posts and resources? If so, this tribe is for you! Please note that only homeschool related pins that are family friendly are allowed! Click here to join!
Thanks so much for stopping by the Homeschool Nook!
I hope that you find many wonderful homeschooling related posts to use and share!