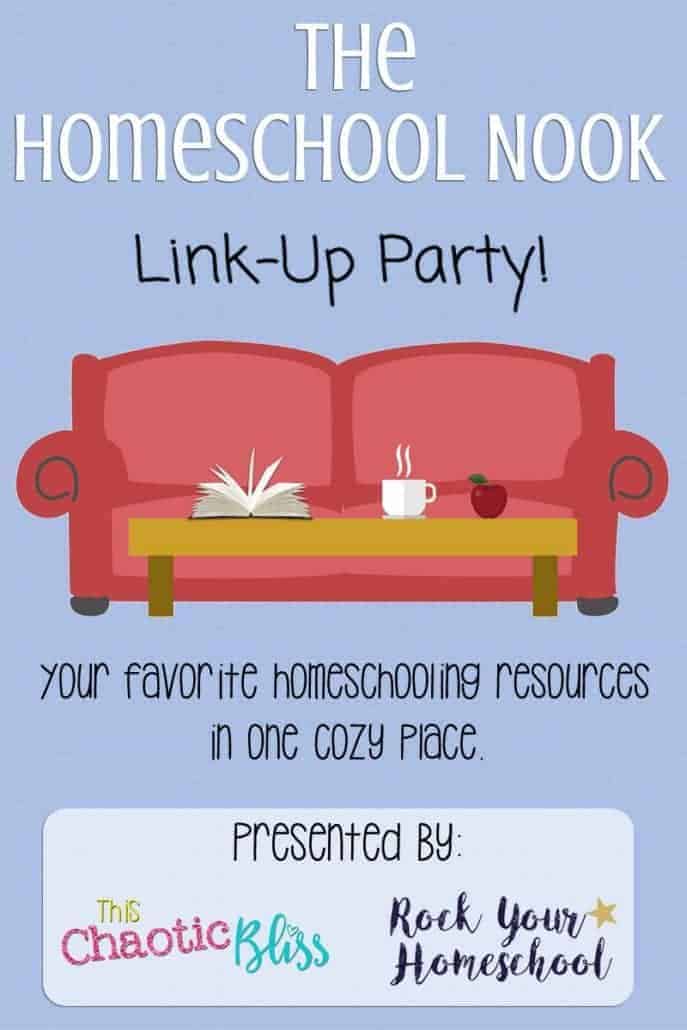 **Don't miss the Back to Homeschool $800 Giveaway on Instagram (brought to you by some lovely ladies at iHomeschool Network)!  CLICK HERE or scroll down for more info 🙂
Welcome to the Homeschool Nook Link-Up Party #91!  Happy Labor Day to all of our American friends:)
Super excited that you are able to join us this week.  I can't wait to see what you have to share and hope you find awesome homeschooling-related content to enjoy.
Life continues to be cray-cray but fun.  The boys and I are settling into a routine in our homeschool.  Chores and errands are getting done.  Soccer practices and games are being attended.  Life is just rolling along.
But, I don't want life to just roll along.  I want us to enjoy our family and homeschool time, not be caught up in the whirlwind of busy.
Our homeschool fun calendar has been helping me make sure that we have at least some learning fun every day.  I'm so grateful to have these ideas and activities all planned out so we make time for fun!
How do you prevent busy from turning your homeschool into blah? 
The Homeschool Nook Link-Up Party #91
Presented by:
Jenn at This Chaotic Bliss
Amy at Rock Your Homeschool
The Rules
1. Share your most recent family friendly homeschool related blog posts. Non-homeschool related posts will be deleted!
2. Attach our button or a link back to my site somewhere on your website. It can be on your main page, link-up page, or sidebar, or the post itself.
Also, bloggers love comments so please be sure to leave them some love and let them know "The Homeschool Nook" sent you!
Help us spread the word about this great homeschool resource!
Tweet it:
Do you #homeschool? Check out these awesome #resources at #TheHomeschoolNook #ihsnet
Click To Tweet
Homeschool Bloggers:  Join Our Party Tailwind Tribe!
Do you link up your homeschool related posts frequently at the Homeschool Nook link-up party? If so, this tribe is for you! Please note that only homeschool related pins that are family friendly are allowed! Click here to join!
Need a reminder when the next link-up goes live?
For "The Homeschool Nook" email updates only click here.
Thanks so much for stopping by the Homeschool Nook!
I hope that you find many wonderful homeschooling related posts to use and share!