10 Reasons This Faith-Based Homeschool Science Curriculum Rocks
Do you become overwhelmed at the thought of finding a faith-based homeschool science curriculum that meets the needs of your family and incorporates 21st Century skills?
Are you searching for a program that includes inquiry science from a Christian perspective?
Do you want to give your kids an excellent science curriculum but lack time to pull together lesson plans and resources?
Disclosure:  I received this product for review and was compensated for my time.  All opinions are honest. I was not required to post a positive review.
I am excited to share this amazing homeschool science curriculum from Kendall Hunt.  I will share my initial reservations on using this particular resource and how its comprehensive and Christian approach won me over.
[bctt tweet="Looking for a quality Christian #homeschoool science curriculum? Learn more about this comprehensive program that delivers. @KendallHuntRPD #ihsnet" username="busyboysbrigdade"]
Lesson Learned:  Take Time To Investigate Homeschool Science Curriculum!
When I learned about the opportunity to review By Design Science, I had some valid concerns.  We are a Catholic Christian homeschool family. This science curriculum is based on Seventh-Day Adventist worldview.  I will admit that I was ignorant of what that even meant.  I jumped to conclusions and thought no way!
I am so glad that I went back and actually found out more about By Design Science.  I would have let my ignorance of a different religion prevent my family and myself from benefiting from all that this curriculum has to offer.  I have found absolutely nothing to conflict with our Catholic beliefs.  I am actually quite impressed with how well it reinforces our teachings about respecting life, our world, and each other.
Closer Look At By Design Science & Kendall Hunt
After learning more about this company and its homeschool science, I agreed to use Level 5 By Design Science.  I was intrigued by the information presented on their site and wanted to see just how it was presented and applied.  My 10 year old was floating in between science lessons with his older brother (13) and younger brother (7) so it was perfect timing for our homeschool.
I encourage you to explore all that By Design Science has to offer.  This homeschool science is inquiry based and an adaptive curriculum.  I have found the presented information to be developmentally appropriate for my 10 year old.  I was interested to learn that this company has other subjects available for homeschool learning.
Kendall Hunt also provides faith-based programs in Reading Language Art called (Pathways) and a New Kindergarten program (Stepping Stones). In addition, Kendall Hunt offers Talented and Gifted programs in mathematics (M2 and M3) as well as products developed in collaboration with the CFGE (Center for Gifted Education) College of William and Mary in subject areas such as language arts, social studies, and science.
I started off using By Design Science Level 5 with only my 10 year old.  Like most subjects in our homeschool, brothers now tag along and jump into our learning fun.  I love how easily I can adapt this curriculum to their different levels!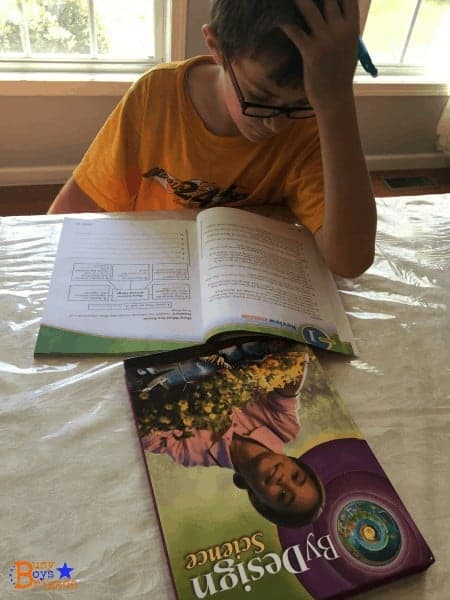 10 Reasons This Faith-Based Homeschool Science Curriculum Rocks
 Well-organized for both student and teacher:  With 5 boys ages 2-13 to homeschool, I need simple and well-planned.  When I find a quality curriculum presents information in an organized manner, I do a happy dance.  The teacher manual is detailed and provides the answers that I need to answer my boys' questions.
Uses a 5-Step Instructional Model:  This model of instruction is so helpful in science.  It is simple yet effective.  I was feeling lost in our approach to science and have found this approach to be a great guideline for instruction.
Full of ideas and activities to extend learning: Both the textbook and student science journal provide a variety of ways to build upon presented information.
Engaging hands-on examples and experiments to engage:  Each chapter has several suggested activities to reinforce concepts.
Critical thinking skills:  Students are encouraged to develop and use critical thinking skills as they progress through each chapter.
Numerous opportunities to assess for comprehension:  I appreciate the layout of this textbook and how it includes questions to ponder and answer.  It reminds me to check in with my boys and discover areas that need to be further explored.
Scavenger hunt to explore the textbook:  This activity in the beginning of the book was such fun!  It was a fantastic way for my boys and myself to learn about all that this homeschool science curriculum has to offer.  What a wonderful way to set the stage for learning!
Stewardship of our Earth:  I love how this curriculum reinforces the ideas of taking care of our environment (God's creation).  I want my boys to respect our planet and their surroundings.  This program includes a study of the Earth, as well as space science, to increase student knowledge and appreciation.
Student Science Journals:  These workbooks make it so easy to organize and record experiments.  I love that I do not have to print anything.  Less work for momma-more learning for boys!
Thorough presentation of scientific principles with a Christian perspective:  The first part of the textbook delves into science skills.  The scientific process is broken down to help kids truly understand.  Fantastic examples and explanations compliment the presentation.
Overall, our experience with By Design Science has been incredible.  My only problem is that we just do not have the time to complete all that is suggested.  We are working our way through and I am carefully selecting what activities and experiments to do based on what my boys need to fully comprehend concepts.  I do not look at this as a negative, however; I would rather have too much to select from than not enough.  We can always go back and revisit a concept and do more exploration with an experiment or activity that we did not attempt.
[bctt tweet="Find out how this faith-based #homeschool science curriculum rocks! Review + 10 reasons @KendallHuntRPD #ihsnetf" username="busyboysbrigdade"]
Head over to By Design Science: A Journey To Excellence Through Science to learn more about how this homeschool science curriculum.  Find out more about Kendall Hunt Religious Publishing and its comprehensive curriculum.  Get updates and more information by following:  Twitter  Facebook
I am so glad that we took a leap of faith in using By Design Science.  My boys are learning about science with a faith-based curriculum that is easy for us to use.  I look forward to watching my boys apply the critical thinking skills cultivated through this curriculum in other areas of their homeschool learning.