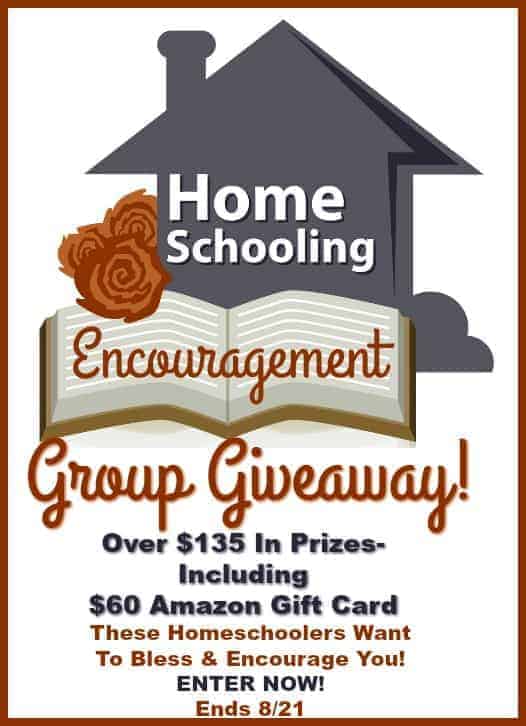 I am so absolutely thrilled to announce this Homeschooling Encouragement Group Giveaway!! A few of my fellow homeschool bloggers who participated in our 2o Days of Homeschooling Encouragement Blog Party (+ a bonus day!) joined together to bring an extra bit of homeschooling encouragement to you.
[bctt tweet="#Homeschooling Encouragement Group #Giveaway-Ends 8/21. #ihsnet" username="busyboysbrigdade"]
These wonderful ladies are once again sharing what they believe can be truly encouraging for homeschoolers. Together, we hope to give one lucky winner some amazing homeschooling treats. I know, however, that even if you are not chosen as a winner that you will be truly blessed to learn more about each of these homeschool bloggers.
Homeschooling Encouragement Group Giveaway
A group giveaway is an awesome way for bloggers to unite in sharing valuable resources. Also, it is a fun way to become acquainted with new sites. As you learn more about this giveaway, I encourage you to take note of each of these homeschooling sites. At your leisure, sit back with a cup of your favorite beverage and enjoy all the homeschooling and family resources they have to share. These ladies are some of my favorite bloggers and I guarantee you will not be disappointed!
Let me share with you the lovely homeschool bloggers who have contributed to this group giveaway:
Melissa of Soaring Arrows
Dachelle of Hide The Chocolate
Jennifer of Room In The Margins
Jen of Practical, By Default
Jessica of Intentional In Life
Kim of The Learning Hypothesis
Forest of Kingdom First Homeschool
Jenn of Chaotic Bliss Homeschooling
Amy of Busy Boys Brigade (that's me!)
When you enter this giveaway, you have the opportunity to win over $135 in prizes-including a $60 Amazon Gift Card! WooHoo! Let's help you put a dent in that Amazon Wishlist (because yours if filled with books like mine, right?)
Here is a list of the prizes included in our Homeschooling Encouragement Group Giveaway:
Amazon Gift Card for $60
Teaching From Rest by Sarah Mackenzie
A Gracious Space: Winter Edition Digital Version by Julie Bogart
Homeschool Planning Calendar with Quotes + Printable Event Stickers (digital downloads)
Artist's Loft Fashion Journal
Smitten Book Club (Christian Romance)
Adult Coloring Book + Coloring Pencils
Best STAYcation Ever eBook
Homeschool Planner (digital download)
Exploring Creation Field Trip Journal (Apologia)
The Ultimate Homeschool Planner
(Yes, we are offering a few homeschool planners. This giveaway gives you the chance to
check out a variety & see what works best for your family-or for different years!)
Enter Homeschooling Encouragement Group Giveaway NOW!
Giveaway is OPEN to Canadian residents!! (The form would not cooperate!)