Fun Crafts & Activities for My Many Colored Days
My Many Colored Days by Dr. Seuss is a fabulous book for kids of all ages!!  Preschoolers to teens can benefit from the lesson that feelings may change from day to day, hour to hour, or minute to minute.  This book can be used for teaching basics like colors to more complex concepts of emotional states.
Vibrant images and colors pop out and demand attention.  Toddlers and preschoolers can benefit from color identification.  I love how this book goes beyond the typical rainbow colors and includes pink, brown, and gray.
There are a variety of animals depicted in this book.  Kids can identify, act out, and perform sounds of the animals.
As a former mental health therapist, I especially appreciate the introduction of feeling words.  I believe that it is very important for children to understand that how they feel is okay.  I want my boys to know that their feelings are natural BUT how they act upon those feelings is important.
I want my boys know that feelings are feelings-not good or bad.  I aim for my boys to understand that recognizing and labeling their feelings is the first step towards healthy attitudes and behaviors.
Helping little (and big!) kids label and accept their feelings is such an important part of developing healthy behaviors and mindsets.  My Many Colored Days is a fantastic book to read with your kids to discuss self-acceptance and feelings.
The Relaxed Tot Time Planner helped me plan overall concepts, songs, and crafts to be used.
Songs for My Many Colored Days Fun
I found some fun songs to sing about colors at Everything Preschool (Color songs).  My boys particularly liked "Fred Red" and "I Can Sing a Rainbow".
Crafts & Activities for My Many Colored Days
1.  story time felt-cut outs:  You will need felt in the colors represented in this book.  On a piece of paper, create a stencile in the shape of this "little dude" (as Captain likes to call him).  Use a pencil to gently trace onto the felt and cut out.
I used a gingerbread man cookie cutter that we have and traced onto felt.  Cut with scissors and done.  Luckily, I had gone on a felt buying binge last year in a meager attempt to make felt busy bags and had a variety of colors of felt in our craft storage.
2.  How Do I Feel Today? puppets:  The boys decorated white paper lunch bags to show how they felt that day.  We talked about the different colors and their associated feelings from the book.  We also discussed the possibility of having different feelings within the same day and how they could represent that.
The boys put on a puppet show.  They expertly demonstrated their understandings of feeling with much gusto.  Each boy also explained why they chose the colors on their puppet.  Lots of fun for all!
3.  Rotating Tube Expressions:  This painting activity was fun!  I dug through our craft cabinet and used these items.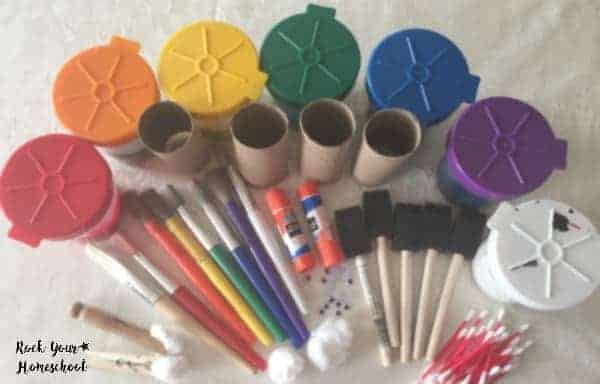 My boys thought about the story My Many Colored Days and painted their cardboard tube according to how they were feeling at that moment.
We let the painted cardboard tubes dry over night.  Next morning, we glued on a pair of googly eyes for several different faces per tube.  We added various mouths and eyebrows to show different types of feelings.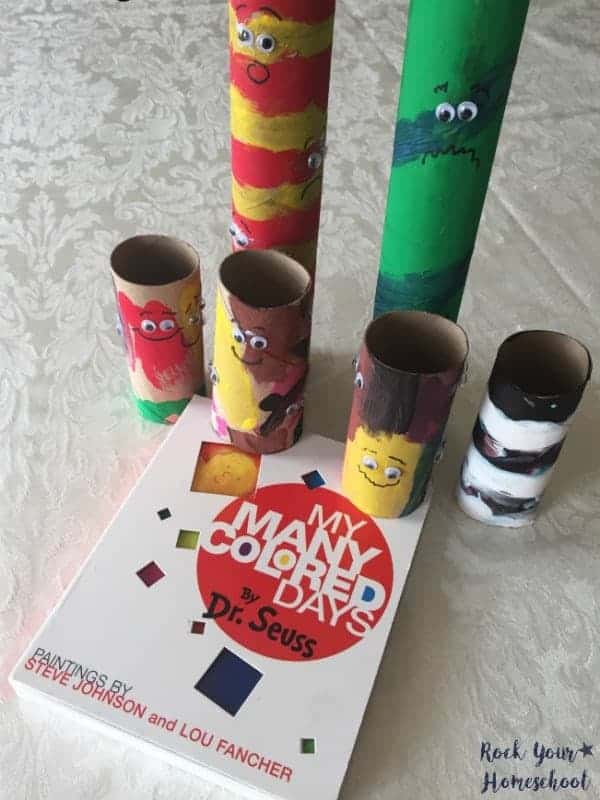 I love teaching my boys about feelings and appropriate ways to express.
How do you help your kids learn about emotions?  Leave a comment to share your tips!