Amazing Solar System Activity with Free Cootie Catcher
Enjoy a simple yet fun solar system activity with your kids.
This free printable set of cootie catcher and fact cards is an awesome way to have hands-on learning fun about the solar system.
I share how I'm using this solar system cootie catcher with my boys for our homeschool science plus how to pair this activity with the fact cards to boost the learning fun with outer space. Check it out and get your free set today!
Put the Solar System in Your Kids' Hands
Okay, that's a bit extreme 😉
But, you can give them a super cool hands-on activity that helps them learn about the planets!
My three younger boys adore science. When given a choice of what homeschool subject to do first, science is always #1. They love to learn about a variety of science topics and usually have a few books going at once.
I love to find and think of ways to boost our science fun. The homeschool science resources that we've been using lately have been phenomenal (I'll be sharing more about that very soon-make sure to come back to check them out!).
Lately, my younger boys have been chatting a lot about space (they're also huge Star Wars fans) and our solar system. I got the idea for creating this solar system activity with cootie catcher and fact cards by listening as they used playdough to make planets for a homeschool brain break one day.
They liked the idea of using the solar system cootie catcher as a creative prompt for identifying planets and sorting which fact card to use. Oh, and they love to have their science books to use as references, too 😉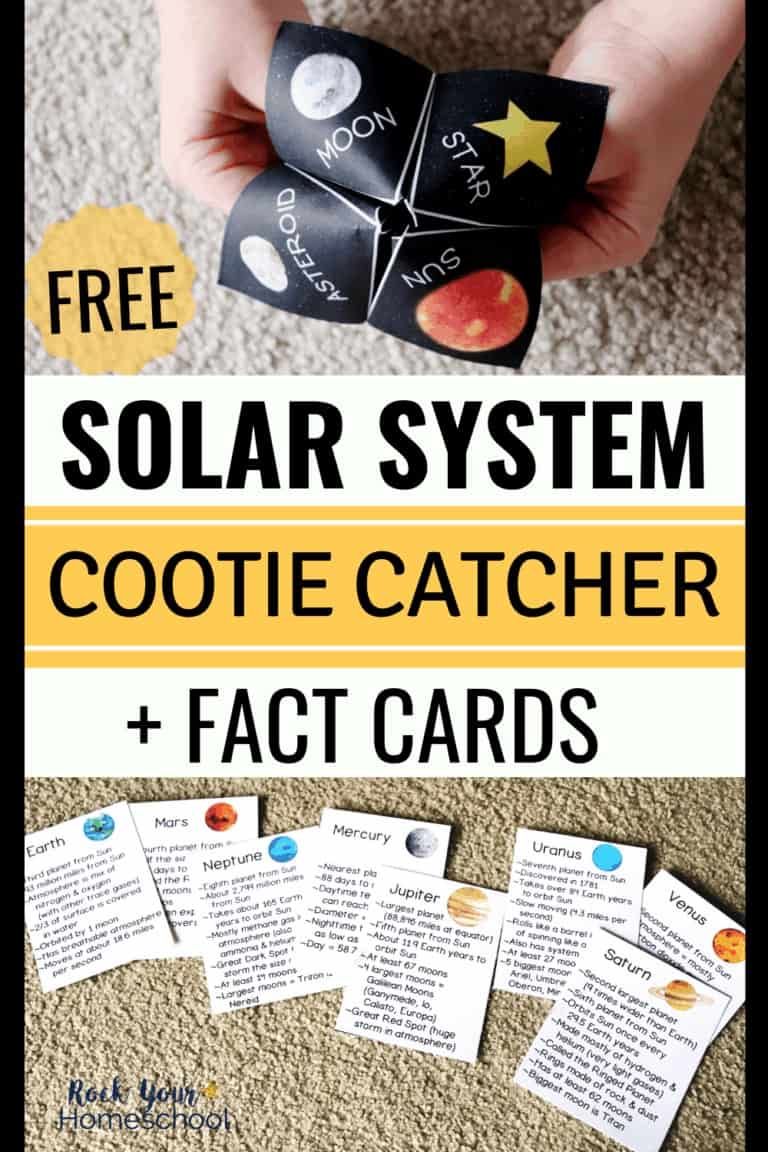 Amazing Resources to Boost This Solar System Activity
If you're interested in having spectacular solar system learning fun with your kids, you may want to gather some resources and materials to make the most if this special time.
As always, I encourage you to check out what your local library has available for free. If you find a few must-have items through your library experience, make a list or wishlist for your forever collection 🙂
Here are a few of our favorite solar system resources (in case you're curious or just don't have time):
Hello, World! Solar System
National Geographic Little Kids First Big Book of Space (National Geographic Little Kids First Big Books)
The Planets: The Definitive Visual Guide to Our Solar System
There's No Place Like Space: All About Our Solar System (Cat in the Hat's Learning Library)
Space: A Visual Encyclopedia
Space Atlas, Second Edition: Mapping the Universe and Beyond
Where Is Our Solar System?
Solar System: A Visual Exploration of All the Planets, Moons and Other Heavenly Bodies that Orbit Our Sun
National Geographic Readers: Planets
The Magic School Bus Lost In The Solar System
Planets and the Solar System (Smithsonian Kids First Discovery Books)
Barefoot Books Solar System
Super Cool Space Facts: A Fun, Fact-filled Space Book for Kids
National Geographic Kids Super Space Sticker Activity Book: Over 1,000 Stickers!
Fancy Land Solar System Stickers Realistic Planet Outer Space 200Pcs Per Roll
Planet Wall Decals, H2MTOOL Removable Solar System Watercolor Space Wall Stickers for Kids (Plants)
Glow in The Dark Stars and Planets, Bright Solar System Wall Stickers -Sun Earth Mars,Stars,Shooting Stars and so on,9 Glowing Ceiling Decals for Bedroom Living Room,Shining Space Decoration for Kids
Kicko Make a Solar System Sticker – Set of 48 Cute Stickers Scene for Birthday Treat, Goody Bags, School Activity, Group Projects, Room Decor, Arts and Crafts
Solar System Stickers (Dover Little Activity Books Stickers)
Great Explorations 3-D Planets In a Tube
Qurious Space | STEM Flash Card Game | Explore, Match, Quiz & Spin Through The Universe. Perfect for Astronomy Fans and Future Astronauts
Playful Planets Classic Card Games for Kids Age- Educational Space Games for Kids Age 4-8 – Old Maid, Go Fish, Bingo, Memory with A Planetary Twist! 10 Games in 1 Fun Pack!
Create-A-Scene Magnetic Playset – Solar System
Melissa & Doug Solar System Floor Puzzle (Floor Puzzles, Easy-Clean Surface, 48 Pieces, 36
Learning Resources Gears! Gears! Gears! Space Explorers Building Set, Gears & Construction Toy, 77 Pieces, Ages 4+
How to Make Your Cootie Catcher + Suggestions for Using
Not sure how to assemble your solar system cootie catcher? No worries! It's really not too hard!
Just follow these simple steps and you'll be on your way to enjoying this fun solar system activity with your kids ?
Print your solar system cootie catcher. Regular printer paper works well.
Use scissors to cut along the white dotted lines of the cootie catcher.
Fold your solar system cootie catcher in half along one of the center lines. Open and repeat the fold with the other center line.
Open up the cootie catcher and put the printed-side down. Fold in one corner to meet the center. Repeat with all four corners. You'll end up having the corners meet in the center, forming a square.
Flip over your cootie catcher. Fold the corners into the center with numbers pointed in.
Fold the square in half with the numbers touching each other. Unfold and repeat with the other side.
Please note that the original corners will now gently pull out. You'll be able to insert your pointer finger behind one slot and thumb behind the other on the same side. Do this action with both hands.
Push your fingers & thumbs up to meet other in center. Gently manipulate cootie catcher in and out.
It's time for some solar system fun! The participant picks one of the solar system-themed objects/words (MOON, STAR, SUN, ASTEROID). For each letter of the chosen word, manipulate the cootie catcher. 
Four numbers are inside of the cootie catcher. The participant selects one number. Manipulate the cootie catcher that number of times.
Again, four numbers will appear. Participant selects one number.
You open the cootie catcher and then the participant must respond with a fact about that planet. Psst! Use the fact cards or other resource for help 😉
Repeat and have a fantastic time of learning fun!
Get Your Free Solar System Cootie Catcher + Fact Cards
Ready to join the fun and have a blast with this solar system activity? It's a great way to enjoy space activities and help students get hands-on learning.
This printable set includes 1 page of solar system cootie catcher and 2 pages of planet fact cards (8 total cards with 4 cards per page).
**I strongly recommend that you print the planet fact cards on white cardstock (I use Neenah cardstock with great results!) for durability. You may also want to laminate the cards to extend their use.
You may print out as many copies of this solar system activity pack as you need for your class, family, homeschool co-op, or library. Please share the link to this post if you have a co-worker or friend who may enjoy this activity, too 🙂
When you join the Rock Your Homeschool community, you'll receive this printable activity set in a PDF file in an email, in addition to a password to unlock the freebies in our Subscriber's Library. 
You'll also get emails with ideas and encouragement to make life and learning fun.
Already a RYHS subscriber? You just need to access the Subscriber Freebies page and enter the password in your welcome email. If you have any questions or problems, please email Amy at rockyourhomeschool@gmail.com)
Get your FREE Solar System Activity Pack with Cootie Catcher + Fact Cards by tapping HERE or on the image below to subscribe and get your printable activity.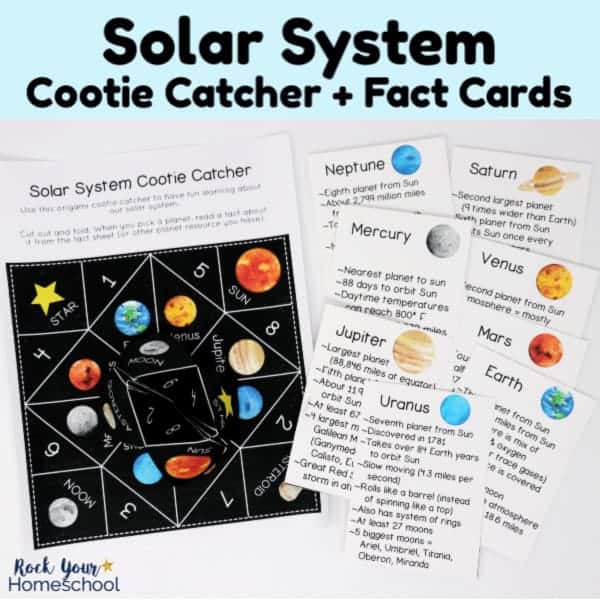 How will you use this free set for cool space activities with your kids?