15+ Tasty Harry Potter Treats for a Magical Celebration
These Harry Potter treats are magnificently magical ways to boost your party or other special events.
Just one glimpse at these simple yet yummy treats will make you want to prepare for a Harry Potter celebration, even if you weren't planning on one.
Make sure to grab some paper because you'll want to make a list of which of these Harry Potter treats you'll want to try first!
Delightful Harry Potter Treats for Special Times
Potterheads around the world can agree – Harry Potter treats are a must for any time you want to celebrate your favorite wizard characters.
My boys and I are HUGE fans of all things Harry Potter. We love to find new and exciting ways to have fun with these magical themes (like all of these free Harry Potter printables!).
As we prepare for our Harry Potter Birthday Celebration Week (NEW resource that my boys and I will be using to enjoy a magical celebration for Harry Potter's birthday on July 31), I wanted to make sure we had a list of tasty treats that could rival even the Honeydukes Express!
You'll find a variety of sweet treats and delightful drinks. I'll be updating this list as we make and try new Harry Potter treats.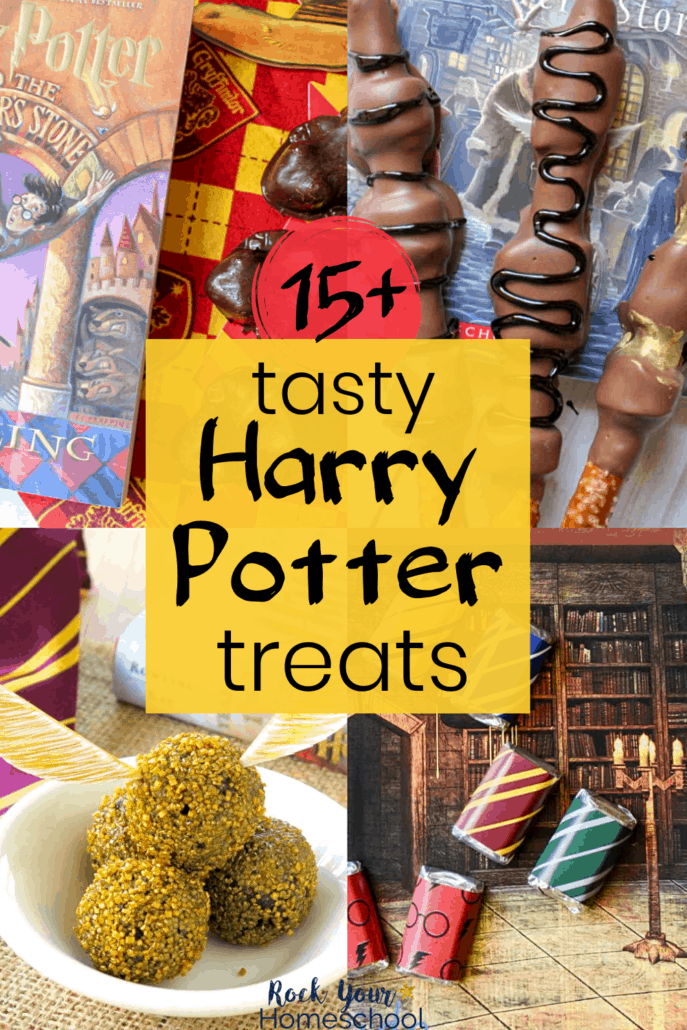 15+ Tasty Harry Potter Treats
Harry Potter Chocolate Bars by Tikkido
Dress up mini-chocolate bars in all of the colors of Hogwarts Houses with these free printables!
Harry Potter Unicorn Cake by Well If She Can Do It
This Harry Potter Unicorn Cake is impressive and adorable. It looks complicated but this tutorial makes it easy.
Pumpkin Pasties by Baking Beauty
These pumpkin pasties are true delights! You'll enjoy a sweet and spicy pumpkin filling inside a light and flaky crust.
Oh, and this Harry Potter-inspired tasty treat fits right in the palm of your hand.
Pumpkin Juice by The Toasty Kitchen
This pumpkin juice recipe can be served hot or cold. It's an apple cider blended with apricot nectar and pumpkin puree to make this flavorful drink that's sure to please.
Chocolate Frogs by Kim and Carrie
Super simple (only 2 ingredients) plus a special candy mold chocolate frogs will allow you to enjoy this lovely treat.
Harry Potter Pretzel Wands by Rachel Teodoro
These chocolate + caramel wands are terrific treats for Potterheads. These sweets are easy to make and fun to eat.
You can also wrap them in cellophane bags and add them to your Harry Potter-themed party bags.
English Toffee by The Monday Box
This toffee makes for a decadent snack to devour while reading the Harry Potter books. You can also share this snack for a movie night with friends and family, too.
Copycat Butterbeer by Sweet Addict Bakery
Have you tried butterbeer, a popular drink in the world of Harry Potter?
This easy recipe makes you feel like you're right in The Three Broomsticks in Hogsmeade.
Butterbeer Pound Cake by Call Me PMC
And while you're at it, try a cake version of the popular drink. This classic pound cake recipe is flavored with butterscotch and is simple to make. You'll want to make sure to have plenty for all to enjoy!
Hot Chocolate Butterbeer by Big Bear's Wife
My boys and I are adding this treat to the top of our list to try when cold weather hits.
This butterbeer version of hot chocolate will surely hit the spot (and even bring us back to the early years when Harry Potter spent Christmas at Hogwarts).
No Bake Butterbeer Cheesecake by A Night Owl
If you need a quick and easy Harry Potter-inspired treat, this No Bake Butterbeer Cheesecake is excellent. And a perfect way to cool down on a hot day.
Harry Potter Pretzel Wands by Nerdy Momma
Another easy-to-make treat that's a big hit with all. You can get creative with your Harry Potter wands by adding different toppings (like sprinkles).
Butterbeer Muddy Buddies by Sugar and Soul
You can make this crunchy sweet treat ahead of time to enjoy at your celebration.
Also, you can pack these treats into cellophane bags for awesome goody bags.
Nimbus 2000 Broomsticks by Ruffles and Rain Boots
These Harry Potter treats are super fun to make. Get your kids involved and turn it into a creative activity.
Golden Snitch Truffles by Dinner Mom
Such cool sweet treats for your Harry Potter event!
These yummies are fantastic takes on the small and quirky Quidditch ball. And they're easy to make, too!
ButterBeer Popcorn Bars by The Tiptoe Fairy
Another tasty treat that you can make ahead of time. Give this one a try if you'd like something with a crunch.
Which of these scrumptious Harry Potter treats will you try first? Do you know of any other special Harry Potter goodies? Please share in the comments area below 🙂
These Harry Potter treats are perfect additions to a special celebration! This Harry Potter Celebration: Magical Ways to Enjoy a Fun Unit Study + More is an excellent way to take your learning fun to the next level.