You want to look back on your day with a smile.
You started homeschooling for a reason.
And you want to make the most of that special time together.
But, life is busy. Chores, appointments, and lessons.
And what happens when a wrench gets thrown into your grand plans?
What was supposed to be enjoyable and fun has become…robotic and boring. Or complete chaos.
You know there's a better way. But, nothing that you've tried has worked.
Rock Your Homeschool helps you make life & learning fun.
I'm so glad I found Rock Your Homeschool! The website is full of resources to help me connect with my kids through fun activities, while Amy's Facebook Live videos are a great source of upbeat encouragement during busy weeks.  ~Melissa
Imagine feeling good about your homeschool day.
Not just okay because you got through your checklist of tasks and lessons.
More like incredible.
You woke up with a smile, ready to conquer the day with a positive attitude. And you delighted in your kids giggles as you enjoy learning and growing together.
Sure, you had the usual house stuff, laundry to tackle and meals to make. But, you didn't let those distractions get you down. Even when the doorbell rang three times and you had to clean up puppy poop before you ran out the door to soccer practice.
You got to experience your youngest sounding out letters. Your older kids worked together on a project and had a blast doing it. And your day was filled with moments of growth to treasure.
Sound amazing? The good news is that you can find your happy place.
It's not about having perfect plans or tons of money for materials.
With the right resources and a growth mindset, you can find delight in your homeschool life.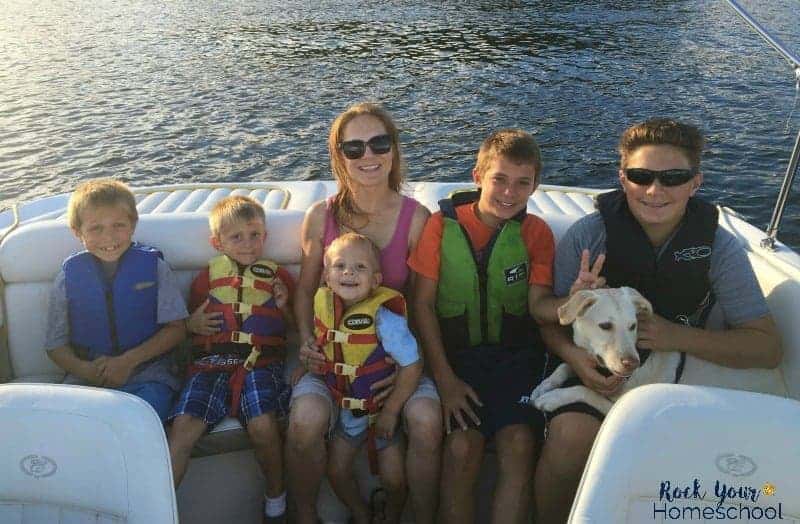 Hey, I'm Amy 🙂
And I know what overwhelm does to you.
Life as a busy homeschool soccer mom to 5 boys was sucking the joy and energy out of me. And making that yellow bus more and more appealing every day.
Overwhelmed by trying to do too much like the public school my boys had attended, my peaceful vision of sipping hot cocoa while sharing learning fun went up like a puff of smoke. Tears of frustration streamed down all of our cheeks.
Instead of fighting each other, we needed to work together. Because if we weren't going to enjoy our homeschool adventures, why were we doing this?!?
Pulling from my experience as a mental health therapist, growth mindset and learning fun became priorities.
I wanted a positive environment where our family could grow and learn together.
Growth-oriented thinking, creative planning, and easy-to-do fun activities empowered our homeschool to thrive, not just survive.
We had time to jump down rabbit holes and unearth new interests. And we even had time for that hot cocoa 😉
Best of all, I could look back on our homeschool day with a smile, even if it wasn't perfect.
How can you do it? Find the resources plus support you need to make life & learning fun here on Rock Your Homeschool.  A few favorites are:
When you join the Rock Your Homeschool community,

you'll discover how to make life & learning fun.

Need a break from the cray-cray & have a bit of blissful time to yourself (a.k.a. sorting laundry) to slip in earbuds? Get a feel for how I enjoy time for fun in these chats with some amazing homeschool mamas:
Let's make life & learning fun 🙂
Now that you have learned a bit about Rock Your Homeschool, I'd love to hear from you!  Email me at [email protected].  I want to get to know you and your vision of making life & learning fun. Because it's always better with friends 🙂
Looking for a community of over 28,000 fun homeschool moms share resources, support, & tools?
Rock Your Homeschool! Facebook Group is for YOU 🙂