Free March Learning Fun Activities Your Kids Will Love
This pack of March Learning Fun Activities will give your kids a variety of ways to celebrate this month. You'll be able to print-and-go your way to March fun with kids.
Featuring seasonal and fun holidays, your kids will have a blast with these 28 pages of activities. Check it all out and get your free printable pack today!
March Learning Fun Can Be Easy & Enjoyable
March is a magnificent month to have learning fun with your kids. So many fun holidays to celebrate!
You may be thinking, "Sure! I'd love to give my kids March Learning Fun Activities. But, I really don't have the time to put them all together." Or the energy.
But, you know it'd be nice to have these open-and-go activities to give your kids focused learning fun.
No worries! As a busy homeschool soccer mom of 5 boys, I totally get the time and energy crunch thing. It can be hard enough to get done what you need to do, let along trying to organize fun activities that don't sap your budget or take forever to assemble.
Over the years, I've discovered that the only way fun activities actually happen is if I plan and prep ahead of time. Since I love making printables (it's a stress-reliever for me), I decided to whip up an entire bundle of March Learning Fun Activities to share with my boys and you 🙂
With 5 boys (from Kindergarten through high school) to teach, I must be creative in how I keep my younger boys focused and present (a.k.a. not wandering off and getting into something) during our homeschool time. Printable learning fun activities are easy ways for me to get my boys engaged and continue the learning process.
Now, some people think of printable activities as "busy work" or fluff. I believe it's all in how you approach it. Plus, some kids thrive with worksheets. I say if it works, go with it!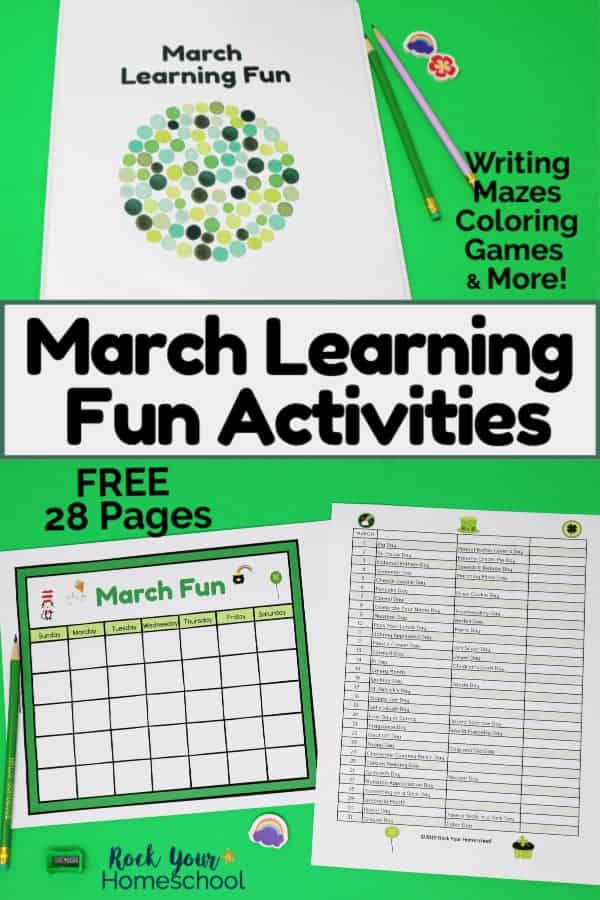 Why This Pack of Activities Can Boost Your March Learning Fun
To make it simple for you to get the most out of this special time with your kids, I created this free printable pack of learning fun activities. I thought it might be easier to bundle them together. That way, you can use them all or pick-and-choose what works best for your family 🙂
You can certainly organzie these printable activities any way that you like. I've found that printing out a copy for each boy and placing in a special Learning Fun Binder to be the easiest way to their activities separated and sorted. My younger boys think it's big stuff to be responsible for their own binder.
And Iove being able to point to their binders and say, "Hey! Instead of wandering off while I'm helping your big brother, grab your Learning Fun Binder and do an activity." 😉
These March Learning Fun Activities have been designed to:
Provide kids with activities to celebrate seasonal and fun holidays

, as well as

promote learning fun

Be a one-stop place for kids to find fun activities to enjoy

Easy to set-up and organize

-all activities for the month are in one printable packet (or links within that pack) so you save time, effort, and energy

Spark

creativity

 

Practice

independent work skills
Introduce kids to planning and organization

with blank calendar 

Provide

fun "busy" work

for those times when you need to help siblings or your attention needs to be elsewhere
Get the Most Out of These Learning Fun Activities for Kids
I encourage you to get creative with these activities. The more you get your kids involved in the process, the more they'll get excited about their upcoming experiences.
As you find or think of new ideas for March Learning Fun, add them to your activities bundle or binder. Your kids might not get to them this year but can always circle back around and enjoy in the future 🙂
Talk about the activities for the month and what they're looking forward to the most.
If you're putting together a Learning Fun Binder, give your kids the opportunity to create a decorative cover and spine insert.
Some things your kids may want to include on their Learning Fun Pack cover and spine include:
Name

Year

Doodles or drawings

Affirmation or quote

Stickers

Washi tape
When each Learning Fun Binder is ready, sit down with your kids for a walk-through. Explain the purpose of these learning activities, as well as your expectations.
Here are a few tips based on my conversations with my boys:
Be excited.

Your kids will pick up on your energy.

Make it a big deal that these Learning Fun Binders are their personal property and

responsibility

. Therefore, you expect them to do their best work and take care of the materials.

Review times and places that it's okay to use the Learning Fun Activities and times when the Learning Fun Activities need to stay in their storage area. For example, Learning Fun Activities are okay while mom is making breakfast but not okay when it's time to finish math!

Be open to hearing your kids' ideas

on using their Learning Fun Activities.

Talk about how these activities are designed to be fun, not stressful. If there's an activity that they don't want to do, that's okay. Never force. Your child might come back to it later in the month.

Your child will have room on the back of most printables. Encourage your kids to use this space for

brain dumps

, doodles, games (tic-tac-toe), and more. Great way to maximize the use of each paper 🙂
I also reassure my boys that not everything must get done in one day, or even at all. My boys know, however, that these activities are waiting for them when they need a break or something to keep busy.
Fantastic Features of These Printable Activities
In this free printable pack, you'll find:
March Fun Calendar (blank for kids to fill-in)
March Chart of Fun Days
Rainbow Writing Fun
March Copywork Fun
Blank copywork pages (2 types)
March Brain Breaks
March Conversation Starters
March Doodle Prompts
4 St. Patrick's Day Coloring Bookmarks
March Reading Log
2 pages of March Mazes
St. Patrick's Day Memory Game
4 St. Patrick's Day Coloring Pages
St. Patrick's Day Color-by-Number Fun
Ear Muffs Day Coloring Page
Pi Day Coloring Page
Page of March Learning Fun Links & Resources
What types of materials will your kids need to easily enjoy these March printables?
All you will need are simple supplies you probably already have in your home. Think crayons, pencils, and markers. Some of the brain breaks suggest playdough or clay. Scissors, construction paper, pipe cleaners, and paper plates are other suggested materials.
Get Your Free March Learning Fun Activities Pack
Make March memorable and fun with these free printable activities!
In this bundle, you'll find 28 pages of March-themed learning fun.
I encourage you to print as many copies as you need to enjoy with your family or class. If you have a friend or co-worker who might like to check these activities out, please share this post. Thanks so much-sharing rocks!
When you join the Rock Your Homeschool community, you'll receive this printable pack in a PDF file in an email, in addition to a password to unlock the freebies in our Subscriber's Library. You'll also get emails with ideas and encouragement to make learning fun.
(Current RYHS members just need to access the Subscriber Freebies page and enter the password in your welcome email. Please email Amy at rockyourhomeschool@gmail.com with any questions.)
Get your FREE March Learning Fun Activities Pack for kids by tapping right HERE or on the image below to subscribe and get your printable set.