Free St. Patrick's Day Poetry Fun Kids Will Love
Enjoy
St. Patrick's Day Poetry Fun
with your kids using this free printable pack!
With a lesson and templates to create limericks, your kids will have a blast this holiday.
Find out more and get your free St. Patrick's Day Poetry Fun pack today.
St. Patrick's Day Poetry Fun for a Special Celebration
How do you make your St. Patrick's Day celebration extra special? With poetry!
Your kids will love learning about and creating (child-friendly) limericks. These rhyming poems are funny and wonderful ways to enjoy poetry with kids.
Limericks are often associated with Ireland (Limerick, Ireland) and St. Patrick's Day. So, this holiday is the perfect time to enjoy these fun poems!
You can watch this video with your kids from Homeschool Pop to learn more about limericks:
My five boys and I will be hosting a St. Patrick's Day Poetry Teatime using our Poetry Teatime~Holiday Edition resources. In addition to yummy treats and drinks, we'll be reading poems with St. Patricks's Day themes. And using this free printable pack to learn about and create limericks.
We'll use the shamrock and four-leaf clover templates to trace and cut out these shapes on green construction paper.
Our limericks will be written on these shapes or on the St. Patrick's Day-themed writing paper included in the free printable pack.
Get Your Free St. Patrick's Day Poetry Fun Pack
This activity for St. Patrick's Day Poetry Fun is perfect for:
Parties
Classroom
Library
Family fun
Homeschool (and co-op)
You can print out as many copies as you need. If you have a friend or co-worker who you think would enjoy this free printable activity, please share the link to this post with them 
This free printable pack includes 6 pages:
1 page with lesson
1 page for a rough draft
1 page for final draft + helpful tips & reminders
1 page with St. Patrick's Day-themed writing paper (half-page with lines, half-page with no lines)
2 pages of shamrock & four-leaf clover templates (great for cutting out & writing limericks on or just for St. Patrick's Day Poetry Teatime or party decorations!)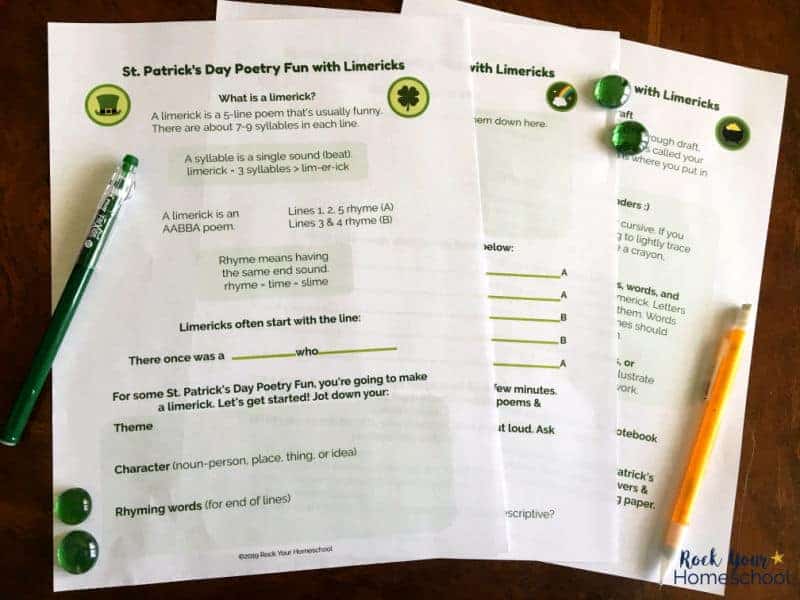 [mv_create key="2″ type="diy" title="St. Patrick's Day Poetry Fun" thumbnail="https://rockyourhomeschool.net/wp-content/uploads/2019/01/St.-Patricks-Day-Poetry-Fun-featured-.jpg"]To get your free printable St. Patrick's Day Poetry Fun pack, simply subscribe to Rock Your Homeschool.
You'll receive these printables in a PDF download in an email, along with a super-secret password that opens the vault to all RYHS freebies.
In addition to your freebies, you'll get emails with creative and easy ways to make life and learning fun 🙂
(Psst!  Current RYHS members just need to access the Subscriber Freebies page and enter the password in your welcome email.  Or get the instant download in the email the week of this post)
Click HERE or on the image below to subscribe and get started with this awesome St. Patrick's Day Poetry Fun activity!
Have you tried Poetry Teatime with your kids?
If not, use this St. Patrick's Day to get started! Poetry teatime is such a delightful experience that you can enjoy with your kids. It might seem overwhelming but you can create a relaxed atmosphere where you can all learn and grow together.
In fact, I love it so much that I've partnered with my dear friend, Dachelle from Hide the Chocolate, to bring you Poetry Teatime~Holiday Edition.
If you're new to poetry teatime, or just need a bit of help to get it going, this resource is perfect! We present you with simple yet creative ways to make poetry teatime happen with your kids. And to make it even more special, we're focusing on special holidays or seasons each month to celebrate