How To Make A Frugal Inventor's Box Your Child Will Love
Find out how you can make a frugal inventor's box that your kids will love! Easy to make and so much fun to use, an inventor's box is an awesome way to encourage children to practice STEM activities while they let their imaginations soar. Check out how our family of five boys uses our inventor's box and get your free printable resource to start the learning fun today.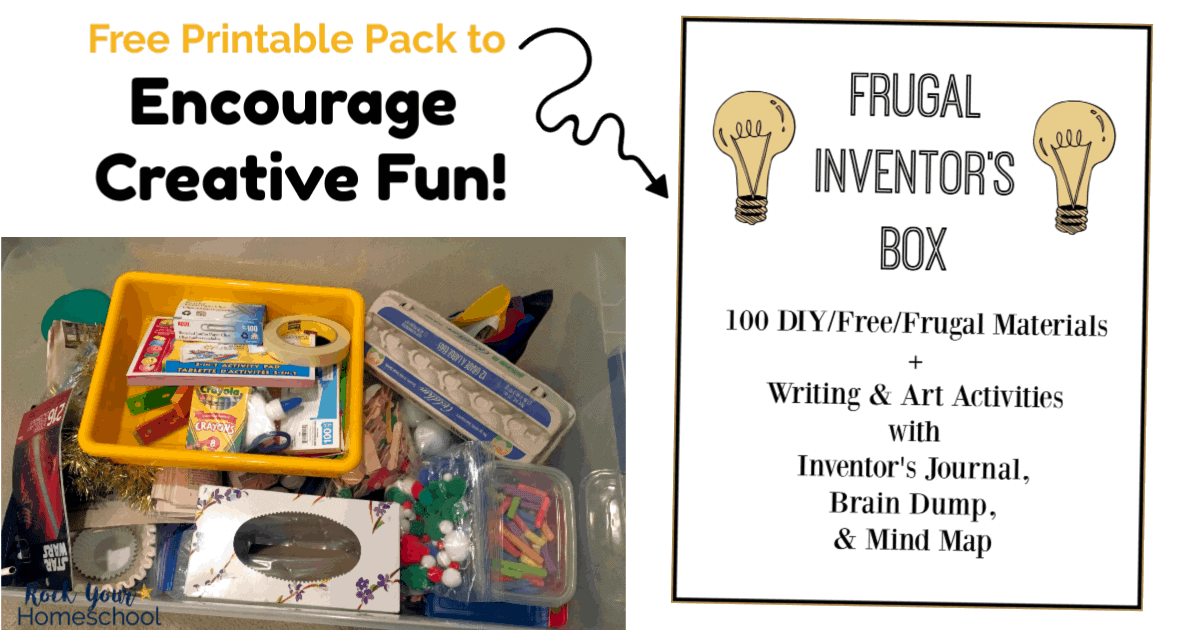 Would you love a frugal way to engage your kids in screen-free activities and contribute to their overall learning?
A frugal inventor's box is an excellent way to encourage your kids to develop independent learning skills plus problem-solving.
And you can create this marvel without spending money!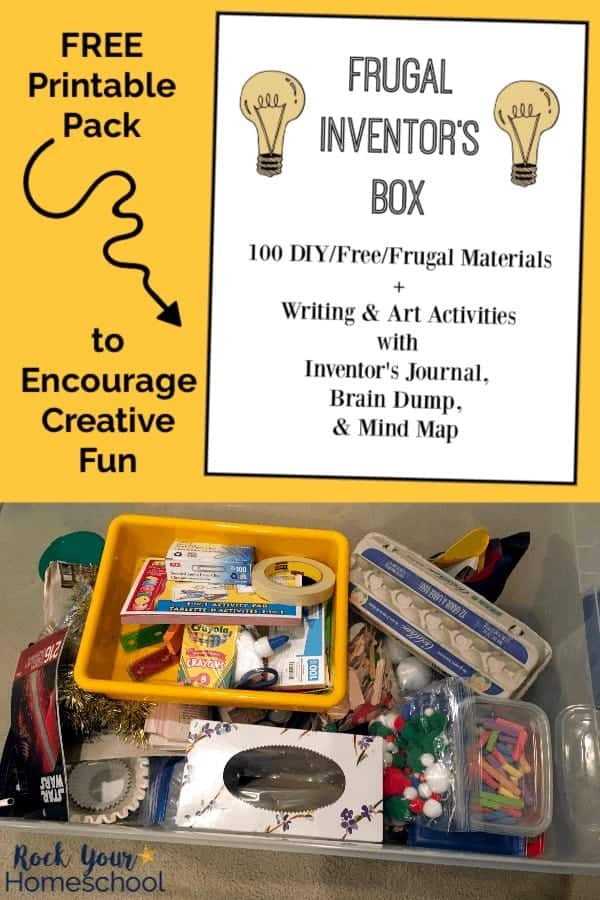 Why Our Family Made a Frugal Inventor's Box
As a busy homeschool soccer mom of 5 boys, I try to provide plenty of opportunities to extend the learning fun throughout our day. My boys have vivid imaginations that thrive with creative outlets. Through the years, I have learned to give them space and freedom in their play and craft time.
When Captain (16) was just a toddler, I'd organize several activities each day, especially crafts. We were little DIY buddies, making all sorts of crafts and decor. As he got older and more boys were added to our family, I had one of those mommy "aha!" moments.
My boys enjoy opportunities to create on their own. As much as they like craft time with Mom, they love getting their hands messy and learn as they go. They don't always want a list of directions and details. My boys want to grab some cool looking stuff and see what they could invent!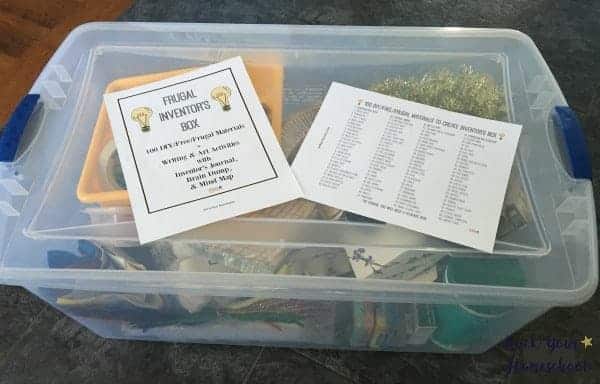 What Is A Frugal Inventor's Box & Why Your Family Will Love One
A Frugal Inventor's Box is a DIY treasure chest full of creative possibilities.
Recyclables that are safe and clean are wonderful additions. Also, free (donated) or frugal (think Dollar Store) materials are encouraged.
Keep your mind and eyes open. Look around your home, yard, & neighborhood. What treasures await to be added to your Frugal Inventor's Box?
There are so many ways this box can bless your family. Besides the hours of imaginative and creative play, consider these reasons:
sparks your kids' imaginations
encourages the creative process
learning through trial-and-error
develops the ability to plan and evaluate
cultivates cooperation between siblings and friends
increases self-confidence through successful creation
the discovery of new concepts and ideas
identify abilities and passions
The boys may work independently or as a team. They often prefer to collaborate on projects as they process ideas and go through trial runs of new inventions.
I've been amazed at what my boys have created. Captain used two paper plates, a paper towel roll, and some masking tape to create a satellite. Professor created different types of guns and weapons (which I find so ironic because he is our peacemaker.) Smiley's latest invention was a DIY 3-D board game.
Bear is fond of using a variety of different objects to fashion whole new worlds and doors to new dimensions. Xman enjoys any type of project that he can quickly destroy 😉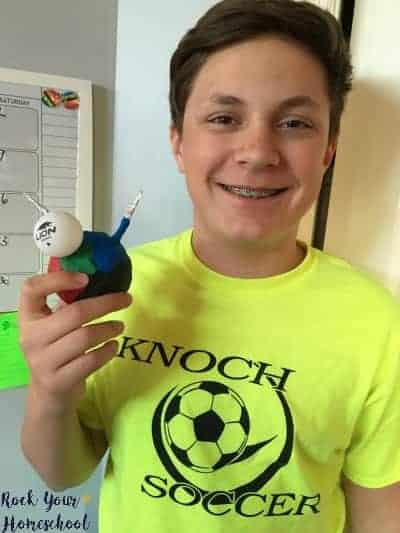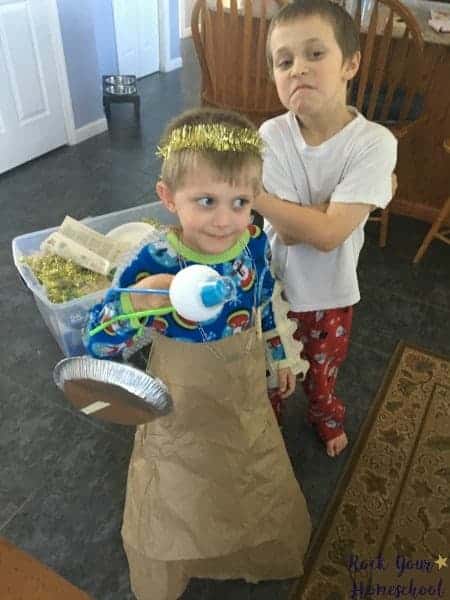 Get Your Free Frugal Inventor's Box Printable Pack
To guide you in creating your own Frugal Inventor's Box for your kids, I put together this FREE 101 Free/Frugal/DIY Materials For Kids Inventor's Box. I can't take credit for thinking of all these objects-my boys introduced quite a few into their imaginative play on their own.
In addition to the hands-on learning fun ideas, this free printable pack includes writing activities to encourage your young inventor's to plan and process their inventions on paper.
This download includes 4 pages to help you start your Frugal Inventor's Box and have writing fun with your kids.
101 DIY/Free/Frugal Materials To Create A Frugal Inventor's Box
Inventor's Box Journal Page to record plans, results, and drawings
Inventor's Box Brain Dump
Inventor's Box Mind Map
To get your free printable Frugal Inventor's Box pack, simply subscribe to Rock Your Homeschool.
You'll receive these printables in a PDF download in an email, along with a super secret password that opens the vault to all RYHS freebies. In addition to your freebies, you will be a weekly email with ways to rock your homeschool plus instant downloads to all new freebies.
(Psst! Current RYHS members just need to access the Subscriber Freebies page and enter the password in your welcome email. Or get the instant download in the email the week of this post)
Click HERE or on the image below to subscribe and get started on learning fun with your FREE Frugal Inventor's Box Materials List & Writing Activities!
Don't feel that you need every item on this list for a successful Frugal Inventor's Box! You do not even need to spend a dime. Go around your home and see what you can find. You may be surprised at the frugal treasures that you can add to your Inventor's Box collection to the sheer joy of your kids.
What will you include in your Frugal Inventor's Box?