Easy & Creative Way to Have Summer Fun with Kids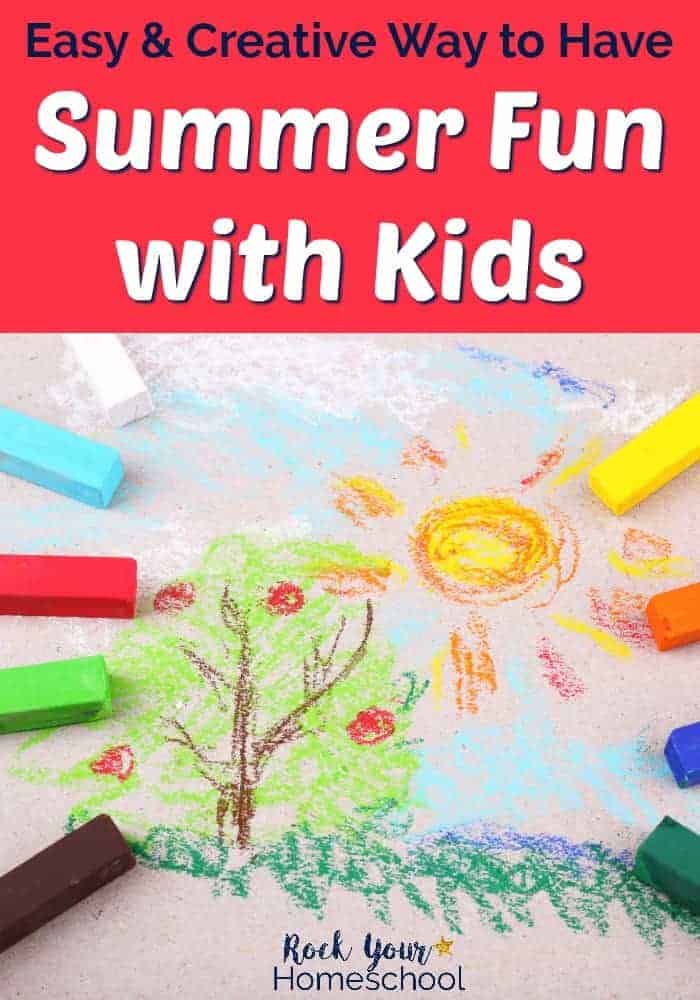 You want to make summer fun with your kids. You dream of filling your days by making memories and enjoying that extra time together. You get all warm and tingly thinking about all the ways you can make THIS summer a blast.
Yes, THIS summer will be the one! You will finally do all those amazingly awesome ideas that you've been dreaming of doing all year long.
And that you just might be carrying over from summer to summer. Because let's face it, life gets busy and there's only so many hours in the day
So, how can you make THIS summer different? Plan and prepare for easy ways to have summer fun with kids! And if those ways just happen to be creative, then you get bonus points or a gold star 😉

Why I Plan for Summer Fun with My Kids
As a busy homeschool mom of five boys, I find it essential to keep things simple. I've learned through many trials and errors that complex = stress.
And who wants to be stressed out in the summer? Not me, thank-you-very-much! I'd much rather be sipping on a pina colada or iced coffee.
Another reality bomb that I've come to accept: our family thrives on routine and expectations.
I used to dream of carefree summer days with no plans. Just a big ol' day sitting in front of us, waiting for us to decide what (if anything) gets done.
Well, life likes to shake things up a bit, doesn't it? My two older boys play competitive soccer and have training schedules, camps, and meet-ups throughout the summer. A few of my boys also struggle with anxiety and can better manage it when presented with routine and expectations.
Oh, and then there's the whole to-do list filled with errands and chores and appointments. Blah!
Feel my pain? Yeah, it's tough trying to get done what you need to get done. Time for fun? Ha!
Well, I'm gonna share one of my favorite secrets for being a fun mom despite a cray-cray summer schedule.
What's so lovely about this secret is that it's super easy to prep and do! Plus, you can enjoy it WITH your kids.
Our Favorite WAY to Have Easy & Creative Summer Fun with Kids
Chalk pastels.
These little gems of the art world are perfect for delightful summer fun with kids. New artists can dabble and discover hidden talents. More advanced artists can enhance their current skill set by diving into textures, layers, and more.
These are a few of my favorite things about using Chalk Pastels for Summer Fun: (I was totally singing that like Julie Andrews in the Sound of Music. In my head. Because I'm a horrible singer.)
Inexpensive. You can pick us a beginner's set of chalk pastels for a few bucks. (We got our set at Michaels Arts & Crafts with a coupon. Cha-ching!)
Easy. To set up and use. Clean up can be a breeze, too. Just place a plastic tablecloth or newspaper on your work area. Or enjoy chalk pastels outside on a nice day!
All Ages. Toddlers (as long as they aren't in that put-everything-in-mouth stage) through mature adults can experience the joys of chalk pastels.
Two materials. You really only need two materials-paper and chalk pastels.
Our Favorite RESOURCE for Creative & Easy Summer Fun with Kids
You ARE An Artist (ChalkPastel.com) is ah-mazing! Nana (a Master artist) shines with encouragement, support, and guidance for artists of all ages. These resources are affordable and quality ways to provide your family with art lessons at home.
My boys absolutely adore these tutorials and video lessons. Smiley, our little Bob Ross-wanna be, begs to "do art with Nana". Xman (4) uses his "painter finger" (you'll find out more about that in the videos) to point to each member of our family and quotes Nana with "Because you ARE an artist!".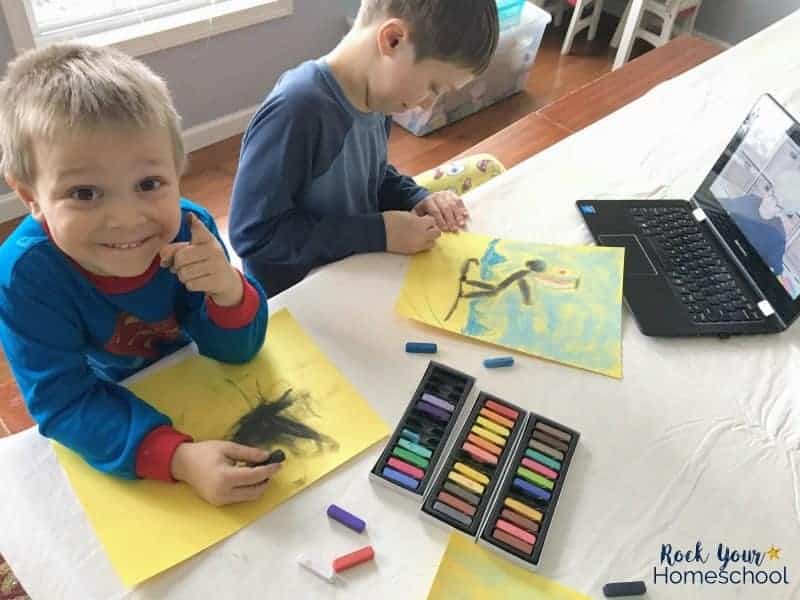 We had a blast with the Seashore Art Tutorial eBooks last summer. (Video lessons are also available.) This collection includes Art at the Beach plus Sharks I and II. I found myself naturally relaxing as we worked on peaceful shore scenes. Oh, and did I mention that I'm about as good of an artist as I am a singer? 😉
My boys shrieked with glee creating shark pictures. (I left out the one created by Captain. He opted to tweak one of the lessons and make a Jaws reenactment. Gotta love teens!)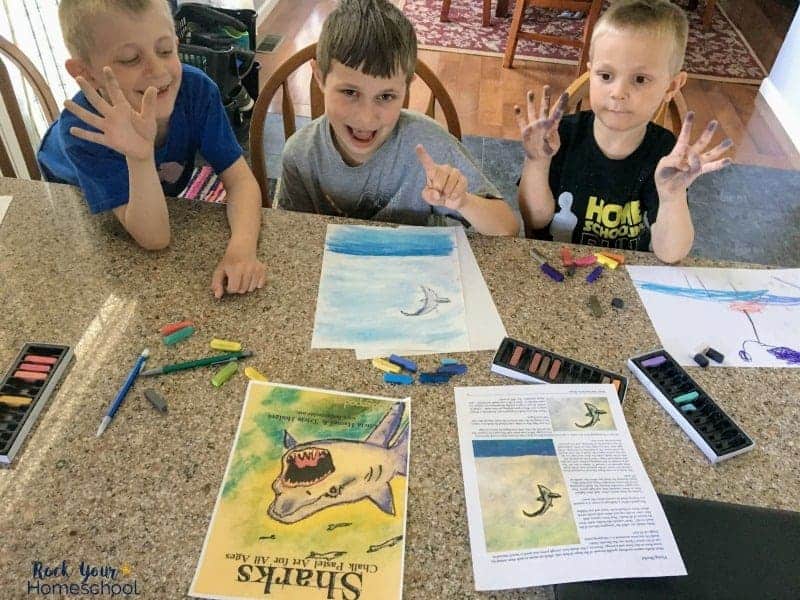 The Backyard Nature Video Art Lessons look wonderful and have been added to our summer fun plans. Smiley can't wait to create a hummingbird. Bear (7) is eagerly anticipating the firefly lesson.
When you check out You ARE An Artist, you'll discover a wide variety of resources. And, if you're like me, you'll want access to all of them.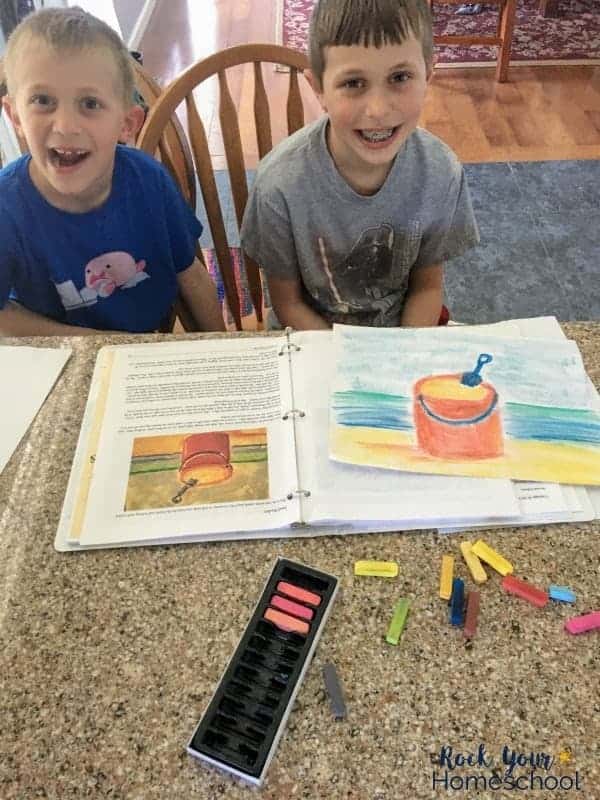 Hold on to your hat because I've got exciting news! You Are An Artist Clubhouse membership can now help you do just that!
With your Clubhouse membership, you receive:
A Simple Start in Chalk Pastels year-long video art course with 45 lessons plus these video art courses: Get Started in Chalk Pastel Art, Preschool Video Art Lessons, Spring Video Art Lesson, and Forest Nature Video Art Lessons. That's a $282 value!
New video art course every month
Bonuses: Art Lesson Index, Chalk Pastels At The Movies, + You ARE An Artist Planner
Access to special events (June is You ARE An Artist Summer Camp!)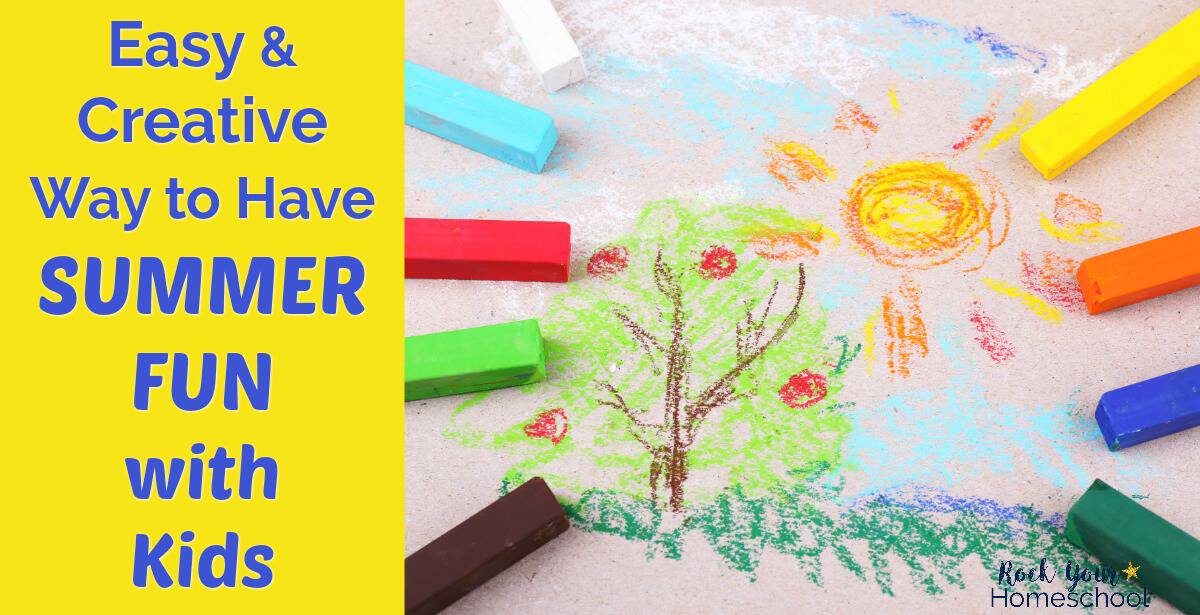 You don't have to fret over making plans for summer fun with kids. Save yourself the stress so you sit back and soak up the fun using chalk pastels with your kids.
Do you struggle with finding easy & creative ways to have fun with your kids?
How can these chalk pastel resources help you be a fun mom?