5 Fun Ways To Learn With The Foot Book by Dr. Seuss
Dr. Seuss books are gems in your learning fun treasure chest.  These precious jewels ignite imaginations and spark interest in reading.  The Foot Book by Dr. Seuss has been a wonderful learning tool in our family and homeschool.
As our family revisits our Dr. Seuss favorites with my younger boys, I am working on learning activities and hands-on fun to enhance our experiences.  Smiley (7), Bear (5), and Xman (2) have been requesting Dr. Seuss books more and more during our read-aloud time.
Dr. Seuss books are great for early and developing readers.  These books help Bear practice sight words.  Smiley builds reading confidence.  All of the boys enjoy the nonsensical words that are so much fun to sound out!
Are you familiar with The Foot Book?  What about these other Rock Your Homeschool favorites by Dr. Seuss?
5 Fun Ways To Learn With The Foot Book by Dr. Seuss
1.  Hands-On Fun with Feet
For this activity, you will need paper, pencil, and math manipulatives.  Trace your child's feet on paper.  Use different math manipulatives to measure both feet.  Compare results.

2.  Learning Left & Right
Use the traced feet from above for this activity.  Label the left foot with "Left" and the right foot with "Right"  To help early learners, use colors to differentiate.  Cut out feet and play "Left & Right" Game by calling out left or right and your child shows you correct foot.
For more advanced learners, use this free printable to practice identifying, tracing, and writing the words "left" and "right".  Click on the image below for an instant download of this activity.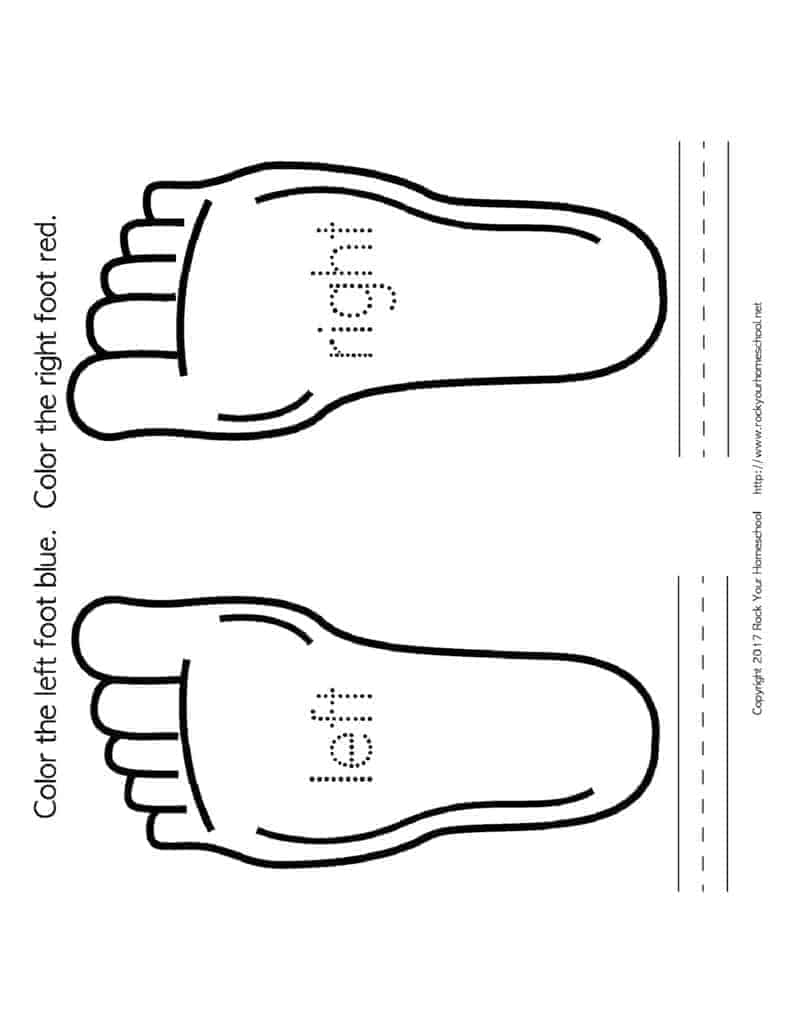 3.  Practice with Opposites
More fun games!  For a simple DIY game, take turns calling out words and naming opposites.  For example, you call out "morning" and your child says "night".
Here are a few hands-on games to practice opposites:
The Learning Journey Match It! Opposites
4.  Hokey Pokey
Sing and dance the Hokey Pokey!  C'mon!  Put your left foot in and put your left foot out!
If your child needs help remembering left and right, you can put stickers on their left foot and left handsto differentiate from their right foot and right hand.
5.  Fingerpaint Feet
Here's a hands-on craft for making feet!  You will need fingerpaints and fingerpaint paper (or washable paints).  Allow your child to smear fingerpaint over the paper.  Show them how to clench their fist and gently press side of fist closest to pinky finger into the paper.  Dot the top with five toes at the top with fingertips.  Alternate hands to make left or right feet.  Continue the process to replicate, "Left foot, left foot, right foot, right" or create a march!
ALEX Jr. Finger Paint Paper & Tray
I hope that these 5 Fun Ways To Learn With The Foot Book by Dr. Seuss help you add sparkle to your learning fun!  Which of these fun activities will you be using with your young learners?