How to Use Character Education Posters to Encourage a Growth Mindset
If you're looking for a fun and easy way to teach growth mindset principles to kids, these 10 free Character Education Posters are fabulous tools.
Get tips and tricks for using these growth mindset posters plus your free printable pack today!
How do you teach kids about growth mindset ideas and practices?
These positive practices are amazing skills that your kids benefit from and access their entire lives. What incredible gifts to give to your kids!
Developing a growth mindset can help your kids in so many ways.
Self-esteem.
Interpersonal relationships.
Conquering fears and practicing self-control.
The list of benefits goes on and on.
Find out why I created these 10 FREE Character Education Posters for use in your homeschool or classroom and different ideas on how these tools can help you impart valuable lessons to your kids.
The Value of Character Education Posters for Teaching Growth Mindset
One of the reasons that we homeschool is to provide our boys with important values and character training. I realized that our homeschool plans for this year were lacking these areas.
How did I let growth mindset lessons slip through the cracks this year?
Homeschooling five boys (preschool through high school) keeps me on my toes. Our erratic schedule often has us homeschooling on-the-go and getting creative with when we homeschool.
With all that hustle and bustle, sometimes extras get nudged to the side. I know, however, the importance of instilling growth mindset beliefs and practices in my boys.
As our homeschool year continues to unfold, our homeschool morning time is running smoother. It feels like a good time to add character education back to the start of our day 🙂
I wanted to be able to include all five boys in our character education mini-lessons. Therefore, these lessons needed to be:
simple
short
gentle
visual reminders
positive practices
suitable for different ages
I'm a firm believer that children learn best with juicy nuggets of engaging information. Personally, I don't think it necessary to beat a dead horse (I strongly dislike that phrase but it gets the message across).
So, I created these 10 character education posters for simple, gentle reminders with discussion and review of positive practices for interpersonal skills and self-growth!
How to Use These Free Character Education Posters to Teach Growth Mindset
Think about how these 10 Free Printable Character Education Posters can be used to help you teach your kids these valuable lessons.
Consider when and how often you will use to discuss and practice these lessons.  Here are a few suggestions on how to use:
As part of your morning time board
Hang in your homeschool or classroom area as visual reminders
Use in the front clear slot of cover on your students' binders
Arrange on a cork board or bulletin board for a Character Education theme
I suggest at least discussing and defining each positive practice with your kids. Share examples of what each positive practice looks like in action. Encourage your kids to share their thoughts and ideas.
If desired, you can use books and games to reinforce these positive practices.
Provide positive reinforcement when you catch your kids doing these positive practices. Praise them for their choices and actions with specific terms and examples.
Instead of saying, "Wow! You are awesome!" give praise with an observation like, "I'm very impressed with how hard you're working and how you keep trying no matter what."
Get Your 10 Free Printable Character Education Posters to Teach a Growth Mindset
These character education posters are bright and colorful. You'll find posters for:
Honesty
Patience
Diligence
Compassion
Cooperation
Courage
Joy
Obedience
Respect
Self-Control
Each poster contains the word, brief definition, and examples of positive practices. Posters are designed for 8 1/2″ x 11″ use but feel free to resize according to your needs.
To get your free printable Character Education Posters to Encourage a Growth Mindset, simply subscribe to Rock Your Homeschool.
You can print out as many copies as you need. If you have a friend or co-worker who you think would enjoy this free printable activity, please share the link to this post with them 
You'll receive these printables in a PDF download in an email, along with a super-secret password that opens the vault to all RYHS freebies.
In addition to your freebies, you'll get emails to help you make life and learning fun.
(Psst! Current RYHS members just need to access the Subscriber Freebies page and enter the password in your welcome email. Or get the instant download in the email the week of this post)
Click HERE or on the image below to subscribe and get started with your free printable Character Education Posters to Encourage a Growth Mindset!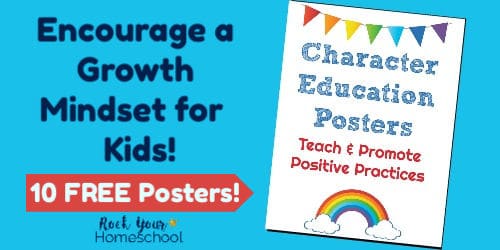 How will you use these free character education posters to teach a growth mindset to your kids?
Speaking of growth mindset, have you tried affirmations for kids?
You can help your kids learn about and develop the positive practice of affirmations? These powerful self-statements are fabulous skills that any age can benefit from and use.
And it's a fantastic activity that you can enjoy with your kids 
The Simple Guide to the Powerful Practice of Affirmations for Kids Bundle is here to teach you about affirmations and how you can help your kids customize the experience for maximum benefits. The guide provides you with the information you need to better understand what affirmations are and how to talk to your kids about them.
This bundle includes printable resources for you to use with your kids to determine an affirmations practice that best fits their current needs.
Check it out and start on the path to positive thinking with your kids today!