Cinco de Mayo Unit Study for a Fantastic Fiesta of Learning Fun with Kids
This Cinco de Mayo Unit Study is a fantastic way to enjoy a fiesta of learning fun with your kids.
Discover what this special holiday is about plus get a variety of ideas and resources to help you celebrate it.
These Cinco de Mayo activities boost learning and so much more!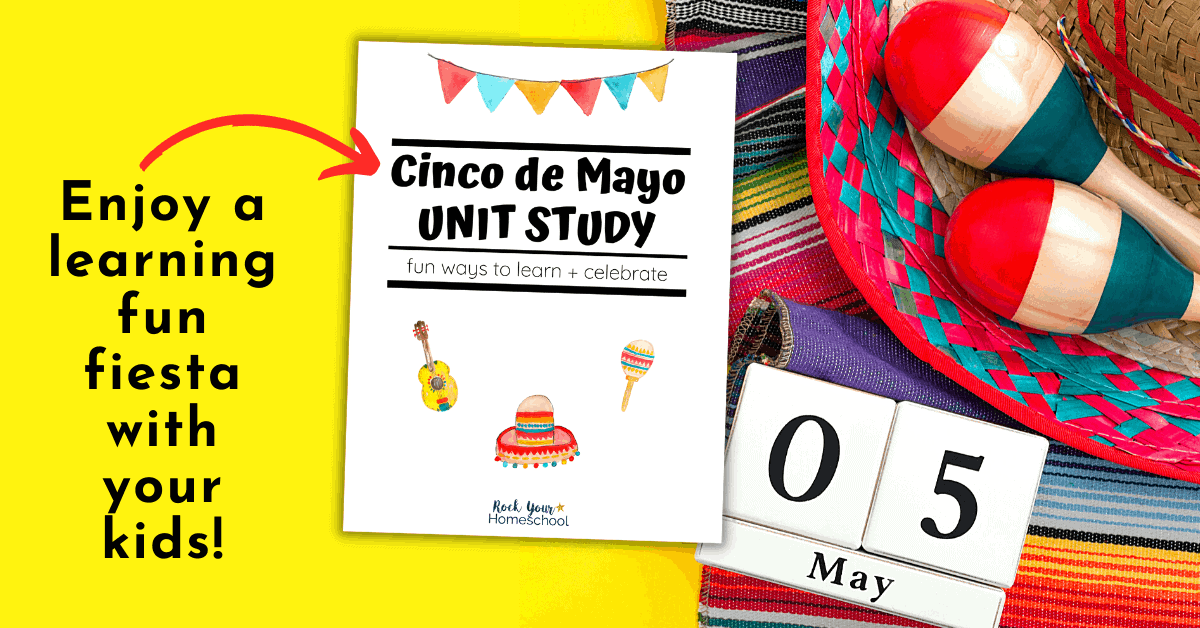 Cinco de Mayo for Kids Can Be So Much Fun!
WooHoo! If you'd like to enjoy some awesome learning fun with your kids, Cinco de Mayo is a wonderful holiday to celebrate.
Cinco de Mayo (in Mexico, Spanish for the Fifth of May) has become a popular holiday (especially in the United States) that's full of dancing, food, and music. Mexican culture and heritage is celebrated.
Although often associated with Mexican Independence, Cinco de Mayo is actually in recognition of Mexico's victory over France in the Battle of Puebla on May 5, 1862.
There's really so much to learn when studying Cinco de Mayo! You and your kids can find out more about this Mexican battle, its role in Mexican independence, and overall Mexican culture.
This Unit Study is FULL of Cinco de Mayo Activities & Ideas
Take your Cinco de Mayo celebration to the next level with a unit study.
A unit study is an excellent way to explore a topic, theme, or fun day. With a unit study, you experience the theme with a variety of subjects. It's an amazing way to really dig deep and learn in different ways.
After the massive success of our other holiday unit studies with my boys, I'm super pumped up to dive into learning more with my boys about Cinco de Mayo and why we even celebrate this holiday.
This Cinco de Mayo Unit Study includes 38 pages with recommended resources, activities, games, and more. You can use them all or pick and choose what works best for your family 😊
Recommended Reading

(I share what books and materials my boys are using for this unit study. Of course, I encourage you to use resources that you find at your library or in your home.)

History
Vocabulary (Cinco de Mayo Word Fun)
Poetry
Arts & Crafts
Music
Food
Games
Coloring
Fun Activities
Also, you'll find a few types of unit study planning pages so you can customize the experience. Oh, and you'll also find simple record form for student use if you'd like to include in your homeschool portfolio or for record keeping.
Fabulous Resources for This Special Unit Study
If you'd like to add a few cool resources to your Cinco de Mayo unit study, here are a few things for inspiration. I'll be using some of these materials with my boys this year – and adding the others to our homeschool wishlist 😉
Celebrate Cinco de Mayo – Celebramos Cinco de Mayo: A Bilingual Book for Kids in English and Spanish (Around the World by Magic Spells for Teachers LLC)
Celebrating Cinco De Mayo: Fiesta Time! (Learn to Read Read to Learn Holiday Series)
Cinco de Mayo (Holidays in Rhythm and Rhyme)
Betty Celebrates Cinco De Mayo: Picture Book Story For Kids
Cinco De Mayo (Rookie Read-About Holidays)
What is Cinco de Mayo – Social Studies for Kids, Cinco de Mayo for Kids, Mexican Traditions, Cinco de Mayo Traditions, Mexican Holidays, Mexican … What can I do to celebrate CInco de Mayo
It's Cinco de Mayo! (Bumba Books ® ― It's a Holiday!)
Cinco De Mayo (Traditions and Celebrations)
Mexican Fiesta Party Decorations – Cinco De Mayo – 6 Paper Fans, 5 Flowers Pom Poms, Papel Picado, 1 Pennants Garland, Taco Bout Tuesday, Birthday, Engagement Supplies
JOYIN 6 PCS Cinco De Mayo Fiesta Fabric and Straw Sombrero Headbands Party Costume for Fun Fiesta Hat Party Supplies, Mexican Theme Decorations, Luau Event Photo Props, Dia De Muertos and Party Favors
Mexican Party Decorations Fiesta Themed – Cinco De Mayo Party Supplies Decor for Birthday Wedding Baby Shower – Paper Fans+ Pom Poms+Pennant+Papel Picado Banner+Disposable Table Cover
24 Pieces Fiesta Party Decorations Fiesta Eyeglass Cinco De Mayo Paper Glasses Fiesta Eyewears Fiesta Bead Necklaces Cactus Taco Avocado Corn Photo Props for Mexican Themed Fiesta Carnival Party
JOYIN 12 Mini Wooden Fiesta Maracas 6 Designs Noisemaker for Mexican Fiesta, Cinco De Mayo Party Favors, Musical Fun, Birthday Parties, Luau Party, Carnivals, Taco Tuesday Event
6 Pcs Mini Pinata 4×7
Small Red Chili Pinata Cinco De Mayo Pepper Sombrero Pinata Capsicum Pinata Fiesta Party Decorations for Birthday Party Mexican Themed Party Supplies with Pinata Stick Blindfold Confetti Set for Kid
Get Your Cinco de Mayo Unit Study for a Special Learning Fun Celebration
High five for wanting to Cinco de Mayo a memorable (and fun) experience for your kids!
This Cinco de Mayo Unit study includes 38 pages with suggested ideas, crafts, food, and more. Also, you get a bunch of printable activities to make it easy to open-and-go.
All you have to do is TAP HERE or on the image below to find out more about this Cinco de Mayo Unit Study and how you can get started today!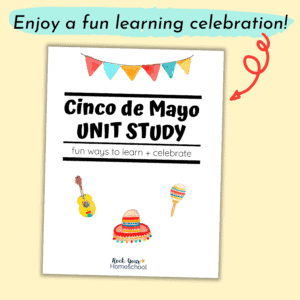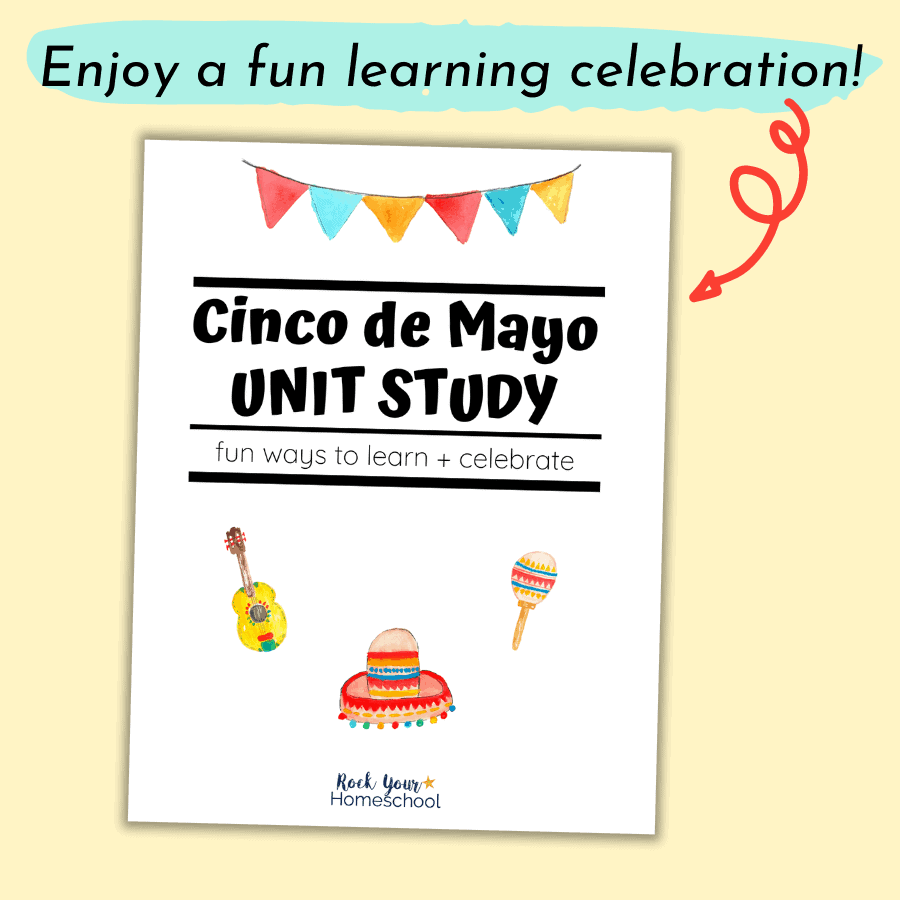 Please tag us @rockyourhomeschool to share your stories and pictures about your Cinco de Mayo learning fun adventures 🙂
More Fun Ways to Celebrate Cinco de Mayo with Kids