Cinco de Mayo Tracing Worksheets for Holiday Fun for Kids (2 Free Pages)
These Cinco de Mayo Tracing Worksheets are easy ways to enjoy special holiday fun with kids.
With cute shapes and holiday-themed words to trace, your kids can use these printables to create a special Cinco de Mayo mini-book, too!
Find out more about these free printable Cinco de Mayo tracing pages and get your set today 🪅
Tracing Worksheets Are Wonderful Cinco de Mayo Activities for Your Kids
When a holiday is approaching, there's a certain excitement in the air for kids of all ages.
And that level of anticipation especially grows when you're learning about a super cool holiday like Cinco de Mayo!
So, how do you help your kids focus all that energy and excitement? Because if your home (or class) is like mine, you need a few tricks up your sleeve to pull out when you need to redirect or just get something done.
That's why I build an arsenal of holiday fun activities. I look for open-and-go, easy, and stressfree as much as possible.
My boys have loved our Cinco de Mayo activities over the past few years. I knew that I wanted to add a few more (like our Cinco de Mayo word search and Cinco de Mayo playdough mats) this year to keep the fun going. 
Find Out More About This Tracing Activities Pack
This free printable pack includes 2 pages in black-and-white. There are 8 Cinco de Mayo themes for your kids to trace including:
Sombrero Hat
Pair of Maracas
Guitar
Cactus
Hot sun
Fancy drink
Peppers
Sugar skull (or Day of the Dead Skull)
Fun Ways to Boost The Holiday Fun with These Activities
If you hear worksheets and you immediately think "boring!", no worries! With a few simple ideas, your kids will have a blast with these printable activities.
Here are some awesome ways to make these Cinco de Mayo Tracing Worksheets super fun for kids:
Put out holiday-related writing utensils. Crayons, markers, erasers, and color pencils with Cinco de Mayo themes are sure to be big hits for this type of activity.
Laminate the worksheets or slip the printable pages into dry erase sleeves. Your kids can use dry erase markers to work on tracing these holiday-related shapes and words again and again!
Encourage your kids to add their own doodles and lists on the back of the tracing worksheets.
Use Cinco de Mayo stickers and stamps to jazz up your tracing worksheets.
Washi tape with holiday colors and themes can make adorable borders and more.
Cut out the tracing worksheets and assemble into a special Cinco de Mayo Mini-Book to be enjoyed this holiday and for years to come 🙂
Mexican Fiesta Pencils Cinco De Mayo Pencils Taco School Pencils Kids Motivational Pencil with Erasers for Pinata Filler Goodie Bag Stuffers Classroom Rewards Cinco De Mayo Party Favors (96 Pcs)
Crayola Original Marker Set, Fine Tip, Assorted Classic Colors, Set of 10
Crayola Mini Colored Pencils (Colors May Vary), Coloring Supplies for Kids, 64 Count, Gift
Nutsball Dry Erase Pockets Reusable Sleeves 7 Pack – Heavy Duty Oversized 10
Amazon Basics Hardboard Office Clipboard – 6-Pack
Plastic Clipboards (Set of 6) Multi Pack Clipboard (Colored Assorted) Strong 12.5 x 9 Inch | Holds 100 Sheets! Acrylic Clipboards with Low Profile Clip | Cute Clip Boards Board Clips
Get Your Free Cinco de Mayo Tracing Worksheets
Want to enjoy holiday fun with your kids? Grab your free Cinco de Mayo Tracing Worksheets!
You'll get two printable pages in PDF form. Each page contains four half-sheets for a total of eight holiday tracing activities.
Please feel free to print as many of these tracing worksheets as you need for your family, homeschool, co-op, or class. If you know a friend or co-worker who you think would enjoy using these free Cinco de Mayo activities with their kids, please share this post. Your sharing is most appreciated!
When you subscribe and join the Rock Your Homeschool community, you'll receive this printable set in a PDF file in an email, along with a password to open the library to all RYHS freebies.
In addition to your free printable pages, you will get emails with ideas and encouragement to make life and learning fun.
(Current RYHS members just need to access the Subscriber Freebies page and enter the password in your welcome email. If you have any questions or problems, please email Amy at rockyourhomeschool@gmail.com)
Tap on the image below to subscribe and get your free printable Cinco de Mayo Tracing Worksheets!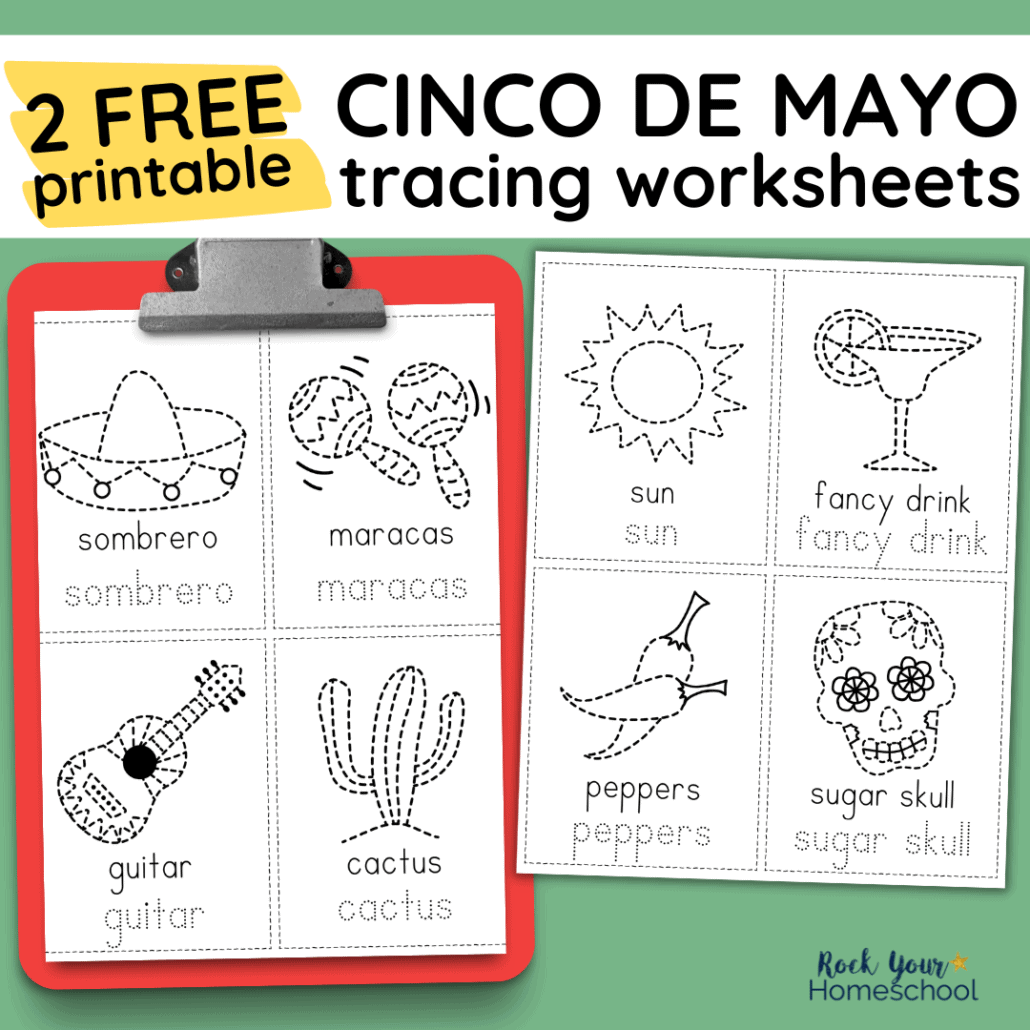 Hope you have tons of Cinco de Mayo fun with your kids!
More Fun Ways to Celebrate Cinco de Mayo with Kids