Are you looking for a fun activity to help your young kids learn the alphabet? Color by Letter Fun is a fantastic way to learn and practice letters.
Find out how my younger boys are using these Color by Letter Fun pages and get your free printable pack!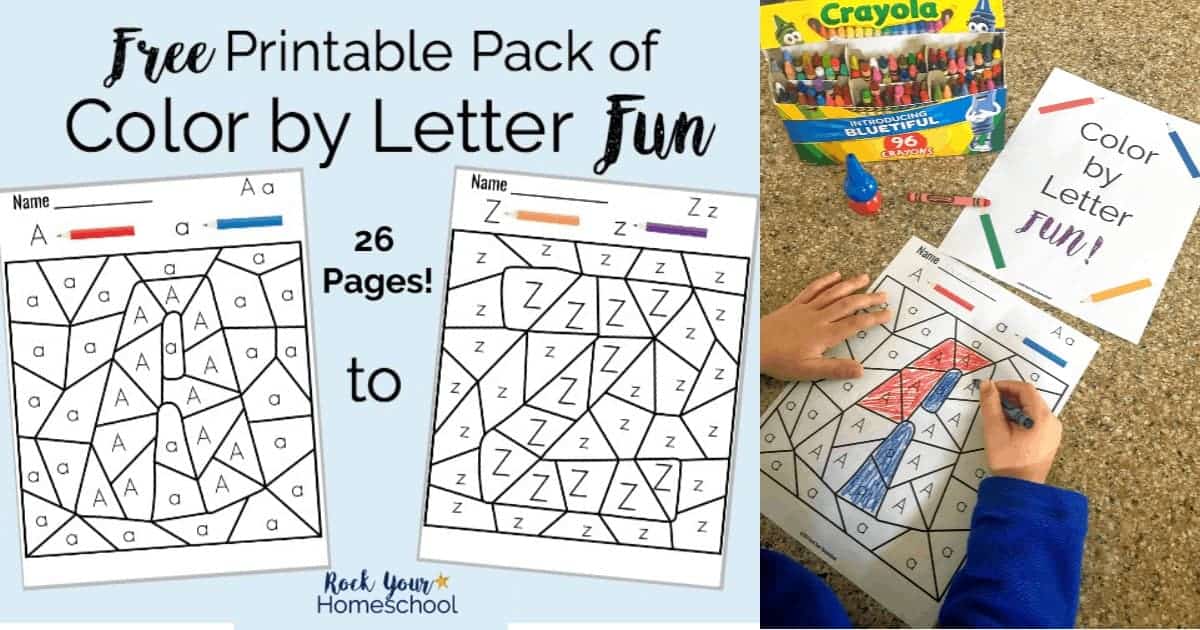 Why Printable Activities like Color By Letter Fun Help Our Homeschool
I've found that it's super helpful to provide kids with different ways to learn and practice identifying letters. And while I love to give my boys hands-on activities for learning and practicing new skills and concepts, sometimes printables or workbooks are great ways to reinforce.
With homeschooling five boys, I'm always looking for new and creative ways to help our homeschool day flow better. And since I haven't figured out a way to clone myself and be available at all times for each boy, I organize materials and resources to keep the learning fun going, even when I need to help an older sibling.
Printable activities help me maintain my sanity when my attention needs to be elsewhere. My boys stay focused on learning and not drifting off into other areas of our home.
My two younger boys are at different ages and stages. Bear (7) is technically at the second-grade level. He can benefit from a review of his capital and lower case letters, as well as following directions. Plus, Bear enjoys coloring and challenging himself by writing down spelling words to match the letters.
Xman (5) is working at a preschool/Kindergarten level in our homeschool. He uses these Color by Letter Fun printables to practice letter identification and sounds, as well as practice speech activities with letter themes.
These Color by Letter Fun printables are great for both ages. I print out two copies and have the boys work side by side while their older brothers tackle upper-level homeschool lessons.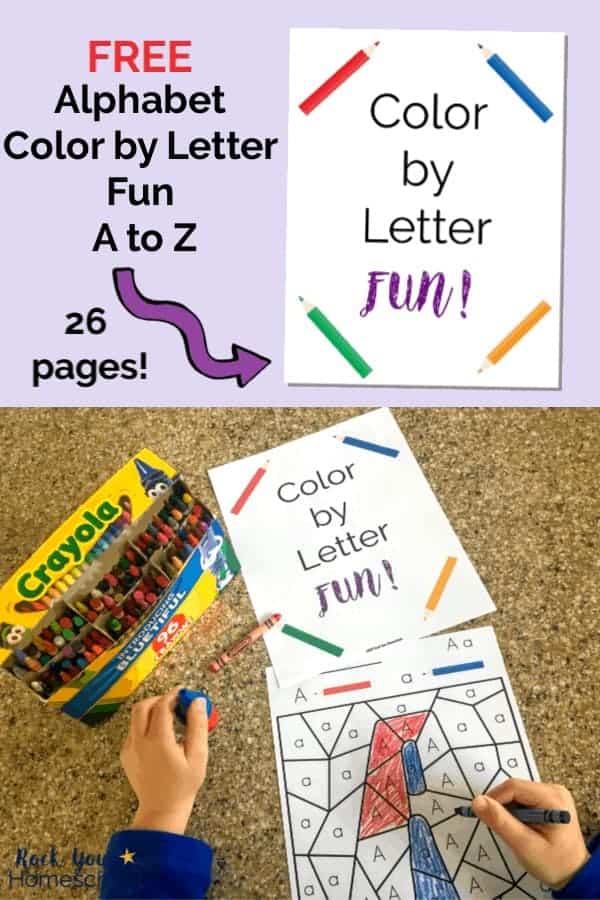 Free Color by Letter Fun Printables
This free printable pack includes 26 pages of color by letter fun. After downloading and printing, you will only need crayons, markers, or color pencils to get started.
There is a space for your child to practice writing their name. You could lightly trace their name in pencil and have them trace. Or use dotted lines to make the letters in their name for them to connect the dots.
These printables also encourage your child to learn about and use different colors. If they would prefer to use different colors than the ones suggested, that's fine. It's all about having learning fun!
You can print out as many copies as you need. If you have a friend or co-worker who you think would enjoy this free printable activity, please share the link to this post with them
When you click on the image below to subscribe and join the Rock Your Homeschool community, you'll receive this printable pack in a PDF download in an email, along with a super secret password that opens the library to all RYHS freebies.
In addition to your freebies, you'll be added to our email list and I'll update you with ways to have easy fun with kids plus instant downloads to all new freebies.
(Psst! Current RYHS members just need to access the Subscriber Freebies page and enter the password in your welcome email. Or get the instant download in the email the week of this post)
Click HERE or on the image below to subscribe and get started with this Color by Letter fun!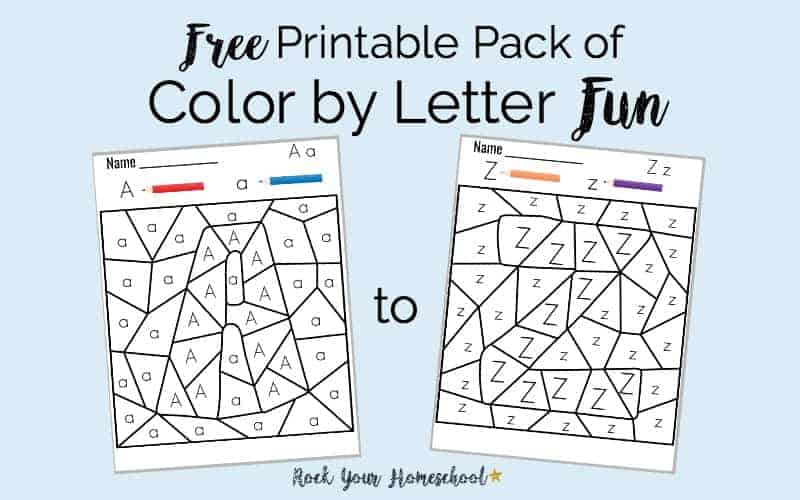 How will you use these Color by Letter Fun Printables with your kids?