Cootie Catchers for Seasonal & Holiday Fun Activities
Are you looking for easy yet engaging ways to have fun with your kids?
These cootie catchers for seasonal and holiday fun activities are wonderful ways to be prepared for special moments of shared joy.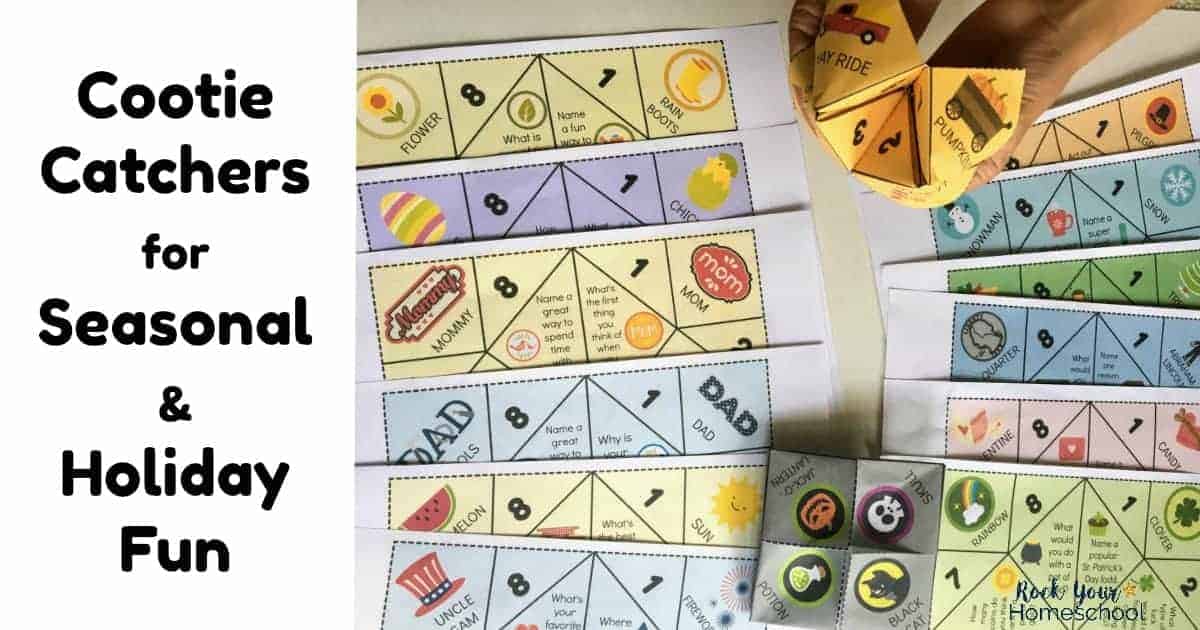 When you think about the holidays or the change of seasons, you want to make these special times with your kids memorable. You know that these events are ideal for creating memories that will last a lifetime.
But, life gets busy. And you feel buried under your piles of to-dos.
So, how can you make sure you have activities at-the-ready when a holiday approaches or season changes?
Cootie catchers for seasonal & holiday fun!
Why Cootie Catchers are Excellent & Engaging
Cootie catchers (also known as paper origami fortune tellers) are printable and foldable activities. These simple yet fun printables or DIY activities are delightful when you want to have an enjoyable time with kids.
I made these fun foldable paper activities with my friends when I was young. We had such a blast figuring out who we would marry, where we would live, what we do for a career, and more.
One rainy day, I introduced these fun paper activities to my boys. All five boys were intrigued by these origami-like activities. I decided to create different cootie catchers based on their interests.
Oh, how they have loved the fun with these easy-to-use paper activities!
I just knew that my boys would enjoy cootie catchers for each season and holiday!!
Get Your Cootie Catchers for Seasonal & Holiday Fun
Wouldn't your kids love a cootie catcher for each and every season and holiday? These printable and foldable activities are perfect for:
Classroom fun
Homeschool brain breaks
Party favors
Party fun
Fun with family
You can get the entire pack of 14 cootie catchers for seasonal and holiday fun for only $2!
That's an entire year of interactive fun with your kids!! Including:
Fall
Halloween
Thanksgiving
Winter
Christmas
President's Day
Valentine's Day
St. Patrick's Day
Spring
Easter
Mother's Day
Father's Day
Fourth of July
Summer
Just get the set, print them out, & be ready to go. 
Or maybe you're a classroom or homeschool co-op teacher or party person? Well, these printables would be spectacular to include party goody bags or take-home folders 😉
Click HERE or on the image below to find out more about these super simple activities for seasonal & holiday fun.