How to Thank Your Soccer Coach: Gift Ideas and More
These soccer coach gift ideas are fantastic ways to show your appreciation and thanks for all their hard work.
This list of the best soccer coach gifts will make it easy for you to find and give something that fits their interests or helps them enjoy coaching life even more.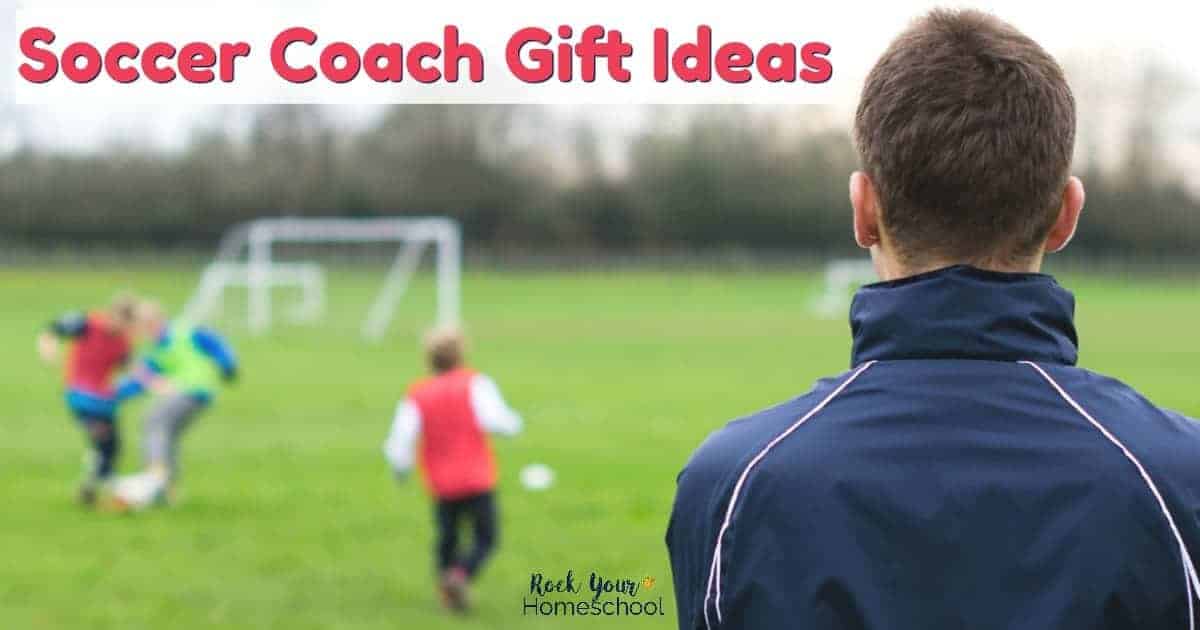 Pick the Perfect Present for Your Soccer Coach
As a homeschool soccer mom to five boys, former player, and former coach, soccer coach gift ideas are close to my heart.
These extraordinary individuals often donate or give a lot of their time and energy to helping young athletes love the best game in the world 🙂
To help you select just the right present, check out these tips and ideas for soccer coach gift ideas.
And I'm sure all soccer coaches will agree: the best gift and thank you is the one that comes directly from your player 🙂 That's why I included ideas for DIY gifts that your player can make to express thanks and appreciation.
Tip:  When picking out the perfect soccer coach gift, you may want to make it a group effort and make it from the whole team. A donation of $5-$10 from each family goes a long way for a team of 10+ players. Send a group email or text (just make sure to not include the coach!) and take up a collection. When you are collecting money, have a card with you. Parents and players can sign when they've paid. Save yourself time and energy!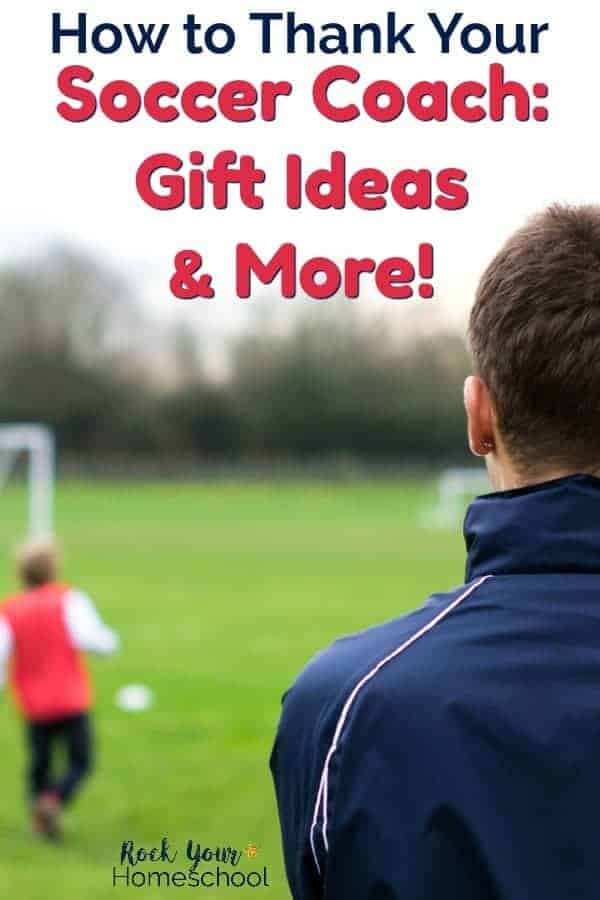 Soccer Coach Gift Ideas: Tips
When picking out one of these soccer coach gift ideas, make sure to consider your coach's likes and interests. Do a bit of digging and find out your soccer coach's favorite:
Team: Are they a MLS (Major League Soccer) fan? Or maybe they prefer the Premier League?
Player
Brand: Popular brands for soccer include Adidas, Under Armour, Nike, Puma, and Diadora.
Place to shop for sporting goods: Dicks Sporting Goods is common in our area. Amazon is another fabulous place to shop!
Spot for Pre- or Post-Game snacks and drinks: Does your coach like to stop for coffee or a healthy snack? Maybe they like a specific sports drink? A gift card to a convenience store in your area can be fantastic!
Place to stop for gas (especially if you're on a travel team!)
If your soccer coach has a favorite team or player, they might love a T-shirt, scarf, hat, or a keychain. I love Tottenham Hotspurs so I'd love any of these gifts. (Sorry-couldn't resist adding my favorite team.) Look for these type of items for YOUR soccer coach.
Tottenham Hotspur FC Bar Scarf
Tottenham – Navy New Era 9FORTY Baseball Hat
Official Tottenham Hotspur (Spurs) Crest Hooded Sweatshirt (Adult Sizes S to 2XL) (MEDIUM) Navy Blue
Men's Tottenham Hotspur Football Club Outline Bird Logo T-Shirt – Athletic Heather – Large
Tottenham Hotspur FC Thermos Style Handleless Travel Mug (15.8floz) (Black)
Tottenham Hotspur Fc Spurs Aluminium Sports Water Drinks Bottle Fade Design XL
Tottenham Authentic Crest Mug In Gift Box
Tottenham Hotspur FC. Crest Keyring
Tottenham Hotspur Fc – Official Crest Cap White
And coaches get hungry, too. Practice nights are busy and they might have little time to prepare dinner. A gift card to somewhere like Panera Bread, Subway, or a pizza place is a wonderful, unique gift.
Also, don't forget your coach's interests outside of soccer! Do they love to go to the movies? A movie gift card would be very welcome.
Or maybe they like to visit the local pub or brewery? Give a gift card so they can watch a match or two with some good food and drinks.
Amazon.com Gift Card in a Black Gift Box (Classic Black Card Design)
Starbucks Gift Card $25 – Packaging may vary
AMC Theatre Gift Card $25
Subway Gift Cards, Multipack of 5 – $10
Domino's Pizza Gift Card $20
Panera Bread Gift Card $25
Soccer Coach Gift Ideas: Special Equipment & Gear
Find out if your special sports coach would like specific equipment to use during practices or games. Ask about items like pop-up goals, ball bags, clipboard, first aid kits, or ball pump.
Disc cones and a portable bench or seat are other great practical gifts. Maybe your coach needs a water bottle, dry erase clipboard, or soccer keychain? Oh, and an excellent gift can be a soccer coach t-shirt with the team colors and team logo!
GoSports Portable Pop Up Soccer Goals for Backyard – Kids & Adults – Set of 2 Nets with Agility Training Cones and Carrying Case (Choose from 2.5′, 4′ and 6′ Sizes)
Amazon Basics Pop-Up Soccer Goal Net Set with Carrying Case – 2.5 Feet, Blue
Franklin Sports Blackhawk Portable Soccer Goal – Pop-Up Soccer Goal – Portable Soccer Net – 4 x 3 Foot, Optic Yellow, 4′ x 3′
Extra Large Ball Bag, Mesh Soccer Ball Bag, Adjustable Shoulder and Portable Strap Design fit Coach,Adults and Kids, Best for Soccer Ball, Basketball, Volleyball, Baseball, Water Sports, Beach Cloth
Soccer Ball Bag – Sports Equipment Bag, Mesh Laundry Bag, Beach Bag or Snorkel Gear Bag with Shoulder Strap – Extra Large 30 Inches X 40 Inches Commercial Grade Mesh – Perfect for Equipment Storage, Soccer Balls, Scuba Gear, Beach Toys, Basketball Bag and Snorkel Gear
Kwik Goal Carry Dry Erase Board, Model:18B1701
Murray Sporting Goods Magnetic Coaches Dry Erase Marker Board (Soccer)
GoSports Soccer Dry Erase Coaches Board with 2 Dry Erase Pens
AGPTEK Soccer Coach Board Set with a Whistle & Carrying Bag, Football Folding Magnetic Tactic Marker Board, Marker Pen and Eraser for Strategy Guiding
Franklin Sports Ball Pump Kit -7.5
 Another way to approach these soccer coach gift ideas is to consider what they need during practices and games at the soccer fields. Umbrellas and raingear are great for wet weather. A hat and sunscreen are helpful to have for sunny and hot weather. A canopy works year round. And a first aid kit is a simple gift that can always come in handy for practices and games.
One of our new favorites is this puffy blanket from Sorison Outdoors. It is amazing for keeping you warm and dry! Your coach would love to have this blanket on the sideline. It's quite a thoughtful gift.
Sport-Brella Super-Brella SPF 50+ Sun and Rain Canopy Umbrella for Beach and Sports Events (8-Foot, Blue)
EEZ-Y Windproof Travel Umbrellas for Rain – Lightweight, Strong, Compact with & Easy Auto Open/Close Button for Single Hand Use – Double Vented Canopy for Men & Women – Black
Crown Shade One Touch Polyester Canopy 9.38′ H x 10′ W x 10′ L – Case of: 1
CROWN SHADES Pop up Canopy, Slant Leg Portable Outdoor Canopy, 11×11 Base and 9×9 Top Instant Shelter Canopy, Blue
AGPTEK Reusable Rain Ponchos with Hood & 1 Pouch for Adults, Hiking, Camping,Dark Blue
Multifunctional Mens Womens Rain Poncho Waterproof Outdoor Raincoat(Black)
Banana Boat Sport 100% Mineral, Reef Friendly, Broad Spectrum Sunscreen Lotion, SPF 50+, 6oz.
Banana Boat Sport Ultra, Broad Spectrum Sunscreen Spray, SPF 100, 6oz.
BLUE LIZARD Active Mineral Sunscreen with Zinc Oxide/SPF 30/Water & Sweat Resistant/UVA/UVB Protection with Smart Bottle Technology, Unscented, 5 Fl Oz
Cottage Creek Coach Gifts | Coach Mug | World's Greatest Coach Coffee Mug 16oz | Best Ever Coach | Coaching Gifts
3dRose Best Coach Ever-Black and White Two Tone Mug, 1 Count (Pack of 1), Multicolor
YETI Rambler 46 oz Bottle, Vacuum Insulated, Stainless Steel with Chug Cap, Black
Gatorade Squeeze Bottle, 20 oz (2 Pack)
Coleman Jug (1-Gallon, Red)

Homemade Soccer Coach Gift Ideas
Sure, you can go out and spend money on a gift. But, sometimes the budget is tight. Or maybe your soccer player likes to be creative 🙂
Encourage your soccer player to make a card for their coach. They can include a personal message and special memories from the season. A DIY card can be an extra special gift for a beloved coach and it's a great way to show your appreciation.
Another affordable idea is a team photo in a special frame. The team can sign their names to customize and add a personal touch.
Another wonderful gift idea from the team is to get a soccer ball and have all players sign with a permanent marker. Oh, and make sure to add the coach name and year to the ball. Such a nice way to show team appreciation!
Do you or your kids like to bake? A batch of yummy cookies or other sweet treat is another fabulous way to give your soccer coach a meaningful gift.
To combine some of these soccer coach gift ideas, make a gift basket! Pick out a few items that your coach will love for the ultimate combination of soccer coach gift ideas. It's a perfect way to show your special coach that you care.
Do you have a great soccer coach in your life?
What do you think they would appreciate as the best soccer gifts for the end of the season?
Oh, and don't forget a soccer gift for your assistant coach, too! I truly hope you find the perfect gift for your coach!