If you are looking for a new way to add to your learning fun with Dr. Seuss, you'll love our 2 free Dr. Seuss-Inspired Cootie Catchers! These printables feature favorite Dr. Seuss characters that will get you and your kids moving. Find out how my boys and I are using these Dr. Seuss resources and get started with your free printable pack today!
What are Cootie Catchers?
Did you play with paper fortune tellers? These fun and easy-to-make manipulatives were super popular when I was a kid and I'm happy to see they are still in use. Cootie catchers are another name for these origami-like creations.
Cootie catchers (or fortune tellers) can be used to "predict" your future based on questions or prompts. The pointer fingers and thumbs on both hands on inserted into triangular-shaped gaps in the folded paper. Some cootie catchers use numbers on inner panels that are selected; the cootie catcher is then moved that number of times. Other cootie catchers use words that are selected and then spelled out to move the folded paper. These paper devices are all in good fun and not meant to be taken seriously 😉
I have used cootie catchers with my boys to practice counting, spelling, sight words, and more. Using only one sheet of paper, these paper devices are easy and frugal to make. Plus, they help us easily add an element of fun to homeschool review.
My boys love using Nourishing My Scholar's Harry Potter, Nature, and New Year's Fun Cootie Catchers. When we were reading a few Dr. Seuss books in our homeschool, Smiley (8) asked if he could help me make Dr. Seuss-Inspired Cootie Catchers. Bear (6) and Xman (3) joined with their pleas and we had a fun afternoon of planning and creating.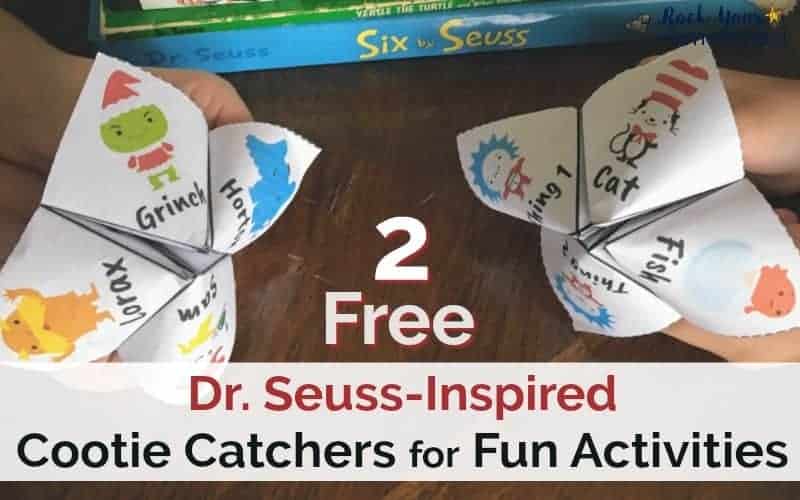 Dr. Seuss-Inspired Cootie Catchers for Fun Activities
My boys and I are using these cootie catchers as homeschool brain breaks and family fun. These Dr. Seuss-Inspired cootie catchers feature favorite characters. Each character has an activity prompt to encourage movement. After a homeschool lesson or read aloud time, I find that it's very helpful to provide an action-oriented activity (like charades) for my younger boys.
Smiley, Bear, and Xman helped me think of and test our Dr. Seuss-Inspired cootie catcher activities.  To use:
Player 1 holds & manipulates the cootie catcher.
Player 2 selects a character.
That character's name is spelled out as the cootie catcher is moved back and forth.
One of the words inside the cootie catcher is chosen and spelled out.
Player 2 makes final selection of word and that flap is opened.
Player 2 performs the prompt.
Switch turns & keep the fun going!
Here is how we made them: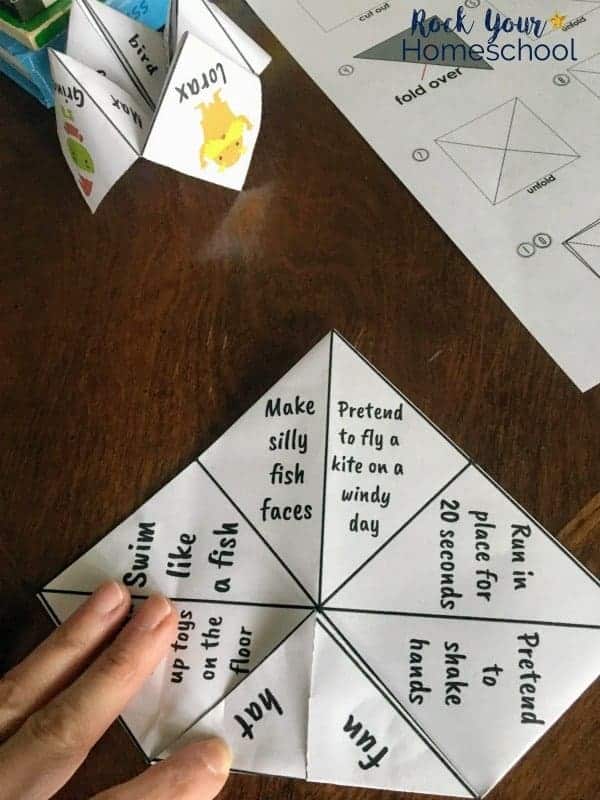 I included blank templates (only with characters) for each cootie catcher in case you would like to customize with sight words, colors, letters, or other learning concepts. Also, there is a step-by-step tutorial to guide you in creating and using these Dr. Seuss-Inspired cootie catchers.  DLTK's Crafts for Kids has an excellent tutorial with pictures on folding origami fortune tellers.
To get your free printable pack of 2 Dr. Seuss-Inspired Cootie Catchers, simply subscribe to Rock Your Homeschool.  You will receive these printables in a PDF download in an email, along with a super secret password that opens the vault to all RYHS freebies.  In addition to your freebies, you will be a weekly email with ways to rock your homeschool plus instant downloads to all new freebies.
(Psst!  Current RYHS members just need to access the Subscriber Freebies page and enter the password in your welcome email.  Or get the instant download in the email the week of this post)
Click HEREClick HERE or on the image below to subscribe and get started on fun activities with Dr. Seuss-Inspired Cootie Catchers!