Free Fall Fitness Prompts for Fun Exercises for Kids
These free fall fitness prompts are fantastic for fun exercises for kids.
Get your kids excited about fitness with these autumn-themed ideas. You can use these activities for homeschool physical education, fun at home, and just because.
Find out how I'm using these prompts for fall fitness with my boys and how you can get started with your free set today 🙂
Fall Is a Fabulous Time of Year to Get Excited About Exercising
Fall is such a fantastic time of year to have fitness fun.
In most areas, the weather is cooling off. With less heat, it's a bit easier to enjoy outdoor activities.
Autumn also has so many awesome themes and activities, like:
apples
pumpkins
scarecrows
leaves (all those big piles to rake and jump in!)
acorns
squirrels
football
soccer
and more!
It's also back to (home)school time for many families. Fall fitness activities help to counteract more hours sitting at a desk or table 😉
With the start of a new routine, why not build in opportunities to grow with fitness fun? Get a jumpstart on building healthy habits for life (and maybe help your kids discover a new interest or two).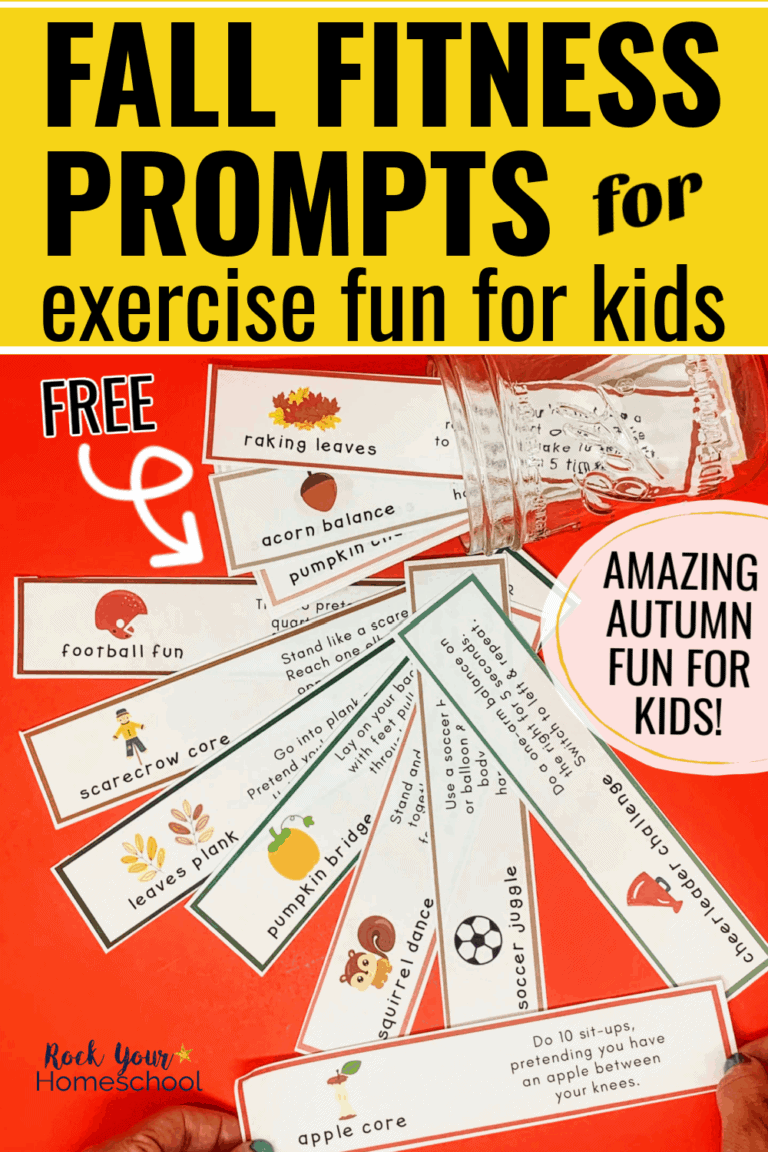 Fitness Prompts Are Excellent Ways to Make Physical Education Fun
Is physical education included in your homeschool routine? Or do you make it a natural part of your family lifestyle?
If you do, that's excellent! If you haven't figured out a way to intentionally make exercise a part of your life, no worries. It's never too late to get started 🙂
Even if you're kids aren't into organized sports or you don't use formal physical education plan, you can still reap the benefits of fitness activities. And you can make it FUN!
Fall fitness prompts are easy ways to help you make exercise engaging and fun. A few reasons why fitness prompts work so well are because they are:
Creative: You're not stuck with a specific sport or equipment-use what you've got.
Customizable: You can use Fall fitness prompts with all ages. Modify the prompts to best fit the needs of your child. Reduce (or increase) the number of repetitions or weight based on your child's level of fitness and ability.
Terrific themes: Fall fitness prompts incorporate a variety of seasonal themes to capture your kids' attention and get them excited to exercise.
Unique: Make your own football victory dance. Do a scarecrow stretch. Fun ideas with creative twists make these activities special.
Creative Ideas for Using These Fall Fitness Prompts
Want to make these Fall fitness prompts extra fun for your kids?
Here are some ways that my boys and I will be using these autumn-themed exercises:
Give your kids a mission of gathering materials for the prompts. Suggested materials include:

balloons (orange or red would be great!)
soccer ball (or another round ball)
acorn (or another small object)
water bottle, book, or another object that could be used for arm weight

Cut strips and shuffle. Randomly pick from the pile and do the prompt.
Put strips in a jar, bag, or hat (like a football helmet) and randomly select for fall fitness fun.
Fold strips into smaller sizes and hide around a room or your home. Challenge kids to a scavenger hunt for fall fitness prompts. When a prompt is found, your child must do the prompt.
Add your own unique twist to these fall fitness prompts. What creative ideas do you have to extend the fitness fun?
Make your own fitness prompts with autumn-themes.
Play music in the background. Songs with fall themes would be cute.
Go outside (if the weather is cooperating) and enjoy some outdoor fall fitness fun.
Join the fitness fun! Some of the best memories of fun with kids are made this way 🙂
Get Your Free Fall Fitness Prompts for Fun Exercises for Kids
Have some awesome autumn fun with your kids using fall fitness prompts!
This free set includes 4 PDF (printable) pages of 24 fall fitness prompts.
You may certainly print out as many copies of these prompts as you need to enjoy these activities with your kids, co-op, classroom, or community event. If you have a friend or co-worker who may like to have some fall fitness fun, please share the link to this post (not the download file). I greatly appreciate your sharing 🙂
When you join the Rock Your Homeschool community, you'll receive this printable in a PDF in an email, along with a super-secret password that opens the vault to all RYHS freebies.
In addition to your freebies, you get a weekly email with ways to make life and learning fun.
(Psst! Current RYHS members just need to access the Subscriber Freebies page and enter the password in your welcome email. Please email Amy at rockyourhomeschool@gmail.com if you have any questions!
Tap HERE or on the image below to subscribe and get your FREE Fall Fitness Prompts!
Is it a struggle for you to include fitness in your family's life?
What do you feel is the biggest challenge?