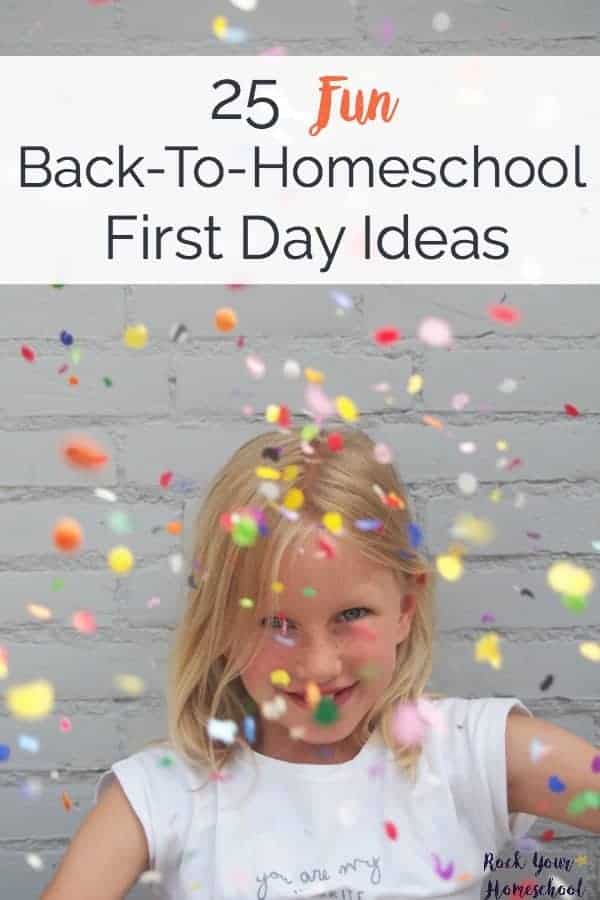 Are you getting ready for your back-to-homeschool first day?
As I prepared to once again start a new year of homeschooling with our boys, I compiled a list of homeschool first day fun ideas.  These activities as low cost as possible.  They are also feasible for large homeschool families with a variety of ages and stages.  (Not all ideas may be appropriate for babies and toddlers but you can let them observe and benefit from the experience!)
Back-to-homeschool is such an exciting time!  I know the importance of establishing a good routine in your homeschool.  Previewing curricula and resources for the year is essential for helping your kids and yourself know to expect.  Also, laying down the ground rules and expectations for all is vital to a successful homeschooling experience.
You can, however, make these important components of back-to-homeschool fun!
25 Fun #Back-To-Homeschool First Day Ideas #ihsnet
Click To Tweet
If your kids are not thrilled with flipping through their new books, it is okay!  Sometimes, kids (and adults!) get overwhelmed when they see an entire textbook, workbook, or online program.  Or perhaps you have a child or two who have lost their joy for learning?
Again, it's okay!  You are a homeschooler!  You have the power to tap into their interests and excite their learning once more!  You have the opportunity to create a fun homeschool first day to get the momentum started.
Disclaimer:  You know your kids (and yourself!) best.  Read through these 25 Fun Back-To-Homeschool First Day Ideas.  Pick one or two for your homeschool first day based on your kids' (and your own) personalities and interests.  YOU DO NOT HAVE TO DO ALL OF THESE IDEAS IN ONE DAY!!  Take it slow and maybe start your homeschool year off with half-days the first week.  At the very least, make sure to include some fun!
Or, you can spread these ideas out over your whole first week of homeschooling!
25 Fun Back-To-Homeschool First Day Ideas
Presented in no particular order, I offer you these fun homeschool first day ideas:
1.  Special Breakfast
Do your kids have a favorite breakfast menu?  Surprise them with it!  Or try something new that you have always wanted to!  Ideally, you will find a recipe or two to prepare the night before and have ready to go. Food is a common way to connect and create special memories.

2.  "Food" or "Drink" Bar
Set up a fun food or drink bar!  Start your day with a breakfast food bar or take a break for a lunch food bar.
For breakfast, you could make a pancake, waffle, french toast, bagel, muffins, eggs, cereal, and/or donut bar.  Yogurt parfait bars can be yummy any time of day.  For lunch, create a salad, sandwich, pasta, and/or pizza bar.  And, of course, an ice cream sundae bar is always a special treat!
3.  Special Snacks
Make or buy snacks that you know your kids love.  Having a treat to look forward to and refuel with is always helpful-especially on homeschool first day.  Talk with your kids about snacks they would like-or give them a surprise.  Enlist your troop's help to prepare your snacks.
4.  Balloons & Streamers
Set up your school area with balloons and streamers the night before your homeschool first day.  Better yet, have your kids help you decorate!  They can design posters and place cards to add a special touch.
5.  School Supplies Treasure Hunt
Hide your kids' school supplies and give them clues (or a map!) to find.  School supplies can be new or old.  Finding these treasures can excite students of all ages.  (For bonus fun, have your kids hide YOUR school supplies.  Super fun!
6.  Secret Handshakes
Have your ever created secret handshakes with kids?  If not, I highly encourage you to do so!  Work as a homeschool to create and learn your special handshake.  Practice throughout your first week of homeschool.
7.  All About Me
Select age-appropriate ways for each of your kids to tell you all about themselves!  This activity is a great way for your kids to share special facts about themselves, as well as to preserve memories.  A few fun ideas include having your kids interview each other (and you!), creating self-portraits (or portraits of each other), and video recordings of their testimonials.  You can also do the traditional "All About Me" posters and worksheets.
8.  Themes
Brain storm with your kids about themes for your homeschool year. You can have fun picking out a homeschool theme song (or two!).  Select a homeschool color or two.  Create a homeschool crest or symbol.  Also, decide upon fun theme days to include in your homeschool year.  Theme days give everyone something special to look forward to.
9. Team Building Activities
Whether you have one child or eleven, you can work on team building activities.  Relay races, Pictionary, and tug o' war are fun ways to connect and help build collaboration.  Lego challenges, laser tag, and Nerf battles are other fun ways to build cooperation among family members.
10.  Brain Breaks
Make sure to take brain breaks during your homeschool day. Homeschooling is flexible so we have the opportunity to pause between lessons and recharge with our kids.
11.  Water Fun
Weather permitting, head outside and have some water fun!  Make water balloons and have a mega water balloon battle.  Get out some squirt guns and have a competition aiming at homemade targets.  Use motorized toys like Lil' Fishys for water table, pool, or bath fun.
12.  Homeschool Vision Board
Design a homeschool vision board with your kids.  A fantastic way to create and work on homeschool goals with visual reminders!  I love using this activity with all of my boys to create a group discussion about what we all dream of doing in our upcoming homeschool year.
13.  Picnic-indoor or outdoor!
Who doesn't love a picnic?  You can do this activity inside or out.  Bring along your new school books-or not-and enjoy each other's company.  Talk about your upcoming homeschool year as you enjoy tasty treats (and maybe a poem or read aloud!).

14.  Poetry Teatime
Oh, how we love Poetry Teatime!  If you are curious about how we plan our homeschool teatimes, I shared this Teatime Planner as a free download.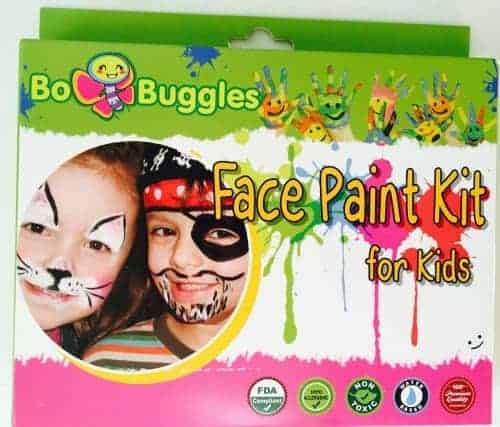 15.  Face Paint
Face Paint is such a special way to connect and express ourselves.  Have some fun by talking about different shapes or themes that you could paint your faces.  You can use face painting as a trust building exercise, building communication skills, and just pure fun!
16.  Shadow Puppets
Use your hands and have fun figuring out ways to create different shadows.  Give clues and allow time for each other to interpret.  If you want to include a bit of writing, jot down responses and describe ways that you configured your hands to create such magnificent shadows.
17.  Playdough Fun
Playdough is a fabulous way to add fun for all ages to your back-to-homeschool first day.  You can jazz it up with glitter, extracts (like peppermint or lemon), or essential oils (lavender is calming, peppermint can energize).  Also, I created free Star Wars playdough cards that might get your sci-fi fans excited!  Use playdough on a brain break or as a fun treat at the end of the day.
18.  Obstacle Course-indoor or outdoor!
Work with your kids to design an obstacle course.  We have fun with these activities all year round.  Indoors, use pillows, stuffed animals, and toys to create an obstacle course for all to complete.  Outdoors, use cones, toys, chairs, or natural landmarks like trees or rocks to have fun.
19.  Handprint Art
Use paint or a large stamp pad to record your children's handprints.  If desired, turn those handprints into works of art!  Hang in a special area for all to enjoy.  For extra fun, record their handprints at the end of the year and compare sizes!
20.  Thumbprint Art
Again, take paint or a stamp pad and record your children's thumbprints (or fingerprints).  Turn into fun creatures, faces, or other designs.  A great way to include all prints into one special keepsake is to draw a tree as a base and assign each child a color.  Decorate your "family tree" with all the different colors and hang up to enjoy.
21.  3D Pens
Has your family had the chance to use 3D pens yet?  If not, I highly encourage you to do so! 3D pens are a fabulous way to have creative fun.
22.  Mad Libs
These activities are such a great way to have fun in your homeschool.  Create your own Mad Libs or use purchased ones. Here are some free Harry Potter-Inspired Mad Libs your kids may love!  Either way, get ready for a whole lot of giggles!
23.  Games
Declare a game day!  You can select educational games-or not.  My friend, Mary of Not Before 7, shared card games and math games.  These games look like such fun and a great way to start your homeschool year.
24. Learning Apps
Why not surprise your kids with some great learning apps?  My younger boys love Learn With Homer for reading. Knowre is a great math app for your older kids.
25.  Dance Party
My #1 favorite activity in our homeschool is a dance party!  You can plan out an epic dance party with a playlist of favorite tunes.  If you have a karaoke machine (like I am keeping my fingers crossed for on my birthday this month!), bring out that bad boy and dance party it up!  Such a super fun way to burn off energy, have fun, and celebrate your homeschool!
Do you have amazingly fun ways to celebrate homeschool first day?  If so, please share here!  I think it is so helpful for homeschoolers to share their creative ideas with each other.