Fun & Free Fortnite-Inspired Word Search Kids Will Love
Got kids who love the Fortnite game? If your answer is yes, then you're going to want to grab this fun and free Fortnite-Inspired Word Search activity!
This printable is awesome for parties, classroom, library, homeschool, and family fun. Check it out, discover creative ideas for boosting the learning fun, and get your free Fortnite printable word search today!
Easily Engage Your Kids with This Fortnite-Themed Activity
If you're planning for a Fortnite party or just want to fun activity to give your kids who love to play Fortnite, this printable word search is going to be a sure hit!
My boys are huge Fortnite fans. I'm not sure what they like more: to play the video game, to chat about the map, or to do the dances (or emotes, as I've been corrected many times!).
I've never played the game. To be honest, I really don't get it. I've watched and experienced their enthusiasm for the game.
Since I love to use my boys' interests to boost learning fun (like our Harry Potter and Star Wars-Inspired Fun), I knew that Fortnite-Inspired printable activities were in our future.
This word search with Fortnite themes is an amazing addition to your:
Party
Classroom
Library
Homeschool
Boredom Busters
Creative Ways to Enjoy This Fortnite-Inspired Word Search
Think a printable word search doesn't sound like much fun compared to a video game? Check out these awesome ways to boost the learning fun with your Fortnite-Inspired Word Search:
Provide different types of writing utensils. Highlighters, markers, even Kwik Stix, are fabulous ways to jazz up your Fortnite-Inspired Word Search.
Give your child or classroom a timer to see how long it takes to complete the word search.
Work with your child or class to finish the word puzzle together.
Team up participants to make it an interactive experience.
Have Fortnite-themed stickers, pencils, and other fun rewards as a special treat when the word search is complete.
Gaming Party Supplies Bracelets Party Favors – Gamer Birthday Party Packs for Kids­
The Original Gaming Stickers, [Exclusive Version] Brand New Characters for Personalize Laptop Car Skateboard Luggage Waterproof Vinyl Decals Party Supplies, Best Gift for Kids,Girls (Brand New)
game Bracelet ,game Party Wristband ,Fortress night game Suit Party Theme Party supplies (18pack)
PMI Fortnite Authentic Toys with Stamp, Set of 12 – Skull Trooper, Skull Ran & Other Popular Fornite Battle Royale Characters – C Series Collection 3 of 3 for Boys & Girl
Fortnite Authentic Fortnite Toys with Stamp Set of 12 – Ghoul Trooper, Brite Bomber & Other Popular Fornite Battle Royale Characters – B Series Collection 2 of 3 for Boys &
Pencils with Mountain Climber Pickaxe Topper
Get Your Free Fortnite-Inspired Word Search!
Make your Fortnite-Inspired event rock with this free printable word search! Such a simple activity that's sure to please your Fortnite fans 🙂
Feel free to print out as many copies of this word search activity as you need for your party, classroom, homeschool, co-op, or library. If you have a co-worker, friend, or family member who you think might like to use this activity with kids, please share the link to this post. Sharing is caring 🙂
When you join the Rock Your Homeschool community, you'll receive this printable page in a PDF download in an email, along with a password to open the library to all RYHS freebies. In addition to your freebies, you will be a weekly email with ideas and encouragement to make learning fun (plus instant downloads to all new freebies!).
(Psst! Current RYHS members just need to access the Subscriber Freebies page and enter the password in your welcome email. Or get the instant download in the email the week of this post.)
Click on the image below to subscribe and get your free printable Fortnite-Inspired Word Search activity!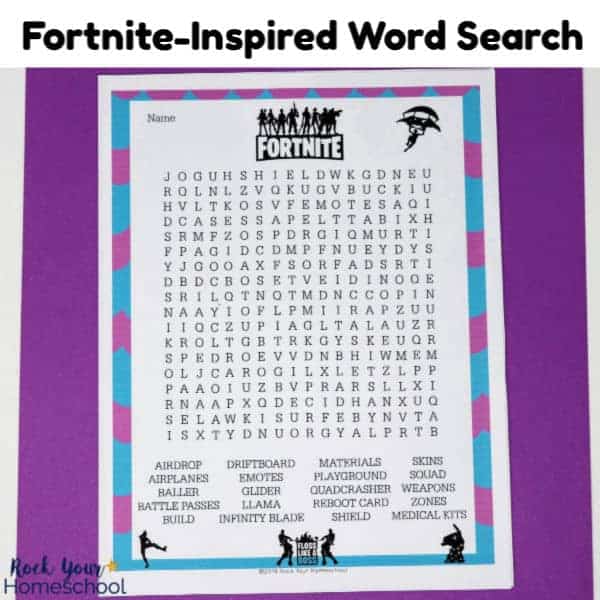 How are you planning to use this Fortnite-Themed Word Search Activity?
Please share in the comments area below 🙂