Free Fortnite-Inspired Alphabet Game for Ultimate Fun
This free Fortnite-Inspired Alphabet Game is a fantastic way to have the ultimate fun with your Fortnite fans! With Fornite themes, this printable activity is sure to be a hit.
Find out more about creative ways to enjoy this game and how to get started today!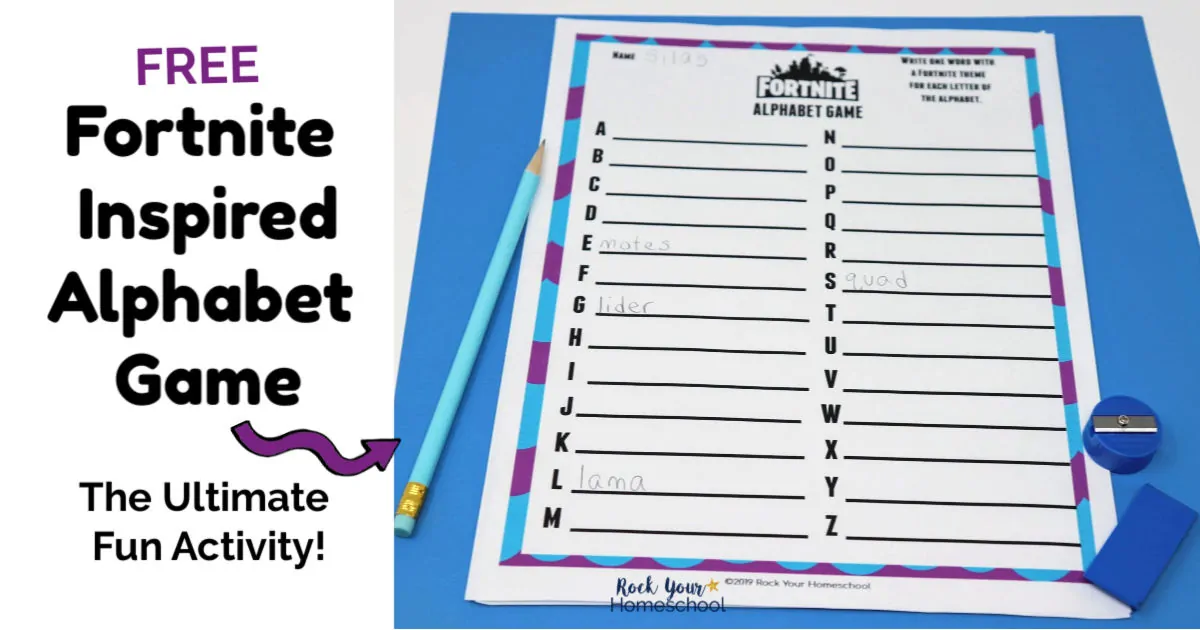 Simple Way to Enjoy Awesome Fortnite Fun with Kids
Are your kids obsessed with video games like Fortnite? If so, then you'll definitely want to take a look at and get this Fortnite-Inspired Alphabet Game. It's great for kids at your:
Party
Library Event
Classroom Activity
Homeschool
Family
Boredom Busters
The Fornite video game has been a big hit in this all-boy family. My boys love playing, talking about, dancing, and pretending all things Fortnite.
I've tried as much as possible to understand this game. The boys have taught me a few of the emotes (which I always call dances and get corrected). I'm still working on the Floss…
Anyhoo, I try to incorporate my boys' interests into our homeschool adventures. This type of interest-led learning fun makes it so easy to engage and capture attention. Instead of making the transition into homeschool time a struggle, I seek out ways to make it positive for all 🙂
Our Fortnite-Inspired Word Search was a huge hit and awesome addition to our arsenal of brain breaks and homeschool work binders. One of my friends is using it for her son's birthday party. I just love how these simple types of printable activities can be used in so many different ways!
Make Your Fortnite-Inspired Alphabet Game Extra Fun!
Have you ever played the Alphabet Game with your kids?
All you have to do is think of a word based on the chosen theme for each letter of the alphabet. That's it! You can boost the challenge by encouraging participants to think of more than one word or see who can be the most creative.
My boys and I enjoy this simple activity all the time, especially when we're in the car doing errands or traveling to soccer events. This game is so cool because it can be interactive or independent.
To enjoy the Alphabet Game in an interactive way, simply play it out loud by sharing answers. Or you can partner or team up. You may want to keep track by writing down the responses.
Oh! You can also hand up this free printable Fortnite-Inspired Alphabet Game on your refrigerator, command center, bulletin board, or other frequently visited area. Place a pencil by the paper with a note that encourages passerbys to record their answers.
An independent version of this alphabet game with Fortnite themes is to print out the page and have each student/participant jot down their answers. Once all participants are done, compare responses and chat about your reactions.
Using this free printable Fortnite activity for a party or classroom activity? Add cool rewards like stickers, pencils, or other Fortnite-themed fun.
Gaming Party Supplies Bracelets Party Favors – Gamer Birthday Party Packs for Kids­
The Original Gaming Stickers, [Exclusive Version] Brand New Characters for Personalize Laptop Car Skateboard Luggage Waterproof Vinyl Decals Party Supplies, Best Gift for Kids,Girls (Brand New)
game Bracelet ,game Party Wristband ,Fortress night game Suit Party Theme Party supplies (18pack)
PMI Fortnite Authentic Toys with Stamp, Set of 12 – Skull Trooper, Skull Ran & Other Popular Fornite Battle Royale Characters – C Series Collection 3 of 3 for Boys & Girl
Fortnite Authentic Fortnite Toys with Stamp Set of 12 – Ghoul Trooper, Brite Bomber & Other Popular Fornite Battle Royale Characters – B Series Collection 2 of 3 for Boys &
Pencils with Mountain Climber Pickaxe Topper
Get Your Free Fortnite-Inspired Alphabet Game
Have some awesome fun with your Fortnite fans! Give them a fabulous challenge that they'll enjoy 🙂
You may print out as many copies of this printable alphabet game as you need for your party, classroom, homeschool, co-op, or library. If you have a co-worker, friend, or family member who you think would enjoy this activity with kids, please share the link to this post. I truly appreciate you sharing!
When you join the Rock Your Homeschool community, you'll receive this printable page in a PDF download in an email, along with a password to open the library to all RYHS freebies. In addition to your freebies, you will be a weekly email with ideas and encouragement to make learning fun (plus instant downloads to all new freebies!).
(Psst! Current RYHS members just need to access the Subscriber Freebies page and enter the password in your welcome email. Or get the instant download in the email the week of this post.)
Click on the image below to subscribe and get your free printable Fortnite-Inspired Alphabet Game activity!
How will you use this Fortnite-Themed Alphabet Game with your kids?
Please share in the comments area below 🙂