Free Gingerbread Man Coloring Pages Your Kids Will Love
These free Gingerbread Man coloring pages are fantastic for easy holiday fun with kids.
This printable set includes gingerbread themes (man, woman, Santa, house, and color by number fun).
Find out more and get your set of printables featuring gingerbread characters and house today.
Easy Holiday Fun with Gingerbread Coloring Pages
I've discovered the value of having easy activities for my boys to work on during the holidays.
To positively deal with holiday excitement and energy, I create a stash of open-and-go holiday-themed printables to use when my boys need to chill out and I need to catch my breath.
This year, I'm adding some Gingerbread Man and friends printables and activities to my arsenal of Holiday Fun for Kids. My boys and I love these adorable and sweet characters 🙂
Fun Ideas for Using These Free Holiday Coloring Pages with Kids
This free printable pack includes five pages of coloring fun with Gingerbread Man and Friends.
Three pages feature a gingerbread friend in a frame with their names to trace.
A Gingerbread Man color-by-number page also included.
The final page encourages your kids to have some creative fun by decorating their own gingerbread house.
You can use these Gingerbread Man Coloring Activities for fun in your:
Classroom
Library activity
Homeschool fun
Family event
Oh, and a super fun idea is to use these coloring sheets to help you celebrate National Gingerbread House Day on December 12!
Crayons, markers, and color pencils are great coloring tools to use with these pages. You can also use fun materials like paint, glitter glue, and Kwik Stix.
Get Your Free Gingerbread Man Coloring Pages for Easy Holiday Fun
Have some creative holiday fun with kids using these cool gingerbread coloring pages!
When you join the Rock Your Homeschool community, you'll receive this printable in a PDF file in an email, along with a super-secret password that opens the vault to all RYHS freebies.
In addition to your freebies, you'll get emails with creative and easy ways to make life and learning fun 🙂
(Psst! Current RYHS members just need to access the Subscriber Freebies page and enter the password in your welcome email. If you have any questions or problems, please email Amy at rockyourhomeschool@gmail.com)
Tap HERE or on the image below to subscribe and get started with these free Gingerbread Man Coloring Pages for Easy Holiday Fun with Kids!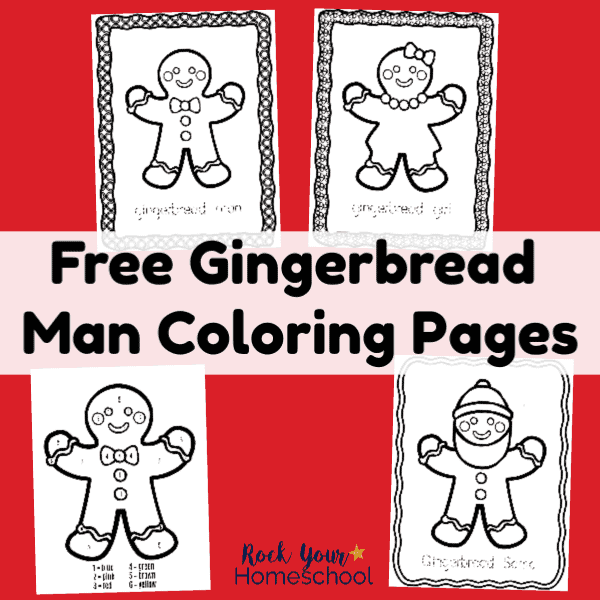 How will you use these free Coloring Pages for kids this holiday season?