Free Spring Fun Word Search for Easy Activity with Kids
Your kids will love this free Spring Fun Word Search. This print-and-go activity is an amazing way to celebrate the season.
Learn more and get your free printable word search for kids for seasonal fun.
Enjoy Easy Spring Fun with Your Kids
Looking for an easy yet super fun way to celebrate the season with your kids? This Spring Fun Word Search is #1 on my list for seasonal fun with my boys.
I used to think that fun with kids had to involve spending money, time, and lots of energy. After homeschooling 5 boys and maintaining an erratic schedule that's still filled with fun activities, I've learned a thing or two 😉
Over the years, I've discovered that the best way to enjoy fun times with kids is to keep it simple. Adults often overcomplicate the process, especially when it comes to holidays and celebrating new seasons.
And, as much as I love to add hands-on activities and experiences to our learning adventures, it's not always possible to get that type of fun going in our homeschool with 5 boys. When our schedule is overflowing or I need to help a few boys with a lesson, I must have easy, open-and-go activities to give the others to keep them focused and engaged.
Word puzzles have been one of the printable activities that I've been using with my boys to celebrate a season or holiday AND have learning fun.
Spectacular Ways to Get the Most Out of This Spring Fun Word Search
If you're thinking a word search sounds like one of the most boring things to do and not engaging at all, check out these cool ways to amp up the fun:
Talk with your kids about Spring-themed words-in the puzzle and additional options. Get them thinking about the season and what they love about it!
Use fun writing utensils. Kids of all ages love using special pens, pencils, crayons, and markers for assignments.
Invite your kids to use the back of this word search to draw a Spring-themed picture or write a seasonal message.
Provide stickers and stamps with seasonal themes to decorate the word search.
Read Spring-themed books prior to or after completing the word puzzle.
Set a timer to make it more of a challenge for your older learners.
Enjoy a Spring-themed snack as you work on the word search.
Get Your Free Spring Fun Word Search for Kids
C'mon and have some special Spring Fun with your kids!
This word search is available on 1 printable (PDF) page.
If you have a friend or co-worker who you think might like to use this Spring Fun Word Search with their kids, please share this post. (And, of course, you may print out as many copies as you need to enjoy with your kids, co-op class, etc.)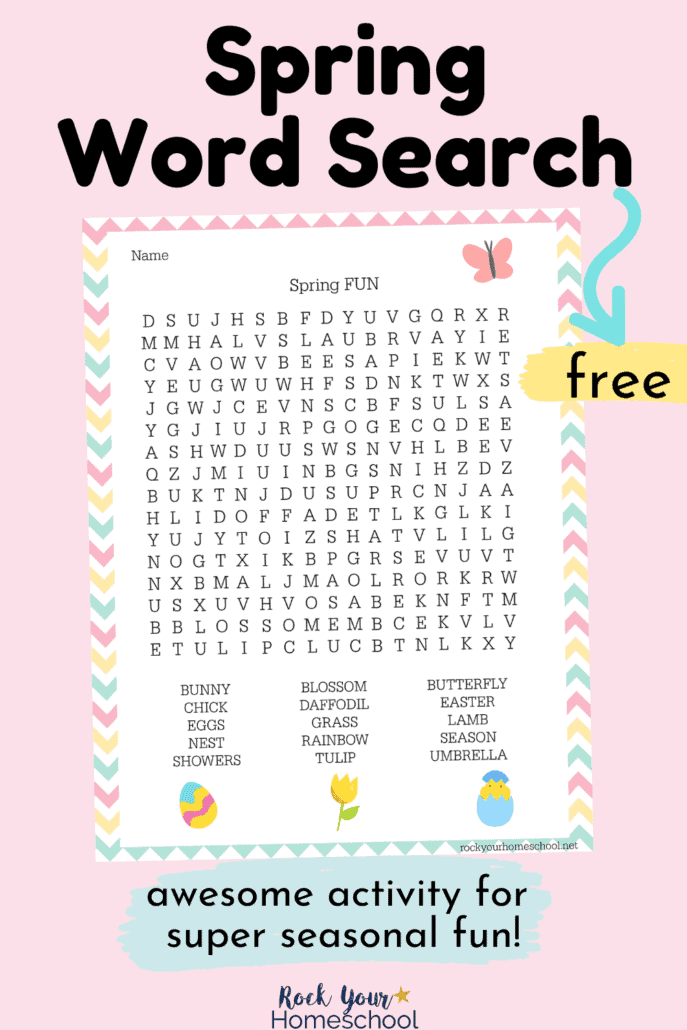 When you join the Rock Your Homeschool community, you'll receive this printable pack in a PDF file in an email, in addition to a password to unlock the freebies in our Subscriber's Library.
You'll also get emails with ideas and encouragement to make life and learning fun.
(Current RYHS members just need to access the Subscriber Freebies page and enter the password in your welcome email. Please contact Amy at rockyourhomeschool@gmail.com with any questions.)
Get your FREE Spring Fun Word Search for kids by tapping right HERE or on the image below to subscribe and get your activity!
How will you enjoy this free printable Spring word search with your kids? Share your ideas in the comments area below 🙂