How to Add Learning Fun to Your Summer Travel
Keep the learning fun going for your kids during your summer travel! With the right amount of preparation and realistic expectations, learning during the summer can definitely happen when you're away from home.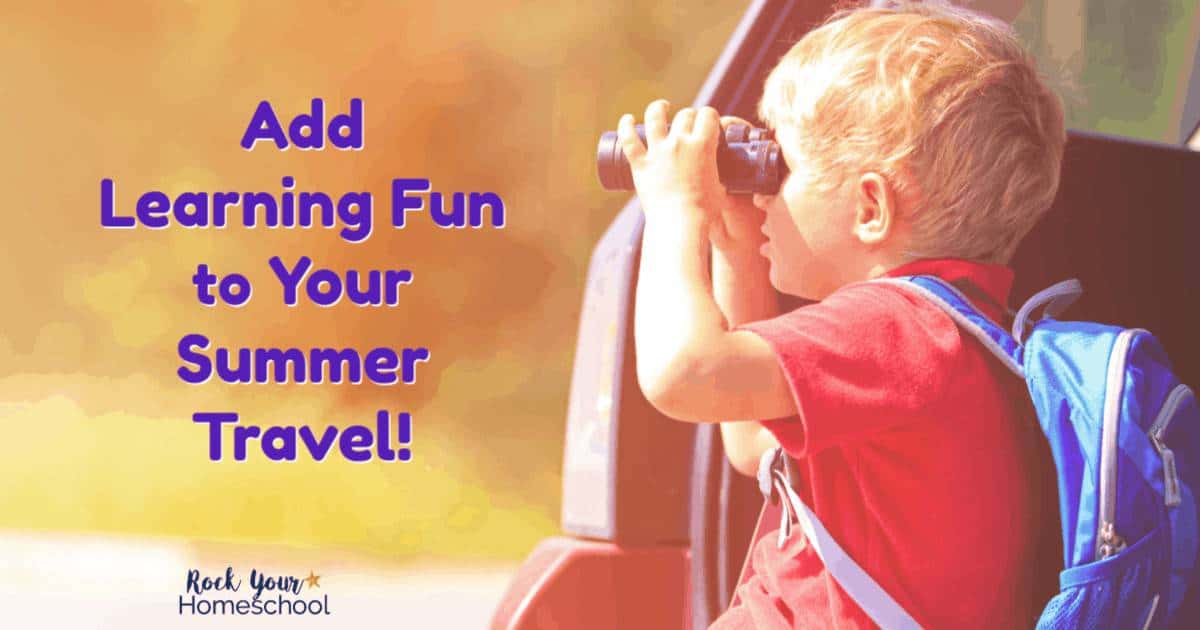 If your family is like many others, your kids often get a break from learning during the summer. You might worry about summer learning loss and its effect on your kids. Understandably, you want to help your children maintain the progress made during the previous school year.
The great thing about summer travel is that you can sneak in learning while having fun! Optimize your vacation time with these reminders and suggested ideas for adding learning fun to your summer travel.
Four Important Reminders to Keep Learning Fun During Summer Travel
K.I.S.S. (Keep It Simple, Sweetie!): As much as you want to encourage the continuation of learning during the summer, remember to keep it simple. Your kids do not need complicated lessons, crafts, or games. One or two well-selected items can bring hours of joy and discovery. Do you recall those days when your kids could keep themselves entertained for hours with a cardboard box? Same principle.
Keep It Real: Real expectations, that is! Parents frequently make the big mistake of building up these unrealistic fantasies of how summer travel (and its associated learning fun) will occur. Will your kids really want to sing 99 Bottles of Root Beer on the wall five times on the way to the shore? Great song that includes math concepts but might not be everybody's idea of fun.
Personalities: Are you or your kids introverted or extroverted? Most families have a combination of these two types of personalities. Plan accordingly. Extroverts will want to play interactive games and go mingle with crowds at educational exhibits. Introverts will need to recharge with time by themselves.
Interests: Consider the different interests of your family members. Put in your best effort to make sure that everyone gets to play a travel game or visit a site that particularly interests them.

Suggested Ideas to Add Learning Fun to Summer Travel
Now that you have those four reminders tucked into your pocket or passport, here are a few ways that you can prepare for learning during your summer travel.
Research your destination: Head to the library and find books about where you will travel. Do an online search and check out the route to your destination and its area. Encourage your kids to jot down notes or draw pictures of what they discover.
Special sites: During your research, look for educational landmarks, exhibits, and events. Talk with your kids about each and make selections based on your travel schedule.
Special journals: Get each of your children a notebook with plain paper. Explain that this notebook will be their special travel journal. Demonstrate how they can record dates, sites seen, and new words learned. Pre-readers can draw pictures and ask you to write their observations.
MALEDEN Refillable Spiral Daily Notepad Classic Embossed Travel Journal Diary
Travel Journal Notebook Vintage Retro Handmade Leather Lined Journal Refillable Note Book for Taking Notes by ai-natebok, 4.72 X 7.87inch (White Coffee)
I Was Here: A Travel Journal for the Curious Minded
Rifle Paper Co – Travel Essential Journal to Record All Your Memories,Bon Voyage
Kids' Travel Journal (Interactive Diary, Notebook)
My Travel Journal (Lonely Planet Kids)
Disposable camera: Provide your kids with a disposable camera. They can take pictures and later record their thoughts in their special travel journal. What precious memories!
Fujifilm QuickSnap Flash 400 Disposable 35mm Camera (Pack of 2)
Fujifilm Disposable QuickSnap Waterproof Pool Underwater 35mm Camera, Pack of 2
FunSaver Disposable Camera with Flash 800 ISO
Pack wisely: Add books and activities like word searches or crossword puzzles to your bags. A small map or atlas can be a wonderful learning tool, as your kids practice map skills and navigation.
Word Search For Kids: 50 Easy Large Print Word Find Puzzles for Kids: Jumbo Word Search Puzzle Book (8.5
First Word Search: Fun First Words
The Everything Kids' Word Search Puzzle and Activity Book: Solve clever clues and hunt for hidden words in 100 mind-bending puzzles
Beginner Word and Number Puzzles for Kids: Word Search, Number Search and Crossword Puzzles for Kids!
All About the States: Search-a-Word Puzzles
USA Word Search: Puzzles, Facts, and Fun for 50 States
Crossword Puzzles For Kids: Large Print Jumbo Book of Crosswords for Kids Ages 4-8
Crossword Puzzles for Clever Kids
Puzzle Baron's Logic Puzzles: Hours of brain-challenging fun!
Crossword Puzzles for Kids: Solve the Puzzles and Color the Pictures: A Jumbo Children's Activity Book with Large Print Crossword Puzzles (puzzle books for kids ages 6-8, 9-12) (Volume 1)
Mini Sudoku For Kids 6×6 – Easy to Hard – Volume 1 – 145 Puzzles
Brain Games for Clever Kids: Brain Game Puzzles, Word Search, Crossword, Sudoku, Find the Differences, Maz, Scrambles Puzzle Books for fun! (Volume 2)
National Geographic Kids United States Atlas
Kids' Road Atlas
National Geographic Kids Ultimate U.S. Road Trip Atlas: Maps, Games, Activities, and More for Hours of Backseat Fun
National Geographic Kids Beginner's United States Atlas
The 50 States: Explore the U.S.A. with 50 fact-filled maps!
National Geographic Kids Ultimate Globetrotting World Atlas: Maps, Games, Activities, and More for Hours of Adventure-filled Fun!
The 50 States: Activity Book: Maps of the 50 States of the USA
Audiobooks: Find family-friendly audiobooks to enjoy during your car trip. If your kids prefer, allow each to select their own audiobook to listen to during your summer travel. My boys love to listen to any story told by Jim Weiss! (Audible is a great option, too!)
American Tall Tales
Tell Me a Story!: A Treasury of Classics
Animal Tales
Shakespeare for Children: A Midsummer Night's Dream, The Taming of the Shrew
Arabian Nights
Sherlock Holmes for Children
Travel games: Include some easy-to-use games for travel! Magnetic games, wipe-off activities, and travel bingo are fantastic for on-the-go learning fun.
Travel Scavenger Hunt Card Game
Melissa & Doug Game On! Reusable Games Wipe-Off Dry-Erase Travel Activity Pad Game
Mad Libs on the Road
Connect 4 Grab and Go Game (Travel Size)
Battleship Grab and Go Game (Travel Size)
Rubberneckers: Everyone's Favorite Travel Game
Take 'N' Play Anywhere – Hangman
Regal Games Original Travel Bingo 4 Packs (License Plate)
Take 'N' Play Anywhere – Checkers
Tangram Game Travel Games 176 Magnetic Puzzle and Questions Build Animals People Objects with 7 Simple Magnetic Colorful Shapes Kid Adult Challenge IQ Educational Book?2 set of Tangrams?
Magnetic Travel Board Games-Road Trip Entertainment, Checkers, Chess, Chinese Checkers, Tic Tac Toe, Backgammon, Snakes And Ladders, Solitaire, Nine Mens Morris, Auto Racing, Ludo, Space Venture
Crayola Pip-Squeaks Washable Markers & Paper Set, Kids Travel Activities, Ages 4, 5, 6, 7,
Simon Micro Series Game
Melissa & Doug Flip to Win Travel License Plate Game – Wooden U.S. Map Game Board
Ultimate Sticker Puzzles: License Plates Across the States: Travel Puzzles and Games
Interactive games: Classics like I Spy, the License Plate Game, and ABC game are fabulous for summer travel and learning fun. If your kids are learning a new language, make it a rule to only use that language for your game. Great way to keep those new concepts fresh in their minds!
Playlists: (a.k.a. modern mix tapes) Introduce your kids to new types of music. When it's time for little ones to take a nap or be quiet, pop on a classical music mix. Talk about the composers and genre of music. When you need to pick up the energy level, select a more lively medley of melodies. Think about including some favorite songs and musicians from your childhood. Share special memories with your kids and they'll be learning more about you! My boys love making playlists using Amazon Prime Music (included with our membership).
Just chat: Talk with your kids about their experiences during your travel. Listen closely to how they express their thoughts and feelings. Let them ask questions. Give answers when needed but pause to allow for their own conclusions. And our free printable conversation starters can be great ways to get fun chats going!
Summer travel is a wonderful opportunity to keep the learning fun happening for your kids.
What ideas and reminders would you add to these lists to keep the learning fun alive during the summer?