Free May Brain Breaks for Easy Homeschool Fun
Let's make the merriest month of the year even merrier for your kids!
These free May Brain Breaks are awesome ways to easily add homeschool fun activities. These prompts help you provide focused learning breaks to give everyone a chance to chill.
How Learning Fun Activities Can Help You Rock Your Homeschool
Homeschool brain breaks are wonderful opportunities to give brains a rest after a span of hard work. My boys and I have experienced the positive benefits of brain breaks like:
increased attention span
improved memory retention
gross and fine motor skills practice
better motivation to start and complete assigned tasks
overall improved attitude towards work, cooperation, and collaboration
We always look forward to our homeschool fun activities, challenges, and hands-on learning. These printable cards include prompts for:
Charades
Crafts
STEM
Art
Exercise
Hands-on fun

Free Printable Cards for Learning Fun Activities with Kids this May
These free printable cards of brain breaks and boredom busters have themes and prompts appropriate for the Spring season. Fun holidays and other seasonal themes are included in these ideas to get kids moving or relaxing.
There are a total of 24 printable cards (4 pages 6 cards each). That's a whole lot of homeschool learning fun!
You can print out as many copies as you need. If you have a friend or co-worker who you think would enjoy this free printable activity, please share the link to this post with them
When you click on the image below to subscribe and join the Rock Your Homeschool community, you'll receive this printable pack in a PDF download in an email, along with a super secret password that opens the library to all RYHS freebies.
In addition to your freebies, you'll be added to our email list and I'll update you with ways to have easy fun with kids plus instant downloads to all new freebies.
(Psst! Current RYHS members just need to access the Subscriber Freebies page and enter the password in your welcome email. Or get the instant download in the email the week of this post)
Click HERE or on the image below to subscribe and get these learning fun activities using Brain Breaks for kids this May!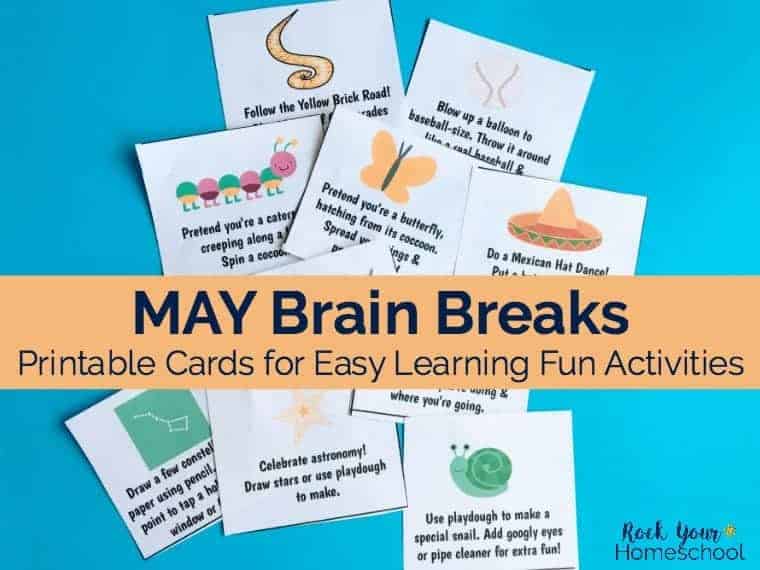 How will you use these fun activities and boredom busters for May with your kids in your homeschool, family, or classroom?
Love the idea of brain breaks for kids but not sure how to get started? Or prefer to have all of our brain breaks gathered into one organized and easy-to-use resource?
Check out Brain Breaks for Kids: Delightful Ways to Boost Learning & Enjoy Your Day!
This simple guide provides tips and tricks for making the most out of these learning fun activities with your kids.
PLUS get all of our brain breaks prompts and cards in one download! Oh, and there are a few bonuses thrown in to make your brain breaks with kids experiences totally awesome!