Free May Conversation Starters for Fun Chats
Get ready for some fun chats with your kids this May!
You can help your kids learn and practice communication skills while you work on building relationships and more. These free printable May Conversation Starters are great ways to get started 🙂
Oh, and these free printable prompts with May themes are also perfect for creative writing prompts!
Why May Conversation Starters Can Help Your Kids Gow
Life moves at such a fast pace in our modern culture, doesn't it? Kids have a whole slew of different challenges to face compared to when we grew up. One of those challenges is a lack of eye contact and direct conversation with others.
Screens fill our lives! I often feel like I know what someone's smartphone case looks like better than their face. Communication has frequently become more common via keyboard than spoken words.
What does all of this mean for our kids? Fewer opportunities to practice the essential life skill of communication. And not just oral language! Kids miss out on those subtle cues like body language and facial expressions.
Even if you limit screen time in your home and don't face this issue, chances are that life is busy. There are extracurricular activities to dash off to and appointments to attend. Dishes don't clean themselves (although wouldn't that be glorious?!?) and laundry appears to exponentially grow.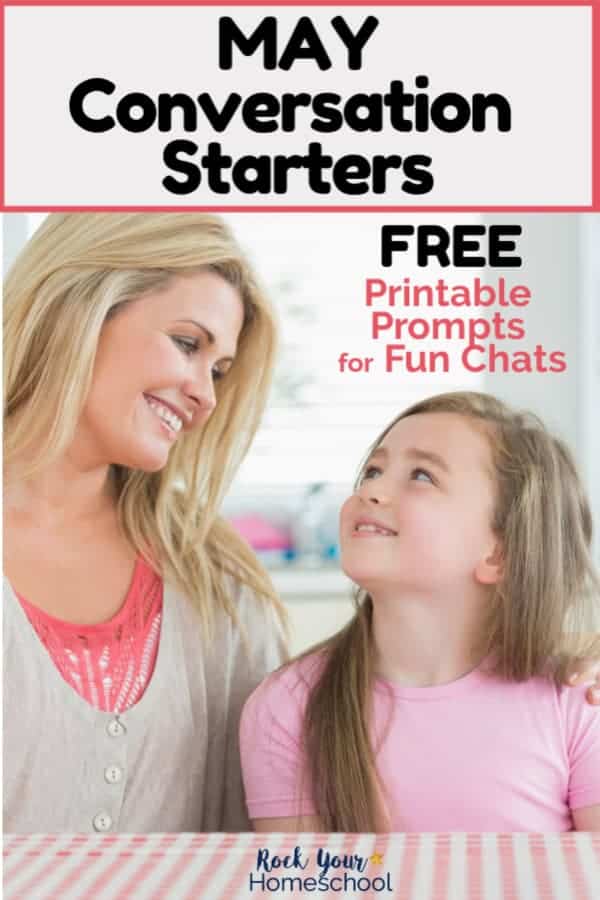 Or maybe you just don't really know what to talk about with your kids? It's not always easy to figure out appropriate topics that will engage and prompt discussion! When your mind is on the budget or what to make for dinner, you might draw a blank as far as fun topics to discuss.
No matter what your reason for wanting to help your kids grow in their communication skills, I applaud you! You're taking a positive step in cultivating a growth mindset for kids and laying the groundwork for better relationships.
And guess what? It doesn't have to be hard or expensive! These free printable May Conversation Starters are just the ticket to spark fun discussions.
Or use them for unique writing prompts to celebrate fun holidays and more 😉
Get Your May Conversation Starters!
These free May Conversation Starters include seasonal and holiday themes. You can keep it simple and fun with these conversation prompts that your family will have a blast talking about and giggling over.
Print (4 pages) and use as is or cut into strips. Some conversation starters do coincide with homeschool fun days. You can adapt the conversation starters to best fit the ages and stages of your homeschool, classroom, or family.
There are 7 conversation starters per page. Each page is divided into 4 weeks. Mix it up or follow the order in which they are presented. Customize to optimize your experience!
To get your free printable pack of May Conversation Starters, simply subscribe to Rock Your Homeschool. You will receive these printables in a PDF download in an email, along with a super-secret password that opens the vault to all RYHS freebies.
In addition to your freebies, you will be a weekly email with ways to make life and learning fun 🙂
(Psst! Current RYHS members just need to access the Subscriber Freebies page and enter the password in your welcome email. Or get the instant download in the email the week of this post)
Click HERE or on the image below to subscribe and get started on rockin' your homeschool with May Conversation Starters!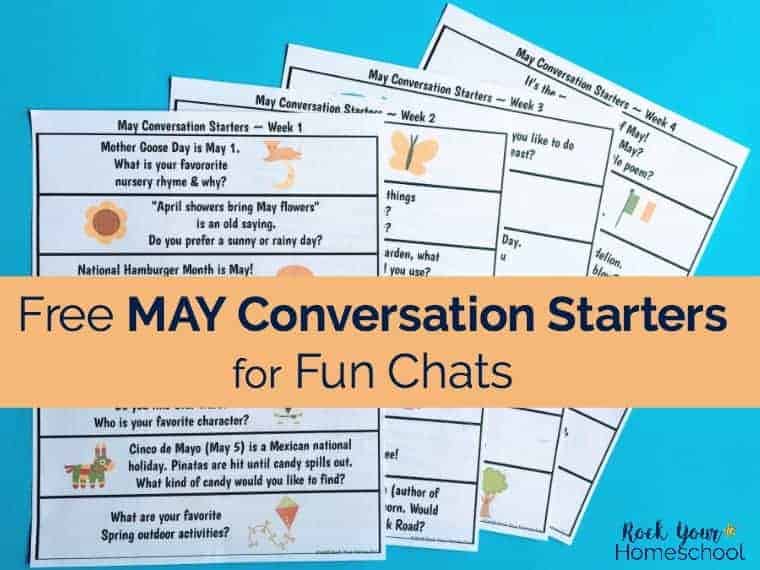 How will these May Conversation Starters help you have fun chats with your kids?