Flower Scavenger Hunt: Fun Activity to Enjoy with Kids (Free)
A flower scavenger hunt is a super fun activity to enjoy with your kids. This free printable scavenger hunt gets you outside as you build observation skills and more.
Oh, and if you can't get outdoors, no worries! You'll find creative ideas for enjoying this flower-themed activity indoors, too.
A Creative Way to Explore The World Around You
Looking for an easy yet engaging way to get your kids excited about nature?
Try this outdoor-themed scavenger hunt!
When you put together the excitement of a scavenger hunt with observing and discovering different parts of nature, you're able to take learning to the next level.
And this flower scavenger hunt is a great way to enjoy this type of activity with your kids.
My younger boys and I LOVE to search all around our yard (and wherever we go) for all types of things found in nature, like minibeasts, mushrooms, and other "treasures".
I thought it would be fun for my boys (and your kids, too) to go on a flower scavenger hunt!
Learn More About This Flower Scavenger Hunt
This free printable flower scavenger hunt is on one page. This set also includes a terms of use page.
Instructions are provided on the worksheet (How many can you spot? Color in as you find them.) Your kids will color in the flowers as they find them.
This scavenger hunt for kids features flowers, including:
Dandelion
Buttercup
Foxgloves
Apple Blossom
Sunflower
Tulip
Bluebells
Primrose
Crocus
Dahlia
Poppy
Daisy
Forget-Me-Not
Rose
Daffodil
Pansy
You'll also find 2 bonus activity prompts:
Stop & smell the roses!: Have you noticed how sweet the flowers smell?
How many different colored flowers have you seen? Color the flowers above to show your findings.
Cool Ways to Enjoy This Flower Scavenger Hunt
You can use this type of activity featuring flowers in a variety of creative ways for a great time younger kids and older kids.
Maybe you and your kids don't know a lot about flowers – like me? If so, this flower scavenger hunt provides you with the spark to learn more about nature's beauties.
You can use identification guides, books, and videos to learn all about flowers, especially ones in your area. A visit to botanical gardens or a local conservatory (like Phipps Conservatory in Pittsburgh near us) can be an amazing experience to experience a great mixture of flowers (plus super cool field trips!).
My boys and I put this free printable scavenger hunt on a clipboard so we can carry it around on our learning adventures. It makes it easy to use when we go for nature walks, to a local park or playground, and other times we're on-the-go. (My boys like to have their own clipboard so I make extra copies!)
If coloring would be difficult when you're outside, no problem! Just make a pencil mark next to the minibeast and color it in later 😉
Also, I suggest printing this flower scavenger hunt on white cardstock. Regular printer paper works fine. My boys, however, get excited when doing this type of activity and have a tendency to accidentally rip the paper. Maybe your kids do the same?
If you'd like to use this scavenger hunt again and again, you can laminate it or place in a dry erase sleeve.
If you're using this flower scavenger hunt at a time of year that you can't get outside or flowers aren't in bloom, no worries! I recommend gathering a collection of different books and magazines with illustrations of flowers for your search. Consider using a magnifying glass for your search for a hands-on effect.
Another fun addition to your flower treasure hunt is to get a bouquet of flowers.
You can also use videos, television shows, and movies to find flowers on this printable activity.
Crayola Silly Scents Twistables Crayons, Sweet Scented Crayons, 24 Count (Package may vary)
Deli 36 Pack Colored Pencils with Built-in Sharpener in Tube Cap, Vibrant Color Presharpened Pencils for School Kids Teachers, Soft Core Art Drawing Pencils for Coloring, Sketching, and Painting
Crayola Super Tips Marker Set, Washable Art Markers For School, Back To School Supplies For Kids, 100 Count
Sooez Clipboard with Storage, High Capacity Nursing Clipboards with Pen Holder, Heavy Duty Plastic Storage Clipboard with Low Profile Clip, Clipboard Folder Side-Opening, Smooth Writing for Office
Neenah Paper Exact Index, 110-Pounds, 8.5 x 11 Inches, 250 Sheets, White, 94 Brightness (WAU40411)
Scotch Self-Seal Laminating Pouches, 25 Pack, Letter Size (LS854-25G-WM)
Magnetic Dry Erase Markers Fine Point Tip, 12 Colors White Board Markers Dry Erase Marker with Eraser Cap, Low Odor Whiteboard Markers Thin Dry Erase Markers for Kids Teachers Office School Supplies
Tips & Tricks for Enjoying This Printabale Scavenger Hunt with Your Kids
When going on this type of outdoor scavenger hunt, I've found it helpful to keep a few things in mind:
Learn about flowers with your kids: Read books and watch educational videos about these natural beauties.
Be prepared: Carry nature guides and other materials to help you identify the flowers that you find.
Keep it simple: Don't feel compelled to search over every square inch that you're exploring. Or explain it all in scientific detail. And you don't have to find each flower right away. Stretch out these activities so you can look forward to spending time together.
Make the most of the experience: Even if you're not an outdoorsy type, try to get into it for your kids.
Think outside the box: Stuck inside (weather, illness, or don't have a lot of time)? No worries! You can still enjoy this flower scavenger hunt by using it with books, nature documentaries, and videos.
Add your own prompts: Before you set off on your scavenger hunt, talk about the prompts. Include ideas that your kids have on the back.
National Geographic Pocket Guide to Wildflowers of North America
Encyclopedia of Plants and Flowers
A Naturalist's Book of Wildflowers: Celebrating 85 Native Plants in North America
Get Your Free Flower Scavenger Hunt
Hurray! You're on your way to enjoying a super cool outdoor activity with your kids!
This free Flower Scavenger Hunt is on one printable (PDF) page (plus terms of use page).
You can most certainly print as many of these scavenger hunts as you need for your personal use, family, class, homeschool co-op, or community event. If you have a friend or co-worker who'd enjoy to have this sort of nature fun, I ask that you please share this post with them. Thanks so much for your cooperation!
To get this free flower scavenger hunt, simply subscribe to Rock Your Homeschool.
You'll receive an email with a PDF file, along with a password to open the Subscriber's Library to all RYHS freebies.
And you'll get emails with ideas, resources, and encouragement to make life and learning fun 🙂
(Hey hey! Current RYHS members just need to access the Subscriber Freebies page and enter the password in your welcome email. If you have any problems or questions, please email Amy at rockyourhomeschool@gmail.com)
Get your FREE Flower Scavenger Hunt by tapping HERE or on the image below.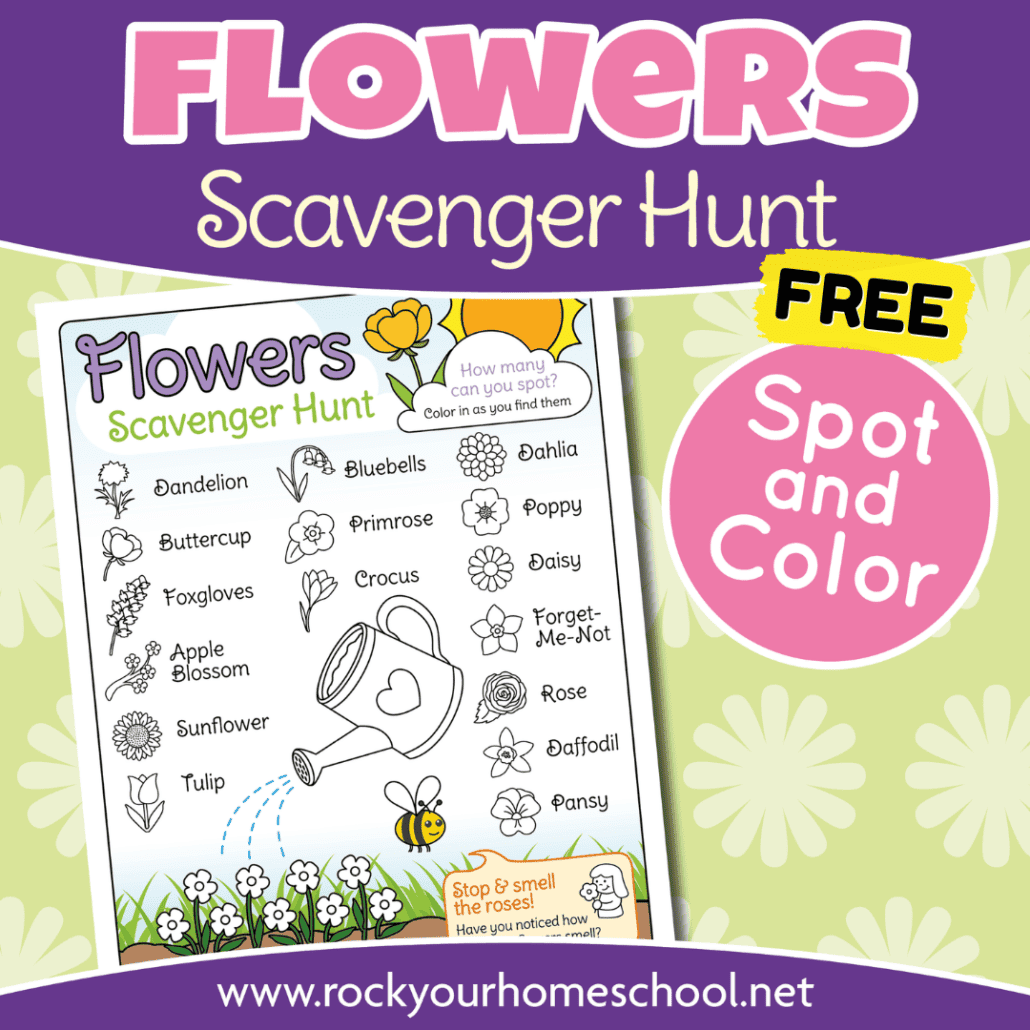 What other flowers would you add to this free printable scavenger hunt? Please add your ideas (plus ways to enjoy with people of all ages) in the comments area at the bottom of this post 🌷
Wishing you so much fun with these different ways to enjoy a flower scavenger hunt!
More Fun & Free Scavenger Hunts for Kids