These free Harry Potter-Inspired Coloring Bookmarks are fantastic ways to add a touch of magic to your reading fun and more.
Featuring select characters and quotes from the Harry Potter series, these adorable bookmarks are available in black and white format. Perfect for customizing with different colors, patterns, and more!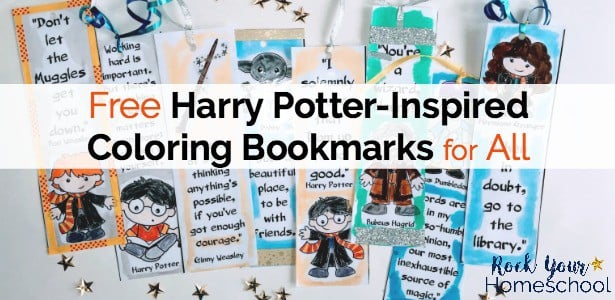 Discover how my five boys and I are decorating and using these free Harry Potter-Inspired Coloring Bookmarks plus how you can get your printable download today.
Harry Potter Coloring Bookmarks: Magical Reading Accessories for Kids
Our family has a slight obsession with the Harry Potter books and movies. We love to incorporate Harry Potter-Inspired learning fun activities into our homeschool and family time. I love finding and creating new ways for all of us to enjoy our favorite wizards and their adventures.
While curating a list of free printable Harry Potter-Inspired printables, I realized that none of the options for bookmarks included coloring. That situation needed to be remedied!
My boys helped me design these coloring bookmarks with Harry Potter themes. They picked the quotes to accompany these popular wizardry characters. We enjoy making custom bookmarks and eagerly got out our supplies.
We have found that these bookmarks are made more durable when printed on cardstock. Also, laminating the bookmarks preserve your custom artwork.
You can make your coloring bookmarks with Harry Potter themes even more magical by using a hole punch and adding a bit of ribbon or curling ribbon. Also, washi tape can be an easy way to add some sparkle.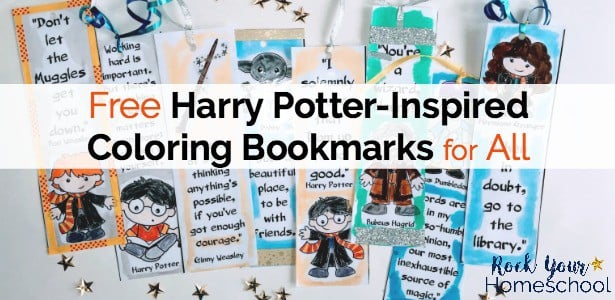 Get Your Free Harry Potter-Inspired Coloring Bookmarks
This free printable pack of Harry Potter Coloring Bookmarks would be great for birthday parties, classroom use, family, and homeschool fun. The pack contains 8 coloring bookmarks with these characters:
Harry Potter
Hermione Granger
Ron Weasley
Albus Dumbledore
Rubeus Hagrid
Dobby
Harry Potter with a book
Magic wand
To get your free printable pack of Harry Potter-Inspired Coloring Bookmarks, simply subscribe to Rock Your Homeschool.
You will receive these printables in a PDF download in an email, along with a secret password that opens the vault to all RYHS freebies.  In addition to your freebies, you will be a weekly email with ways to make life and learning fun.
(Psst!  Current RYHS members just need to access the Subscriber Freebies page and enter the password in your welcome email.  Or get the instant download in the email the week of this post)
Click HERE or on the image below to subscribe and get started with Harry Potter Coloring Bookmarks!
Want even MORE Harry Potter-inspired learning fun? My boys and I have been having a blast with Waldock's Wizards and Wands!