Free Bored Jar Ideas for Easy Ways to Keep Kids Happy
These printable prompts with bored jar ideas are excellent ways to help your kids productively use their free time.
If you're tired of hearing "I'm bored!" or "There's nothing to do!", you'll love having these creative ideas for kids activities.
Find fantastic ideas for using these bored jar prompts with kids of all ages and get your free set today!
Free Time Doesn't Have to Be Miserable
How do you keep your kids busy when stuck at home? If you're running out of ideas, these prompts with bored jar ideas will be just the thing you need.
And if your kids are like my boys, you'll be doing a major happy dance now that you have these free printable prompts 💃
Although my boys are pretty used to spending a lot of time at home, it hasn't been easy the past few months. We're used to going to the library, stores, and sports fields for a change of scenery and interaction with human beings outside of our homeschool family.
I've noticed more moans and groans about not knowing what to do. My boys have vivid imaginations but even that creativity seems to be stretched thin.
Oh, and when we have inclement weather and can't go outdoors, the moans and groans of not knowing what to do have been even worse. Too much time stuck in the house makes for some cranky boys (and mama!).
Well, I don't like living with that type of misery 😉 I decided to put together a collection of activities for when we're blanking on what to do.
These Bored Jar Ideas – Quarantine Edition have suggested activities that your kids can do at home. Some activities work best with a sibling or family member. Other activities can be independently done.
Grab this set of free printable prompts for:
Rainy day fun
Boredom busters
Sparking other ways to keep busy (and maybe inspiring a new interest or hobby?)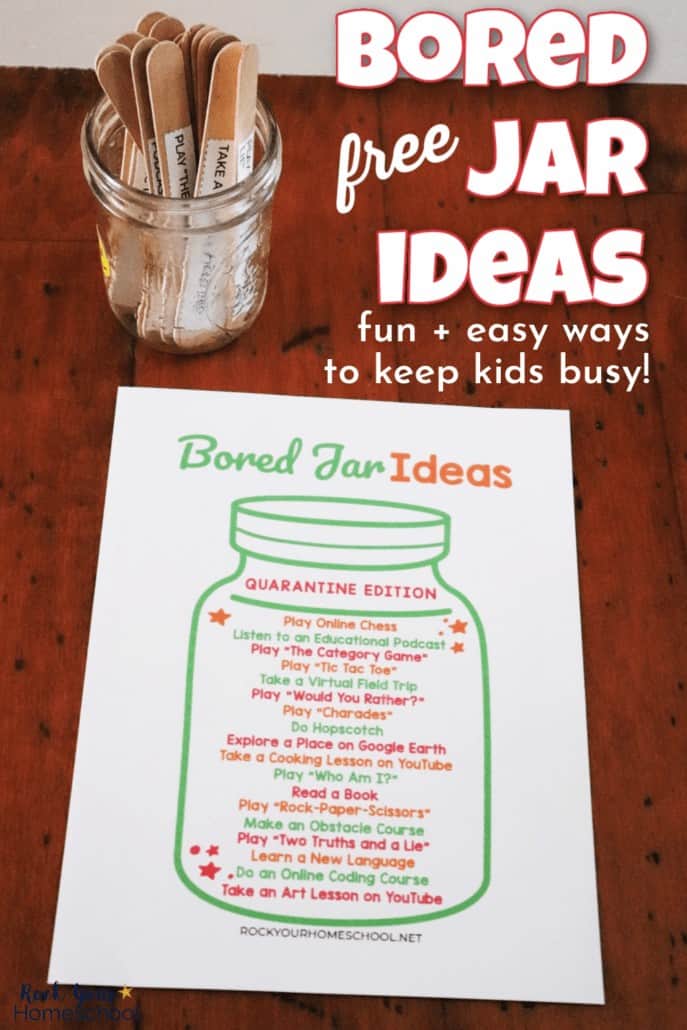 Creative Ways to Use These Bored Jar Ideas
You can use these printable bored jar ideas any way you like. A few ideas include:
Print, cut out, and place strips in a jar or box.
Glue strips onto wood craft sticks. Place in jar or box.
Randomly select idea whenever boredom strikes.
Use the page with jar. Have your kids shut their eyes and randomly point to an idea to do.
OR go through the bored jar ideas with your kids and pick one based on current need.
Use the blank sheet to create custom bored jar ideas based on your kids' likes, interests, etc.
Tips & Tricks for Getting the Most Out of These Printable Bored Jar Ideas
I suggest that you sit down with your kids and go over these bored jar ideas prior to using. Explain why you think it's important to have these ready-made prompts available when they can't think of anything to do.
Also, go over your expectations. For example, how long do you expect your kids to try each idea? What type of results would you like to see?
As you chat about these bored jar ideas, encourage your kids to brainstorm other appropriate activities. If they can't think of anything, do a Google or Pinterest search.
In case you're not familiar with some of these bored jar ideas, here are my ideas for using some of them (and please email me at rockyourhomeschool@gmail.com if you need tips for ones not mentioned here):
Online Chess
My boys haven't tried this free site (ChessKid) but it looks like a good option.
Another option to play chess for free online is Learning Chess.
Educational Podcast
Need ideas for podcasts for kids? Here's a list that I put together.
Here's a list of the 25 Best Podcasts for Kids. And here are 26 podcasts for elementary, middle school, and high school.
"The Category Game"
Learn how to play this fun pen-and-paper game here.
Virtual Field Trip
Your kids can learn so many different things and enjoy a variety of experiences with virtual field trips. Check out these ideas and free printable pack for virtual field trips.
Play "Would you rather?"
The Best Ideas for Kids has this free printable list of 100 Would You Rather questions.
Google Earth
Go to Google Earth to explore different areas around the world. Some cool places to check out would be from areas that you're studying in history or other school subjects.
Play "Who Am I?"
Picklebums shares these directions and tips for playing this easy and fun interactive game.
Play "Two Truths and a Lie"
ThoughtCo. shares how to play this super fun game.
Learn a new language
Free apps like DuoLingo and Memrise are awesome ways to practice and learn a foreign language (or two).
Do an online coding course
Khan Academy has a free Hour of Code course your kids can try (which then leads to an option for more advanced computer courses).
Take an art lesson YouTube
My boys' two favorite places for art lessons on YouTube are Chalk Pastels with Nana of You ARE An Artist and Art for Kids Hub.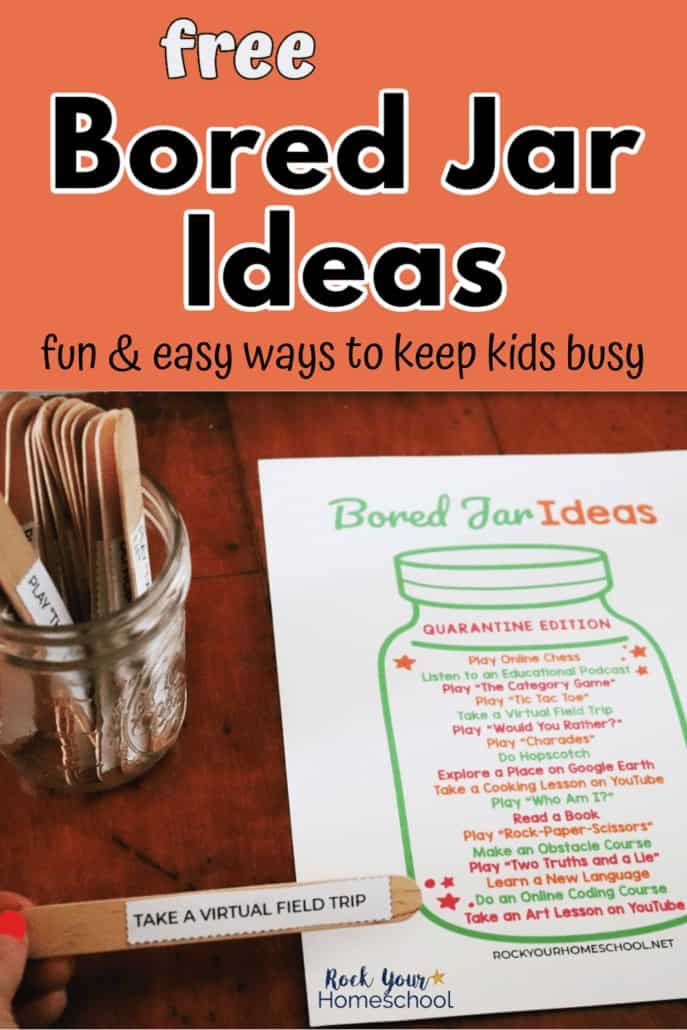 Get Your Free Set of Bored Jar Ideas
WooHoo! High five for taking time to find creative ways to help your kids productively use their free time!
This free printable set includes 3 pages:
Bored Jar Ideas with jar graphic
Bored Jar Ideas (divided into Fun & Games and Learning) on strips you can cut out
blank sheet of strips for DIY Bored Jar Ideas
Please print as many copies of this set as you need to enjoy with your kids, class, or co-op. If you have a friend or co-worker who might like to use these printables, share the link to this post (and not to the download). I truly appreciate your sharing!
To get these printable Bored Jar Ideas, all you need to do is subscribe to Rock Your Homeschool.
You'll receive an email with a PDF download, along with a password to open the Subscriber's Library to all RYHS freebies.
Plus, you'll get emails with ideas, resources, and encouragement to make life and learning fun 🙂
(Psst! Current RYHS members just need to access the Subscriber Freebies page and enter the password in your welcome email.)
Get your FREE set of Bored Jar Ideas by clicking HERE or on the image below.
Sending you tons of positive vibes for fun times!