How to Enjoy Affordable & Fun Homeschool Art Classes with Your Kids
Homeschool art classes were never on my radar.
My boys love art appreciation, picture study, and doing crafts. Why would I need to include art courses in our homeschooling adventures? Plus, how in the world could I afford to provide all five boys with quality homeschool art classes?
As it goes in life, things change. Our homeschool evolves as my boys get older. And awesome new resources pop up that make my pipe dreams actually come true!
Disclaimer: I received a free year membership to Masterpiece Society Studio. All opinions are 100% honest and a positive review was not required.

How Our Busy Family Makes Homeschool Art Classes Happen
With a busy schedule that includes homeschooling five boys and travels with competitive soccer, I didn't think we had time for homeschool art classes. There are only so many hours in a day, right? I knew that I didn't have time to individually work with each boy (preschool through high school) and provide custom homeschool art lessons.
All of my boys enjoy learning about art. Two boys, in particular, have shown deeper interests in developing their artistic skills. Although I wanted to help cultivate their creative pursuits, I had no idea how I could provide them with affordable homeschool art classes. Our homeschool budget and schedules are tight with very little wiggle room for private art lessons.
I kept pushing the idea of homeschool art classes aside. I'm a firm believer in encouraging my boys to think outside the box and core subjects. But, I felt overwhelmed with trying to find a solution.
Enter Masterpiece Society Studio! When I had the opportunity to use and review these online art video lessons and tutorials, I leaped at the chance. A membership for homeschool art classes that all of my boys and I could enjoy? Sign us up!
Masterpiece Society Studio is helping this busy mom make sure homeschool art classes happen. With easy to access video tutorials and resources plus materials checklist, I am able to prepare and enjoy homeschool art classes with my boys.
Yes, you read that correctly. I enjoy homeschool art classes WITH my boys. Although I like to think of myself as creative, I struggle to draw a decent stick person. These online homeschool art classes can be used by your kids and you!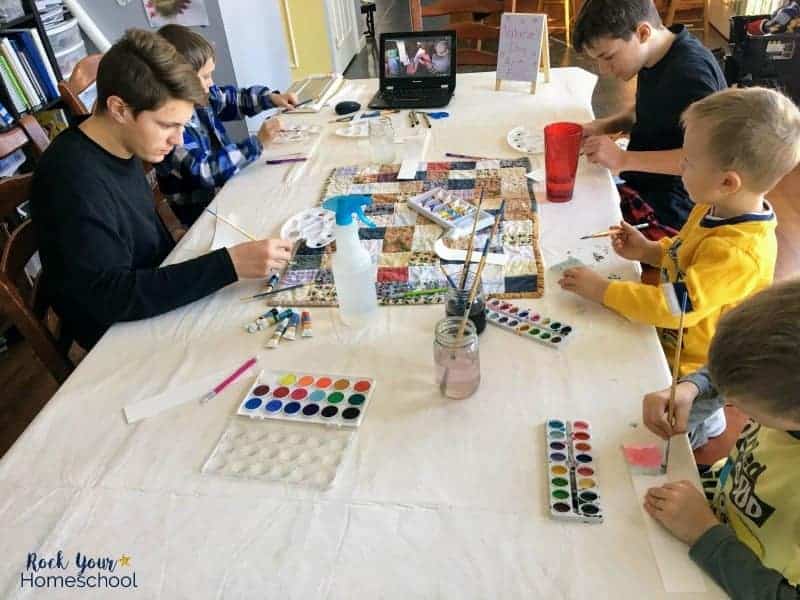 An Affordable & Easy Way to Enjoy Homeschool Art Classes with Your Kids
You have a variety of art courses and mixed media workshops to choose from Masterpiece Society Studio membership. Plus, you have access to ALL courses for preschoolers through teens.
For your little learners, you have Step-By-Step Drawing Lessons that are designed for grades K-2. My three younger boys (preschool, 1st grade, and 3rd grade) enjoy these lessons together. You can easily adjust the lesson to your child's needs. Alisha, founder of Masterpiece Society Studio, frequently encourages your kids to just enjoy the process and do their best. My boys love her inspiring words and encouragement! Smiley, our resident artist, likens Miss Alisha to one of his heroes, Bob Ross 🙂
Preschoolers can work alongside your older kids with themed coloring pages. Xman (3) loves having work that is similar to his older brothers.
My boys and I have had a blast using Masterpiece Society Studio's holiday art lessons and resources. First, we worked with the Valentine's Day Mixed Media Workshop.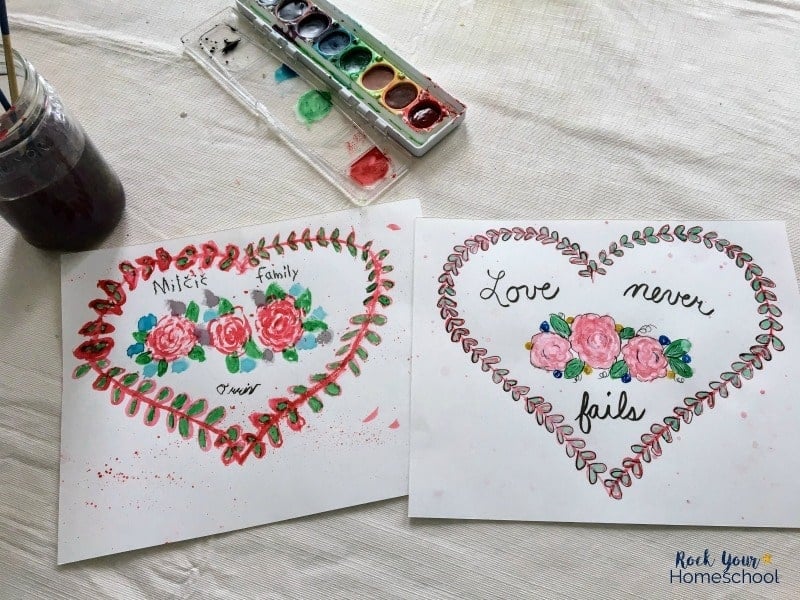 Then, we created beautiful abstract hearts based on the work by Jim Dine. This homeschool art lesson has been our favorite so far!
My boys and I are eagerly awaiting the opening of Art School classes. These homeschool art classes will provide the specialized, quality art lessons that I feared I would never be able to afford. Four classes that dive into the fundamentals of art!
Ssh! Between you and me, this is my favorite part of Masterpiece Society Studio membership. Create & Connect for MOM'S ONLY! Each month, one special art lesson just for moms that includes access to a private Facebook group to chat about our creations. The ultimate in homeschool mom self-care that you can do in the comfort of your own home in your p.j.s while sipping hot tea! And it's included in your membership! BONUS! To me, it's an awesome perk that adds to the value of the membership and contributes to my homeschool mom sanity.
Masterpiece Society Studio membership is $15 a month or $150 for an entire year. When I consider the cost of private homeschool art classes or even finding a group class, this membership is by far the most affordable and efficient. We CAN have quality homeschool art classes in our own home!
What part of Masterpiece Society Studio would help your homeschool the most?
And feel free to leave more than one reason 😉