Would you like to add fun to your homeschool?  Not sure where to start or afraid it will cost too much money?
Never fear-Rock Your Homeschool's (RYHS) Homeschool Fun Calendars for every month are here!
You CAN have learning fun in your homeschool without spending tons of money.  Or doing too much prep work.  Or freaking out that you are not doing enough.
Homeschool Monthly Calendars were created to help me, a homeschool mama of 5 boys (ages 2, 5, 7, 11, 14), make sure that I include at least one bit of learning fun in every single homeschool day.
I want to ENJOY this precious time that I have with my kids.  I want to CREATE a relaxed learning atmosphere where my boys experience the love of learning.  I want to CONNECT with my kids as we laugh and learn.
In the FREE Homeschool Fun calendar for every month, you will get:
an activity or project to do with your kids every day
all suggestions include common household items (or frugal materials)
printable monthly calendar 
weekly checklist with recommended supplies to have on hand that week
Homeschool Monthly Fun Calendars are available ONLY TO ROCK YOUR HOMESCHOOL SUBSCRIBERS!  If you have homeschool (or non-homeschool!) friends who you think would enjoy these printable monthly calendars, please share this link and have them subscribe!  (All subscribers also get RYHS Backstage Access Passes with subscriber freebies and monthly challenges!).
I would absolutely LOVE to see how you have fun with these ideas in your homeschool!  Use #RYHSfun to share your homeschool fun!
If you have not yet joined the monthly homeschool fun, click here or on the image below to subscribe and get started!
Here are your HOMESCHOOL FUN CALENDARS for every month!
JANUARY Homeschool Fun Calendar for 2017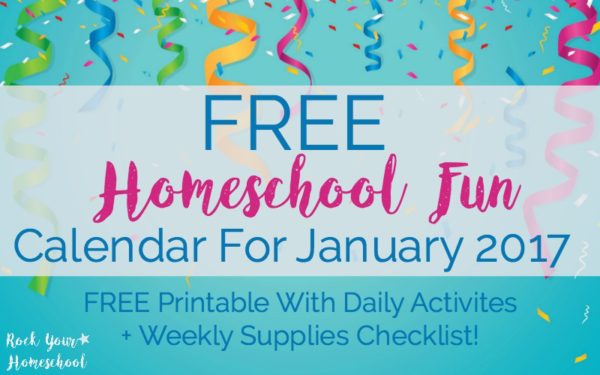 FEBRUARY Homeschool Fun Calendar for 2017
MARCH Homeschool Fun Calendar for 2017
APRIL Homeschool Fun Calendar for 2017
May Homeschool Fun Calendar for 2017
June Homeschool Fun Calendar for 2017
July Homeschool Fun Calendar for 2017
August 2017 Homeschool Fun Calendar
September 2017 Homeschool Fun Calendar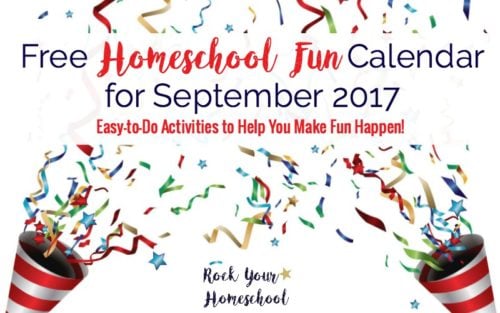 Free Homeschool Fun Calendar for October 2017
Free Homeschool Fun Calendar for November 2017