Free November Doodle Prompts to Boost Homeschool Fun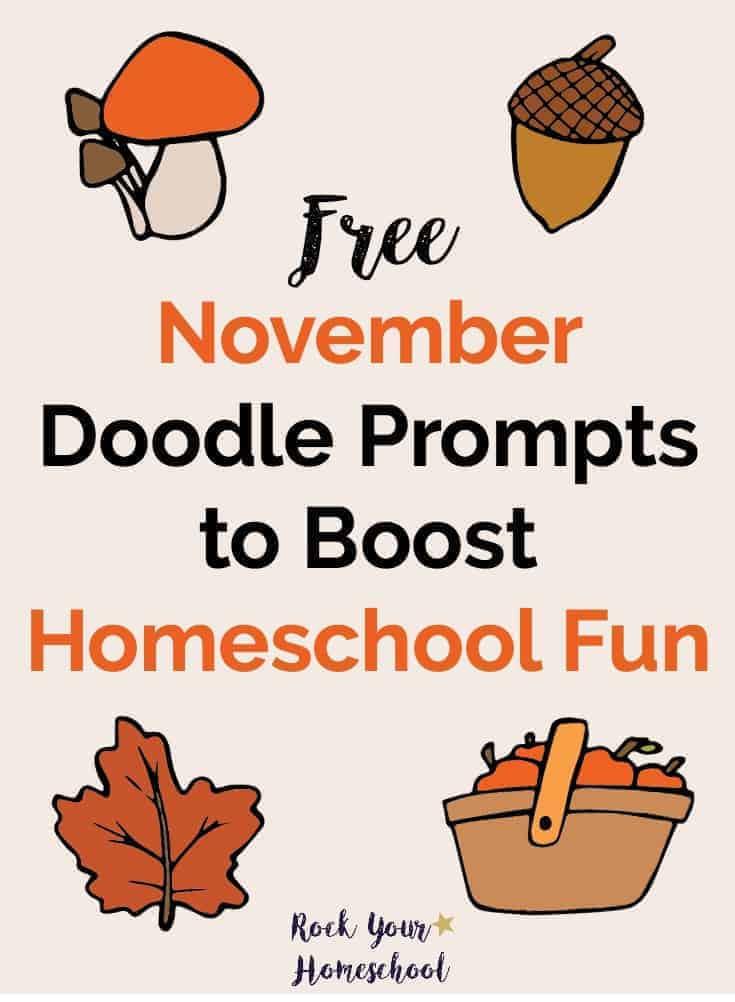 Get ready to boost your homeschool fun with November doodle prompts! These easy-to-do daily activities don't take much time and are fantastic ways to connect with your kids. Scroll down to find your free instant download of November doodle prompts or keep reading to find out why my boys and I love daily doodle prompts in our homeschooling adventures.
If you are new to doodle prompts, they are simply a select word or combination of words provided to get creative juices flowing. You think about the word (for example, apple), pick up a drawing utensil, and just start doodling that word. There's no right or wrong to doodling and you can make your doodle as complicated or simple as you like.
My boys and I include these daily doodle prompts in our homeschool morning time or brain breaks. I announce the daily doodle prompt after sharing our homeschool fun activity to celebrate a special day. The boys have the option to start doodling or wait until they want to take a break between their homeschool subjects.
Daily doodle prompts encourage my boys to think outside the box and express themselves in new ways. We like to compare doodles and talk about similarities and differences. Great conversation starters!
I have noticed that their drawing skills have improved with their homeschool daily doodles. The boys have been more willing to take risks in their art, writing, and homeschool projects. I love how the creativity from this simple and frugal exercise carries over into other homeschool areas!
Doodling is so affordable! All you need is paper and a drawing utensil. My boys use either pencils, pens, crayons, markers, or colored pencils. Very easy to prepare and do! 
Free November Doodle Prompts to Boost Homeschool Fun
To get started with your November doodle prompts, simply CLICK BELOW to download and print. Bada-bing, bada-boom!
Make sure to get your free November homeschool fun calendar!