Free Rock Cycle Worksheets for Simple Science Fun for Your Kids
These free rock cycle worksheets are perfect for boosting your science fun!
Your kids will have a blast with the variety of activities in this printable pack.
Find out more about these activities and how you can get your free set of rock cycle printables today!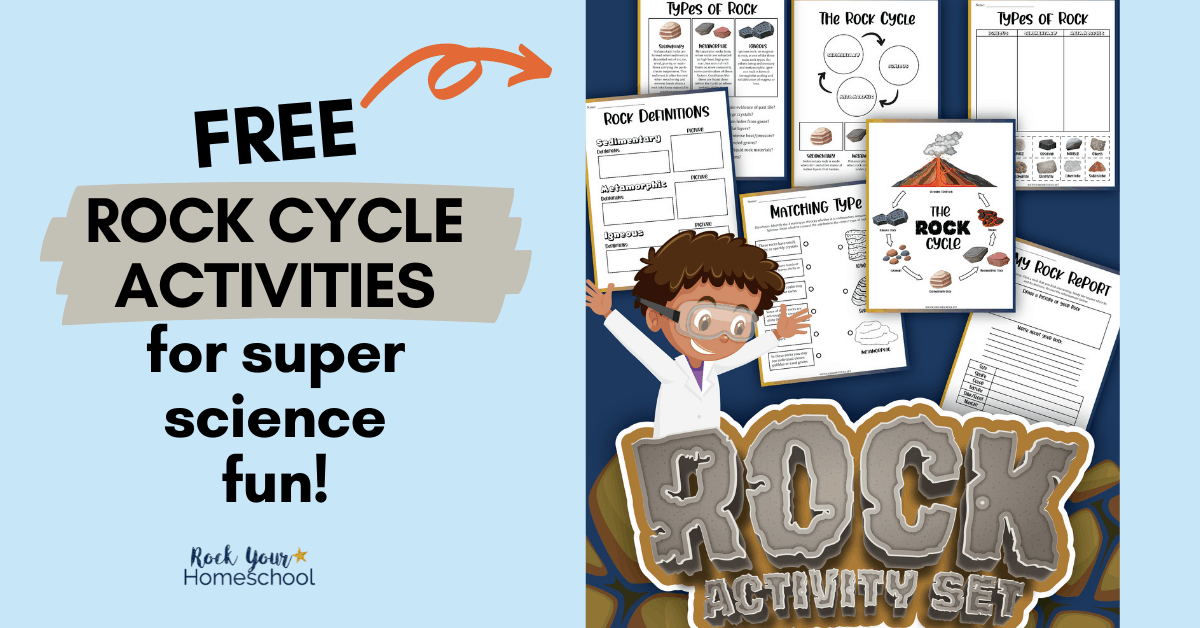 Yes, Learning About the Rock Cycle CAN Be Fun!
When you look at a pile of rocks, it might not look that exciting.
Or spark you to want to learn more about rocks and minerals.
At least, that's how I feel.
My boys, on the other hand, think that rocks are amazing treasures! If I had a nickel for every "treasure" in our home, I'd be able to buy you and me a big ol' specialty drink at Starbucks 😉
This example goes along with one of the biggest things that I've learned as a homeschooler: Just because you might not be interested or excited about a topic doesn't mean that your kids won't be.
So, if you're like me and yawn at the thought of learning about the rock cycle (or other science topic) but your kids show interest, give it a try.
Invite your kids to help you find books and other resources (like these free rock cycle worksheets) to make it a fun collaboration.
Who knows? You just might find that learning about the rock cycle is actually pretty cool. (And your kids will love that you gave their idea a try!)
What's In This Rock Cycle Worksheets Pack?
Let's take a look at what's inside this rock cycle activities pack with 7 pages:
The Rock Cycle: This worksheet can be used as a poster for learning about the stages of the rock cycle or addition to your student's binder. It shows how rocks start and what type of process they go through from start to finish. On this rock cycle diagram, you'll find:
Volcanic eruption
Igneous rock
Sediment
Sedimentary rock
Metamorphic rock
Magma
The Rock Cycle-Part Two: The printable illustrates the relationship between igneous, sedimentary, and igneous. It also has a picture of each type of rock plus defintion.
Types of Rock-Part One: This activity also include pictures of each type of rock and longer description. Includes 8 questions for students to identify correct rock.
Types of Rock-Part Two: In this printable activity, your students enjoy some hands-on fun. After cutting out various images of rocks, your students will sort into appropriate column (igneous, sedimentary, metamorphic) then paste in the proper spots.
Granite
Pumice
Obsidian
Marble
Gneiss
Scoria
Conglomerate
Quartzite
Limestone
Sandstone
Rock Definitions: This rock cycle worksheet includes prompts your students to provide definitions of each rock and draw a picture to show an example.
My Rock Report: Such a cool way to extend the Iearning fun with rocks! Your students are prompted to find a rock that they find interesting. Then, your students will draw a picture of the rock and write a short description. Also, your students will record the rock's shape, size, color, texture, weight, and more.
Matching Type: This worksheet tests your student's knowledge on the different rocks found on Earth. Examples of each type of rock (igneous, sedimentary, metamorphic) are provided (and can be colored). Students match the vocabulary rock description to the correct type.
Fantastic Ways to Use These Rock Cycle Worksheets
Collect books about the rock cycle. Search your library and home bookshelves.
Watch videos that explain the rock cycle to your kids.
Enjoy some excellent experiments that feature earth sciences.
If possible, find examples of each type of rock for your kids to observe and study. Learning about different rock types (like igneous rocks and metamorphic rocks) is so cool!
As your students work on these worksheets, chat about the descriptions. Encourage your kids to make their own observations.
When these rock cycle worksheets are completed, add to your student's binder or set aside for your homeschool portfolio.
Make extra copies of these worksheets, especially My Rock Report. You can revisit this activity throughout the year by collecting rocks during a walk or enjoying outdoor activities. Oh, and you could totally include these worksheets in a rocks and minerals unit study!
For different ways to have fun with rocks, get out your creative supplies! A few things to try are:
Crayons
Markers
Paint
Glitter glue
Pipe cleaners
Glue
Googly eyes
Felt pieces
Pieces of foam sheets
Oh, and make sure to grab this free set of rocks and minerals cards for more learning fun!
What Is the Rock Cycle? (Rock-Ology: The Hard Facts about Rocks)
The Rock Cycle (Pogo Books: Geology Genius)
The Rock Cycle: A 4D Book (Cycles of Nature)
Toysmith Rock Science Kit
Get Your Free Rock Cycle Worksheets for Science Fun
Yes! You're on your way to enjoying simple science fun with your kids using these free rock cycle worksheets.
This printable pack includes 7 pages.
Want to make extra copies? Absolutely! Print as many worksheets as you need to enjoy with your homeschool, classroom, co-op, or other special event.
If you have a friend or co-worker who might like to use these rock cycle worksheets with their students, please share the link to this post. Thanks so much for your cooperation!
To get this FREE Rock Cycle Worksheets Pack, all you need to do is subscribe to Rock Your Homeschool.
(Psst! Current RYHS members just need to access the Subscriber Freebies page and enter the password in your welcome email.)
Get your FREE set of rock cycle worksheets by tapping HERE or on the image below.
What other science worksheets would you like to use with your students? Let me know in the comments area below!