Free Scientific Method Cootie Catcher for Learning Fun
This free Scientific Method Cootie Catcher is an awesome activity to help your kids get talking about science.
Science is such a cool subject to enjoy with your kids! So many ways to get curious and study the world around us 🙂
Cootie catchers have been incredible for helping me include easy-to-do, interactive fun to our homeschool. These simple printables allow me to enjoy special time with my boys as we take a homeschool brain break or just want a fun activity to do together.
This free printable activity pairs the scientific method with cootie catcher fun for an incredible way to boost science fun.
Have Fun Learning & Practicing the Scientific Method
To help our homeschool boost our science studies, I created this free printable cootie catcher activity. My two older boys have been benefiting from hands-on science activities and experiments. My younger boys are never far away and started to ask about some of the steps in the scientific method.
Before using this cootie catcher with my boys, I explained what each term means.
Observation
Hypothesis
Experiment
Results
We chatted about the six steps of the scientific method, too. The boys also watched this helpful video:
After our conversation, we had some Scientific Method fun! The boys had a blast using this cootie catcher with each other and creating variations of the ideas and challenges.
Get Your Free Scientific Method Cootie Catcher!
You can get started with this free Cootie Catcher today for scientific method fun!
This printable activity is perfect hands-on, interactive fun for:
Classroom fun
Homeschool brain break
Family fun activity
When you join the Rock Your Homeschool community, you'll receive these printables in a PDF download in an email, along with a secret password that opens the vault to all RYHS freebies. In addition to your freebies, you will be a weekly email with ways to make life and learningfun.
(Psst! Current RYHS members just need to access the Subscriber Freebies page and enter the password in your welcome email. Or get the instant download in the email the week of this post)
Click HERE or on the image below to subscribe and get started with this free Cootie Catcher to learn about and practice the scientific method!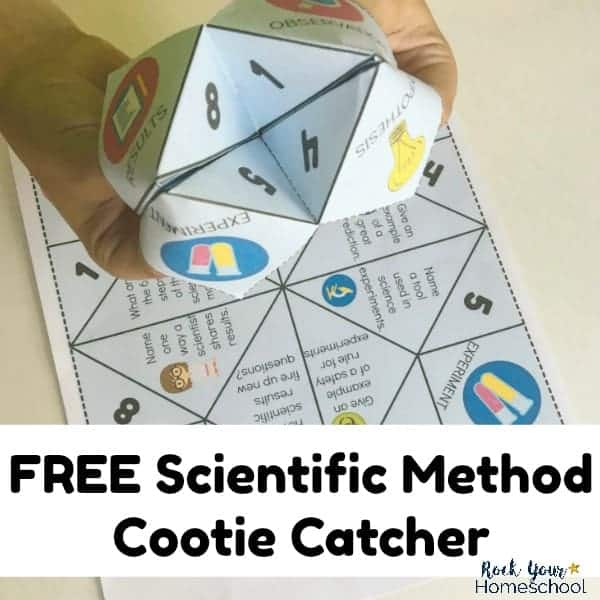 How will you use this free printable activity for science fun with your kids?