Free Harry Potter-Inspired Mad Libs for Writing Fun Activities
These free Harry Potter-Inspired Mad Libs are fantastic for writing fun and more.
If you have Harry Potter fans in your life, you'll love these free printable activities.
These fun stories are great ways to teach and reinforce parts of speech. All while enjoying some great giggles!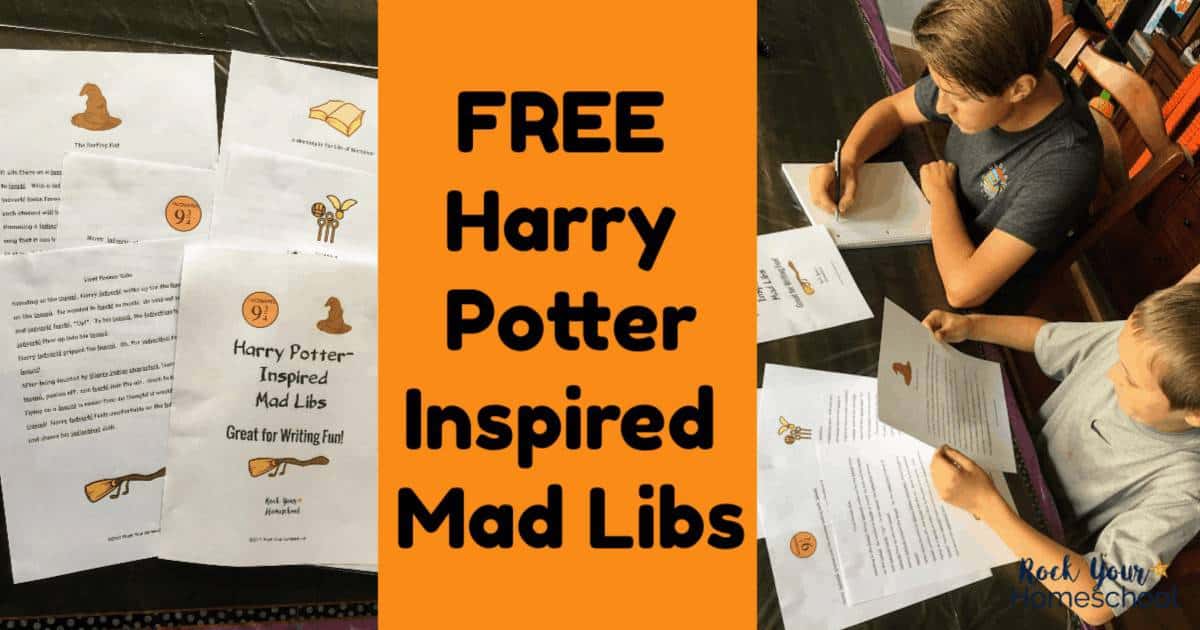 Boost Writing Fun with Harry Potter-Inspired Mad Libs!
Do your kids like to write?
I have five boys that I homeschool and can say with all honesty that none of them like to write 🙁
And that's so hard for me to process because writing is one of my favorite activities!
So, what do I do to find new ways to inspire and engage my boys in an activity I dearly love and know can benefit them in life?
I find a common interest and build on that. This tactic has worked brilliantly in our homeschool and daily life!
The Harry Potter series has been, by far, one of the best ways for me to connect with my boys.
Each of us relates to different characters. I am SO Luna Lovegood. My oldest is like Cedric Diggory. Professor is Harry Potter. Smiley is like Dobby. Bear is Hagrid. And Xman is Neville. (If you aren't familiar, find out more about these characters at Pottermore.)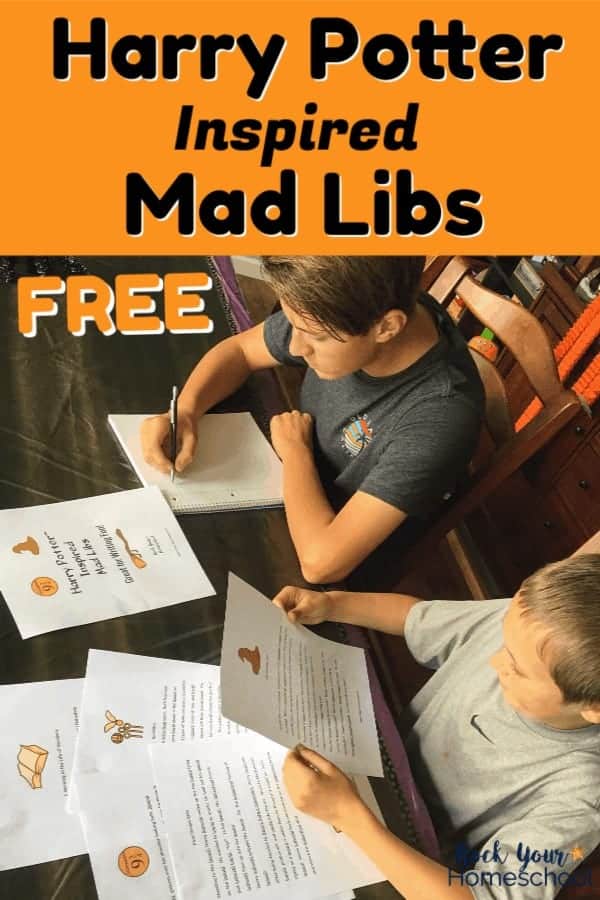 Great Ideas for Using These Harry Potter Activities
Harry Potter-Inspired Writing Fun has been such a for our family.
All of us are obsessed with these books, movies, games, and resources. Just call us Potterheads!
And a printable Mad Libs version has been an excellent addition to our homeschool brain breaks.
A few other ways you could use these Harry Potter Mad Libs are:
Library event
Homeschool co-op
Rainy day fun
Boredom buster
Ice breaker

Connect with Your Kids Using Harry Potter-Inspired Mad Libs
One of the best ways to connect with your kids is during learning fun.
Simple conversations can blossom into special memories while working with your kids on relaxed activities.
And Mad Libs are a great way to have some silly fun!
In case you aren't familiar with Mad Libs (or just need a refresher!), a basic story is edited with particular parts of speech removed. One person jots down what others suggest at prompts for nouns, adjectives, and more. The writer then reads aloud the new story. Laughter ensues.
Mad Libs rock!
I love how Mad Libs help you teach your kids about parts of speech and writing in a relaxed approach.
Another great part is that you can use Mad Libs again and again!

Free Printable Harry Potter-Inspired Mad Libs for Writing Fun
I wrote a few stories based on the Harry Potter books and turned them into printable Mad Libs for writing fun.
My boys and I have had a blast working on these Mad Libs. These stories are hilarious!
And the boys are learning so much about parts of speech. These activities are making them stretch to search for different words. So much fun to see how they fit with describe our favorite Harry Potter themes and characters.
This pack of Harry Potter-Inspired Mad Libs for Writing Fun includes 5 stories. You'll get 5 pages of Harry Potter fun!
I'd love for you to join us in our Harry-Potter Inspired writing fun! To access your FREE printable pack, subscribe to Rock Your Homeschool!
You'll receive weekly email updates with creative and easy ways to make life and learning fun.
Plus, RYHS subscribers receive a super-secret password to access all freebies!
Get your FREE Harry Potter Mad Libs HERE or by tapping on the image below!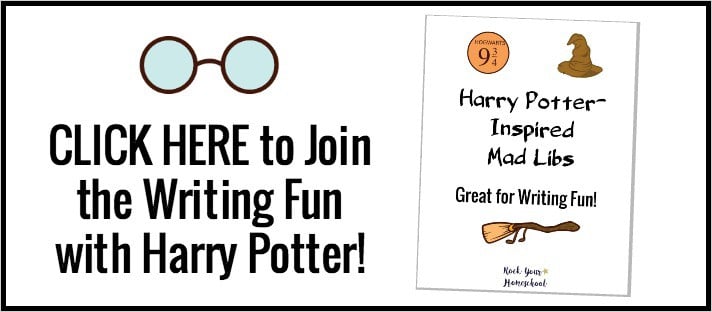 Don't miss any of Rock Your Homeschool's 5 Days of Harry Potter-Inspired Writing Fun. Find out more here!
If you enjoyed these Harry Potter-Inspired Mad Libs, you're sure to love: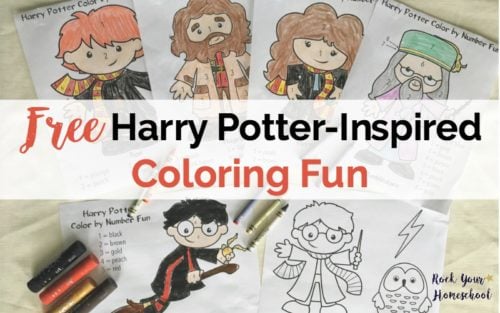 Harry Potter-Inspired Coloring Pages
Free Printable Pack of Harry Potter-Inspired Writing Prompts
Harry Potter-Inspired Mad Libs for Writing Fun (Free)
Free Printable Harry Potter-Inspired Sentence Cubes
Free Harry Potter-Inspired Newspaper Planner for Writing Fun
Writing Fun for Kids with Harry Potter-Inspired Comic Strips (Free)
7 Free Harry Potter-Inspired Mazes Kids Will Love
Free Harry Potter-Inspired Decoder Fun Printables
Harry Potter-Inspired Word Puzzles for Learning Fun Activities
FREE Patronus Picker for a Fun Harry Potter Sorting Activity
Want even MORE Harry Potter-inspired learning fun?
Enjoy a magical Harry Potter celebration! This fun unit study and activities pack will help you celebrate Harry Potter's birthday (July 31) any time of year.