I love finding new ways to motivate and encourage my boys to have writing fun.  These Harry Potter-Inspired Mad Libs were created to do just that.  Great ways to teach and reinforce parts of speech while we get in some great giggles!
To get your FREE printable pack of Harry Potter-Inspired Mad Libs for Writing Fun, CLICK HERE or on the image below.  Read on to find out more about these Mad Libs and how you can use to boost learning fun.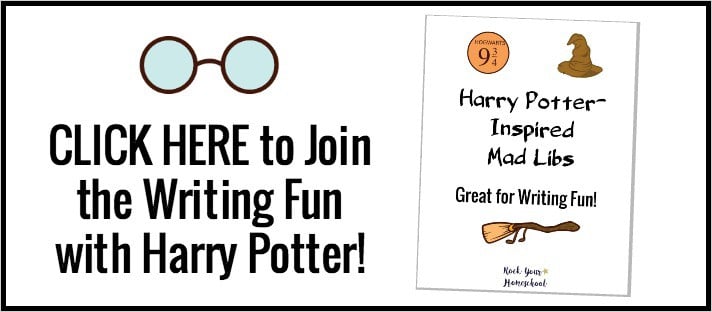 Connect with Your Kids with Harry Potter-Inspired Mad Libs
One of the best ways to connect with your kids is during learning fun.  Simple conversations can blossom into special memories when doing working with your kids on relaxed activities.  Mad Libs are a great way to have some silly fun!
In case you aren't familiar with Mad Libs (or just need a refresher!), a basic story is edited with particular parts of speech removed.  One person jots down what others suggest at prompts for nouns, adjectives, and more.  The writer then reads aloud the new story.  Laughter ensues.
Mad Libs rock!
I love how Mad Libs help you teach your kids about parts of speech and writing in a relaxed approach.  Another great part is that you can use them again and again!
Free Printable Harry Potter-Inspired Mad Libs for Writing Fun
I thought it would be great fun to write a few stories based on the Harry Potter books and turn them into Mad Libs for writing fun.  My boys and I have had a blast working on these Mad Libs and listening to our new funny stories.
This free printable pack with Harry Potter-Inspired Mad Libs for Writing Fun includes five stories to get you started.
I would love for you to join us in our Harry-Potter Inspired writing fun!  To access your FREE printable pack, subscribe to Rock Your Homeschool!  You will receive weekly email updates with homeschool encouragement, resources, and tips.  Plus, RYHS subscribers receive a super secret password to access all freebies!  CLICK HERE or on the image below!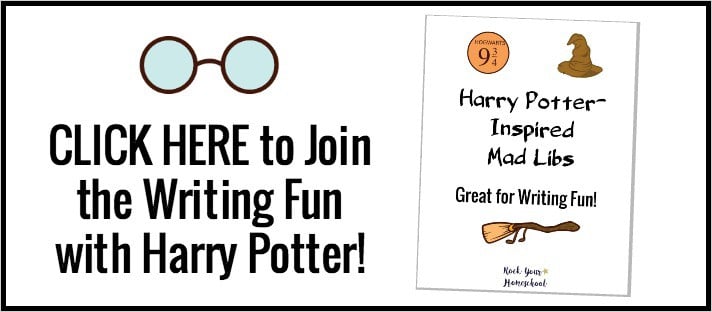 Don't miss any of Rock Your Homeschool's 5 Days of Harry Potter-Inspired Writing Fun.  Find out more here!
Make sure to check out all wonderful ways to celebrate at the Harry Potter Hopscotch!