"In order to carry a positive action we must develop here a positive vision." ~Dalai Lama
Homeschool Word of the Year.  Have you ever chosen one before?  If so, was it a successful process that you were able to carry out throughout your homeschool year?
If you haven't had a Homeschool Word of the Year, what stopped you?  New to the concept?  Or more like "I don't have time for that and it would do no good anyway"?
I have been in both places.  When I first heard of a Word of the Year, I thought, "Um, okay.  Why?"  Isn't it hard enough to plan lessons and maintain records?
After a chat with some homeschool friends, I gave it a go.  I figured it couldn't hurt to have a Homeschool Word of the Year.  It might even be a fun activity that I could do with my boys.
Unfortunately, most of those words never stuck.  Sure, they floated around our homeschool area, bobbing up and down and usually out of reach.
See, I have a tendency to squirrel.  I am one of those types whose brain gets full of 553 ideas and ways to rock my homeschool every day.  Also, I tend to have a short-term memory when it comes to activities like this.  Kind of like an overly enthusiastic puppy who bounces from new toy to a bone in about 7 seconds flat.  (Don't worry.  I'm not being hard on myself.  I am just "embracing" who I am.  Clue for my homeschool word of the year for 2017!)
 To help both you and me find homeschool focus and maintain vision, I created this free guide to Homeschool Word of the Year Challenge.
What is a Homeschool Word of the Year Challenge?
As the New Year approached, I found myself scrambling for a new Word of the Year.  I have been working on my homeschool goals, as well as preparing my Journal for Finding Your Homeschool Groove.
As I worked on these activities to boost my homeschool, I conducted a casual analysis of my strengths and weaknesses.  I tend to get distracted and lose my focus.  A new shiny curriculum comes along and I pounce on it.  A struggle arises in my homeschool and I think, "Time to shift things around a bit!"
What was lacking in my homeschool words of the year in the past?  No accountability and superficial word choices.
The words I had chosen all sounded nice and looked great on paper.  But, they had no real meaning to me or the growth of my homeschool.
I needed a plan to determine the ideal Word of the Year.  A deliberate plan, not just a few seconds without a true evaluation of our homeschool needs and wants.
Pen to paper, I jotted down my ideas and thoughts.  In doing so, I created this guide for finding the right Word of the Year for our homeschool.
#Free Guide to #Homeschool Word of the Year Challenge. 2018 is going to ROCK! #ihsnet
Click To Tweet
To join the quest for finding your homeschool focus and maintaining your vision, subscribe to our Rock Your Homeschool community with your email.  You will find these activities helpful in solidifying your vision and Homeschool Word of the Year.
You can take as long as you need to work each step.  This challenge is about helping YOU find your vision and maintain your homeschool focus.
Get Your Free Guide to Homeschool Word of the Year Challenge
This free printable guide includes instant downloads to Rock Your Homeschool resources that will boost your Homeschool Word of the Year quest.
To get your free guide to Homeschool Word of the Year Challenge, simply subscribe to Rock Your Homeschool.  You will receive a link to this guide (which will be in PDF form) in an email, along with a super secret password that opens the vault to all RYHS freebies.  In addition to your freebies, you will be a weekly email with ways to rock your homeschool plus instant downloads to all new freebies.
(Psst!  Current RYHS members just need to access the Subscriber Freebies page and enter the password in your welcome email.  Or get the instant download in the email the week of this post)
Click HERE or on the image below to subscribe and get started on determining your homeschool word of the year!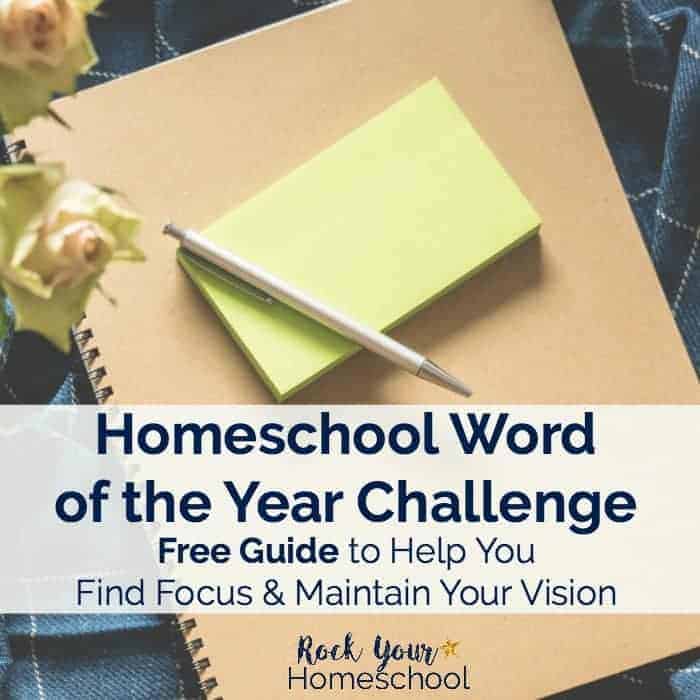 This guide is particularly helpful at the start of a new year. Some homeschoolers might find it helpful to use this guide before starting a new homeschool year. But, you can use it at any time!
I'd love for you to come back here and share what Homeschool Word of the Year you select!
Share your word in the comments below 🙂