7 Free Baby Yoda Coloring Pages for Super Fun Activities
These Baby Yoda coloring pages are perfect activities for your Star Wars fans.
With 7 styles to choose from, these free printable coloring pages provide a variety of ways to enjoy coloring fun featuring this popular character.
Check out simple yet fun coloring pages and get your free set today!
Simple Yet Special Ways to Have Fun with Baby Yoda
Baby Yoda is such a cool little dude!
All the guys in my family (that means 5 boys and hubby) are really into The Mandalorian. Well, anything Star Wars related!
I remember when I first saw this little cutie that's become so popular. I was carrying a basket of laundry and stopped dead in my tracks by all the adorableness (my boys would cringe at that).
Our family loves finding Baby Yoda-themed stuff. We've got quite a collection going. Bobblehead, books, stickers, stuffed animals, t-shirts.
When I made these free Baby Yoda coloring bookmarks, my younger boys were so excited. I decided to make (and share) these simple yet fun Baby Yoda coloring pages so they'd have a variety of ways to enjoy one of their favorite characters.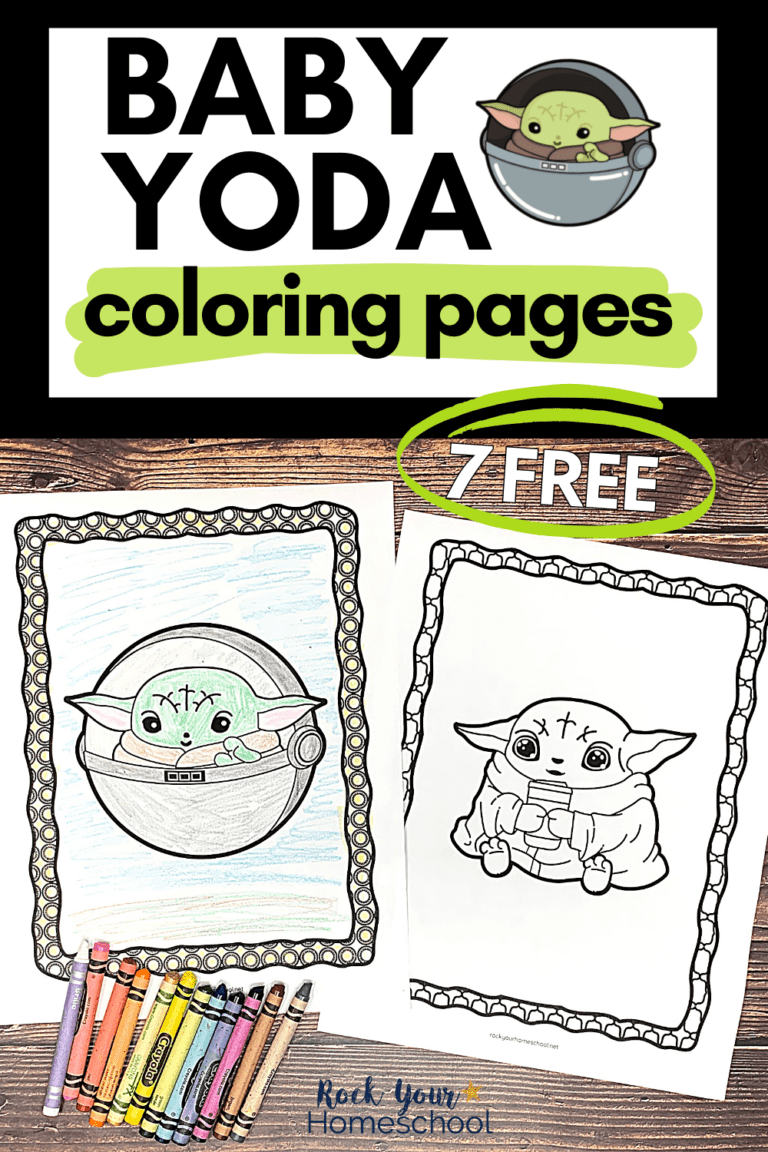 What You'll Find in This Free Pack of Baby Yoda Coloring Pages
This free set of Baby Yoda coloring sheets includes 7 styles. I added a decorative frame around each Baby Yoda (whose name is Grogu but Baby Yoda is just seems to fit!).
These pages include:
Baby Yoda in his floating hover pod
Baby Yoda enjoying a cup of soup (or tea)
Baby Yoda playing a piano keyboard
Baby Yoda making letter blocks hover
Baby Yoda taking a bath (with a rubber ducky)
Baby Yoda eating a frog
Baby Yoda meditating
Spectacular Ideas for Boosting the Fun with These Coloring Pages
Your Star Wars fans (including kids of all ages) will have a blast with these free printable Baby Yoda coloring pages.
As I always recommend with coloring activities, provide a variety of tools, like:
crayons
color pencils
markers
thin Kwik Stix
chalk pastels
oil pastels
watercolor paints
any other favorite coloring tool
Learn more about Baby Yoda and find out some cool facts. A fun way to extend the fun is to have your kids could add these facts to the back of their paper.
When your Baby Yoda coloring fun is done, cute out the completed work and glue onto construction paper or cardstock. Add stickers or decorative washi tape for a cool poster.
Or cut out the Baby Yoda (without frame) and glue to woodcraft sticks for adorable puppets and creative play.
Older kids might like to add quotes from popular scenes or some of the biggest moments from episodes of the series.
Oh, and your kids can always trace these images onto white paper (great for motor skills!) or use their own drawing style to recreate this breakout character for DIY movie posters. You can also make your own unofficial Baby Yoda coloring book.
Crayola Twistables Crayons Coloring Set, Kids Craft Supplies, Gift, 50 Count
Crayola Back To School Supplies, Grades 3-5, Ages 7, 8, 9, 10, Contains 24 Crayola Crayons, 10 Washable Broad Line Markers, and 12 Colored Pencils
Crayola Glitter Crayons, Back To School Supplies, 24Count, Multi
Crayola Silly Scents Twistables, Scented Crayons & Pencils, 72 Count
Crayola Erasable Colored Pencils, Kids At Home Activities, 24 Count, Assorted., Long
Crayola Twistables Colored Pencil Set, School Supplies, Coloring Gift,50 Count
Deli 36 Pack Colored Pencils with Built-in Sharpener in Tube Cap, Vibrant Color Presharpened Pencils for School Kids Teachers, Soft Core Art Drawing Pencils for Coloring, Sketching, and Painting
Crayola Ultra Clean Washable Markers, Fine Line Marker Set, Gift for Kids, 40 Count
Crayola Silly Scents Scented Markers, Washable Markers, 12 Count, Gift for Kids
Crayola Ultra Clean Washable Markers, Broad Line, Classic Colors, 10 Count
The Pencil Grip Kwikstix Thin Stix Solid Tempera Paint 24 Pack, Super Quick Drying, 12 Classic 6 Neon & 6 Metallix Colors, (TPG-620), Multi, 6 g
Watercolor Paint Set, 48 Colors Non-toxic Watercolor Paint with a Brush Refillable a Water Brush Pen and Palette, Washable Water Color Paints Sets for Kids Adults Artists Children Students Beginner
Baby Yoda Star Wars The Mandalorian Sticker Book Pack – Over 300 Stickers
Disney Shop Star Wars Mandalorian Sticker Set Baby Yoda Merchandise – Bundle with 8 Sheets of Mandalorian Decoration Baby Yoda Stickers (Star Wars Baby Yoda Decor)
Get Your Free Baby Yoda Coloring Pages
WooHoo! You're on your way to some super special Baby Yoda fun!
This free pack includes 7 Baby Yoda coloring pages in PDF (printable) form.
You can totally print as many of these coloring activities as you need for your personal use, family, class, homeschool co-op, or community event. If you have a friend or co-worker who might like to have some Baby Yoda fun, I ask that you please share this post with them. Thanks so much for your cooperation!
To get this free set of Baby Yoda coloring pages, simply subscribe to Rock Your Homeschool.
You'll receive an email with a PDF file, along with a password to open the Subscriber's Library to all RYHS freebies.
Plus, you'll get emails with ideas, resources, and encouragement to make life and learning fun 🙂
(Psst! Current RYHS members just need to access the Subscriber Freebies page and enter the password in your welcome email. If you have any problems or questions, please email Amy at rockyourhomeschool@gmail.com)
Get your FREE Baby Yoda Coloring Pages by tapping HERE or on the image below.
How will you use these Baby Yoda coloring pages with your Star Wars fans? Share your ideas in the comments area below 🙂
Sending you positive vibes and wishing you the joy of coloring!
More Star Wars Fun Activities for Kids