Do you have Star Wars fans in your family? My boys are obsessed with all things Star Wars! They love to read, play, and talk about the characters and plots in this series.
If you are looking for a fun way to keep your Star Wars fans busy, these Free Star Wars-Inspired Coloring Pages will be a galactic hit! Find out the different ways my boys are using these coloring pages and how you can get started today with your free printables.
Why My Rebel Force Loves These Star Wars-Inspired Coloring Pages
My boys frequently incorporate Star Wars themes into their play. They can turn any object into a lightsaber! My younger boys like to roleplay characters from both the Dark Side and the Rebels. It's interesting to watch how this type of imaginative play build their empathy skills.
But, even active Rebels need quiet times to recharge and regroup 😉
These Star Wars-Inspired Coloring Pages are fantastic for homeschool brain breaks and anytime the boys need to just chill out. For some reason when the mood strikes, they think our home is like a bouncy house or gymnasium. And I prefer not to be a referee or spend my life doing repairs.
To be prepared to crush the mayhem, I plan ahead and print out several copies of these Star Wars-Inspired Coloring Pages which include two sizes (full and small). I find it easier to whip out these printables then stop everything and wait for my printer.
The boys sit and chat about all things Star Wars while they color with markers or paint with their Kwik Stix. They cut out the smaller sizes and glue to woodcraft sticks for use as story props and puppet shows.
Get Your Free Star Wars-Inspired Coloring Pages
This printable pack of Star Wars-Inspired Coloring Pages includes 12 pages of full-size coloring sheets and 2 pages of smaller size characters. The characters are:
Chewbacca
Han Solo
Luke Skywalker
Princess Leia
Stormtrooper
Yoda
Bobba Fett
C-3PO
Ewok
Jabba the Hutt
Obi-Wan
R2-D2
These free printable coloring pages would be awesome for birthday parties, classroom use, family, and homeschool fun!
To get your free printable pack of Star Wars-Inspired Coloring Pages, simply subscribe to Rock Your Homeschool.  You will receive these printables in a PDF download in an email, along with a super secret password that opens the vault to all RYHS freebies.  In addition to your freebies, you will be a weekly email with ways to rock your homeschool plus instant downloads to all new freebies.
(Psst!  Current RYHS members just need to access the Subscriber Freebies page and enter the password in your welcome email.  Or get the instant download in the email the week of this post)
Click HERE or on the image below to subscribe and get started with Star Wars-Inspired Coloring Pages!
If you like these Star Wars-Inspired Coloring Pages, you will LOVE:
Free Star Wars-Inspired Toilet Paper Roll Figures
Free Star Wars Cards for May the 4th Be With You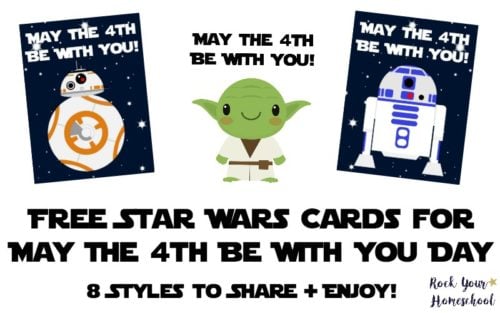 Free Star Wars-Inspired Coloring Bookmarks