13 Unbelievably Easy Ways to Make Coloring Fun for Kids
Got kids who say they don't like to color? (Or they'd rather eat the crayons then use them for coloring?)
If you'd still like to help your kids gain the benefits of the coloring process, you have some incredibly simple (and frugal) options for boosting coloring time.
Discover how you can use these 13 unbelievably easy ways to make coloring fun for kids.
These ideas are so cool that you'll want to join the creative fun 🙂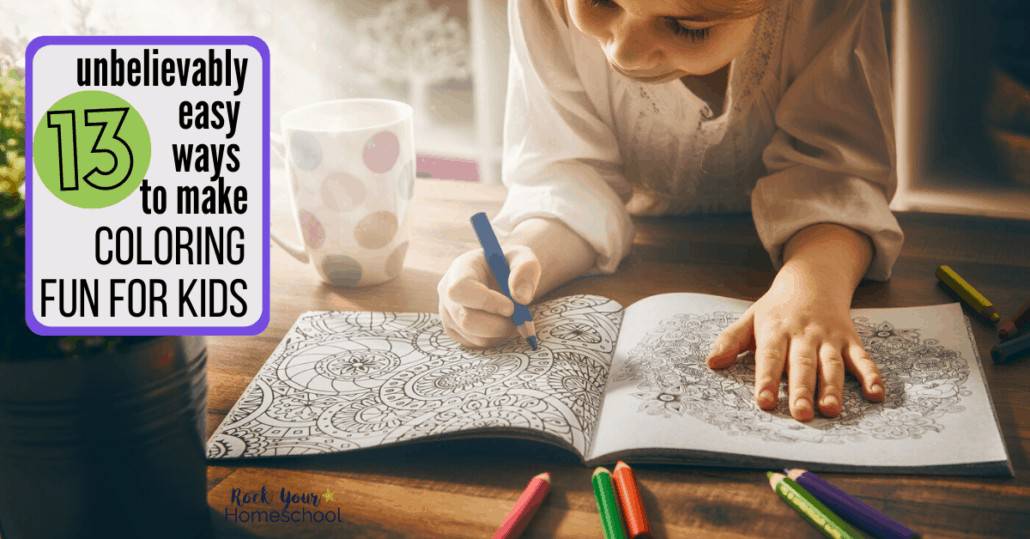 Got a Coloring Grouch?
I've always loved to color.
A new box of crayons and a coloring book were some of the best gifts I could receive as a kid.
I'd spend hours looking at the different colors and names as I dreamed up new ways to use my crayons.
Naturally, when I had kids, I thought coloring would be a magical time filled with connection and creativity.
My oldest, Captain, didn't mind coloring activities. He preferred the blank page over a coloring book. And that's cool.
Then, my second boy came along…
Professor (now 14) strongly despised coloring. From the texture of the crayon to the sound of it moving across the page, everything about coloring irritated this boy. He was a coloring grouch.
(He also didn't care for handwriting. As a left-handed child with undiagnosed dysgraphia, I often wonder if there was a connection…)
Since Professor didn't like to color, I didn't force it. There are many other ways to enjoy arts and crafts!
But, his preschool teacher was a big fan of coloring, with multiple pages and activities to do a day.
Professor is rather intense and his emotions would get the better of him when he got home (more descriptively, he'd curl up into a fetal position on the floor with shrieks and sobs).
I knew that I couldn't make Professor love coloring. But, I knew there had to be some creative ways to help him enjoy coloring fun for kids.
These 13 unbelievably easy ideas worked for Professor and his three younger brothers. I share these suggestions with the hope that you can use these tips to avoid those tears and frustration with your coloring grouch 😉
Why Coloring Is a Fantastic Activity for Kids
Before I get to these incredible ideas and tips, let's look at how coloring benefits kids and why you'll want to try these suggestions.
Color Psychology shares 10 benefits of coloring pages for kids, including:
Improved motor skills
Stimulation of creativity
Better eye-hand coordination
"Boundaries, structure and spatial awareness"
Mom Junction provides a list of 13 advantages that coloring gives your kids, like:
Improve handwriting
Confidence boost
Relaxation and patience practice
Pencil (writing utensil) grip
Coloring is such a simple activity with so many wonderful ways to boost learning and skills!
13 Unbelievably Easy Ways to Make Coloring Fun for Kids
These simple ideas for making coloring fun for your kids are gentle ways to help your child better enjoy the experience.
I suggest using only one idea at a time and gauging how it goes. If that suggestion works, fabulous! Add that one to your toolbox for making coloring fun for kids.
As always, you know your child best. Start with the idea that you think your child might like best. You can chat with your child about these ideas and let them pick, too.
1. Use a variety of coloring materials
Sure, crayons are cool for coloring.
But, color pencils, markers, and erasable pens can be such fun.
Other easy-to-use coloring materials that my boys love are Kwik Stix and erasable highlighters.
All of these utensils add a different feel to the finished product and may feel smoother to use.
Crayola Inspiration Art Case Coloring Set, Gift for Kids Age 5+
Crayola Jumbo Crayons, Assorted Colors, Great Toddler Crayons, 16Count
Crayola Ultra Clean Washable Crayons, Built In Sharpener, 64 Count, Kids At Home Activities
Crayola Ultimate Crayon Collection Coloring Set, Gift Age 3+ – 152 Count
Crayola Twistables Crayons Coloring Set, Kids Indoor Activities at Home, 24 Count
Crayola Erasable Colored Pencils, Kids At Home Activities, 24 Count
Crayola Twistables Colored Pencils Coloring Set, Kids Indoor Activities At Home, Gift Age 3+ – 50 Count
Crayola 50ct Washable Super Tips Markers 50 Color Variety
Crayola Super Tips 100ct with 20ct Silly Scents, Amazon Exclusive, 120 Markers, Gift for Kids, Multi
Pilot Frixion Gel Ink ColorSticks Pens, 10 Pack
PILOT FriXion Colors Erasable Marker Pens, Bold Point, Assorted Color Inks, 12 Count (44155)
The Pencil Grip Kwik Stix Solid Tempera Paint – Classic, Neon, & Metalix (18 Pack)
2. Textures
Add some pizazz to coloring fun for kids with a bit of texture.
Go on a hunt around your home (inside and outside) for different textures.
Indoor textures that work well include crumbled-then-smoothed aluminum foil, sandpaper, knobby fabric, and brick.
Outdoor textures that are amazing for jazzing up your coloring fun include tree bark, leaves, and concrete.
Use a piece of washi tape or painter's tape to secure your coloring page on top of the texture. Use your favorite coloring tool to see the effect of that texture on your artwork.
3. DIY Frames
Make your own special frames to display your coloring pages.
You can use cardstock or cardboard for a sturdy background.
Mark off the frame area and decorate. Some fun ways to decorate your DIY frame are with:
stickers
buttons
small shells
pompoms
pipe cleaners
stamps
sequins
small pebbles
pressed flowers
woodcraft sticks
washi tape
aluminum foil
cotton balls
After decorating your frame, use washi tape or painter's tape to secure your coloring page to the frame. You'll be able to reuse the frame again and again!
Neenah Creative Collection Classics Specialty Cardstock Starter Kit, 8.5 X 11 Inches, 72 Count (46407-01)
Astrobrights Color Paper, 8.5" x 11", 24 lb/89 gsm,
Neenah Cardstock – Heavyweight, 110 lb/199 gsm Index, 94 Brightness, 8 ½ x 11, 300 Ct. – MORE SHEETS! (91635)
Corrugated Cardboard Sheets – 24-Pack Flat Cardboard Sheets, Cardboard Inserts for Packing, Mailing, Crafts – Kraft Brown, 8.5 x 11 Inches
Chenille Kraft Big Bag of Plastic Buttons
500-700 Pcs Mixed Color Assorted Sizes 2 and 4 Holes Round Resin Buttons DIY Crafts for Children's Manual Button Painting and Sewing
Sinceroduct Reward Stickers for Kids, Value Pack of 80 sheets, total 5220 Reward stickers, Incentive Stickers for Kids Various Design Styles Including Smiley Face Stickers & Star Stickers Supplies Tea
SAVITA 3D Stickers for Kids & Toddlers 500+ Puffy Stickers Variety Pack for Scrapbooking Bullet Journal Including Animal, Numbers, Fruits, Fish, Dinosaurs, Cars and More
Juvale Tiny Craft Spiral Seashells for DIY Crafts, Home Decor (0.4-1 Inches, 180 Grams)
Weoxpr 500pcs Tiny Sea Shells Mixed Ocean Beach Conch Craft Charms for Home Decorations, Beach Theme Party, Candle Making, Wedding Decor, DIY Crafts, Fish Tank and Vase Filler(6-8mm)
Caydo 240 Pieces 1 Inch Assorted Pom Poms, Pompoms for Hobby Supplies and DIY Creative Crafts Decorations
EpiqueOne Huge 2100 Pieces Pom Poms for Crafts Including 100 Colored Googly Eyes. Vivid Multicolor Glitter Pompoms Pink, Red, White, Blue. Wide Variety of Sizes 10-50mm. for Hobby, DIY, Decorating
10 Colors Mixed with 100 Hand-Woven Materials, Environmentally-Friendly Quality Tops, DIY Twisted Sticks, Hair Roots, Eye Hair Balls
BULK CRAFT CUP SEQUINS MIXED COLORS and SIZES ~ Great Big Pack ~ Over 5,000 sequins
PAXCOO 100 Pcs 6" Colored Jumbo Wood Craft Sticks
4. Make a Book or Keepsake
Give your coloring experiences purpose!
Perhaps having a goal or reason for coloring will help your child get excited about coloring? Also, coloring with intention can give your child the motivation they need to do their best work.
5. Repurpose Your Coloring Artwork
Again, color with a purpose. This time, however, think about how your child can use their pages as gifts, cards, and wrapping paper.
6. Creative Display and Decor
Coloring pages don't have to end up in the trash can! Help your child know that their work is valuable and meaningful.
Place your child's coloring pieces on the refrigerator and other frequently visited places. Place in your DIY or purchased frames.
Coloring pages are wonderful conversation pieces that add a special touch to your home and office.
7. Add "Styles" to Make Coloring Fun for Kids
That's what my boys call this technique 😉
You don't have to just color in the lines (unless it's a specific direction for school work!).
Your child can use a variety of "styles" to add a unique touch to their coloring pages. A few ideas include:
dots
circles
lines
zigzags
swirls
crosshatch
8. Give a Challenge
Maybe your child complains that coloring is "too easy" and "babyish"?
Give your child a fun challenge to bump up the required effort!
Have your child use their opposite hand (non-dominant) to color.
Or your child can only color with one eye open.
Use washi tape or masking tape to stick a few fingers together to see what it feels like.
A bit of a creative challenge can turn a simple activity into lots of fun.
9. Watercolor Wash
When your child's coloring artwork is complete, add a splash of color.
Apply watercolor paints to the coloring page. Your child can use one color or add a variety. It's fascinating to watch the watercolors soak into the paper and bead off the crayon wax.
10. Enjoy Interest-Led Coloring Fun
Provide your child with coloring pages with themes from their favorite books and movies. My boys LOVE our Harry Potter and Star Wars coloring pages and activities.
These types of themed-coloring pages are also wonderful for holidays. Kids are already excited about the holiday and coloring pages might not seem so boring 😉
11. Play Music to Make Coloring Fun for Kids
Put on some of your favorite tunes to create a special atmosphere for while your child colors. You can select the music that your child needs at the time: relaxation, upbeat, etc.
12. Listen to Audiobooks
Another easy way to boost coloring fun for kids is to listen to an audiobook. My boys and I have enjoyed countless audiobooks as we've had coloring fun. Great bit of distraction for your coloring grouch 😉
13. Make Your Own Crayons
Kids love to know that they're a part of what's going on. Gather up your old crayons, peel off the wrappers, and create your own coloring tools.
These unique crayons might just be the special touch that your child needs to get excited about coloring.
I hope you've found these ideas and suggestions helpful in making coloring fun for kids. Do you have other easy ways to boost coloring activities for kids? Please share in the comments area below!