Free Christmas Lights Scavenger Hunt for Holiday Family Fun
Enjoy a simple yet super fun holiday activity with this free printable Christmas Lights Scavenger Hunt!
You can use this scavenger hunt in so many different ways. Find out more and get your free set today!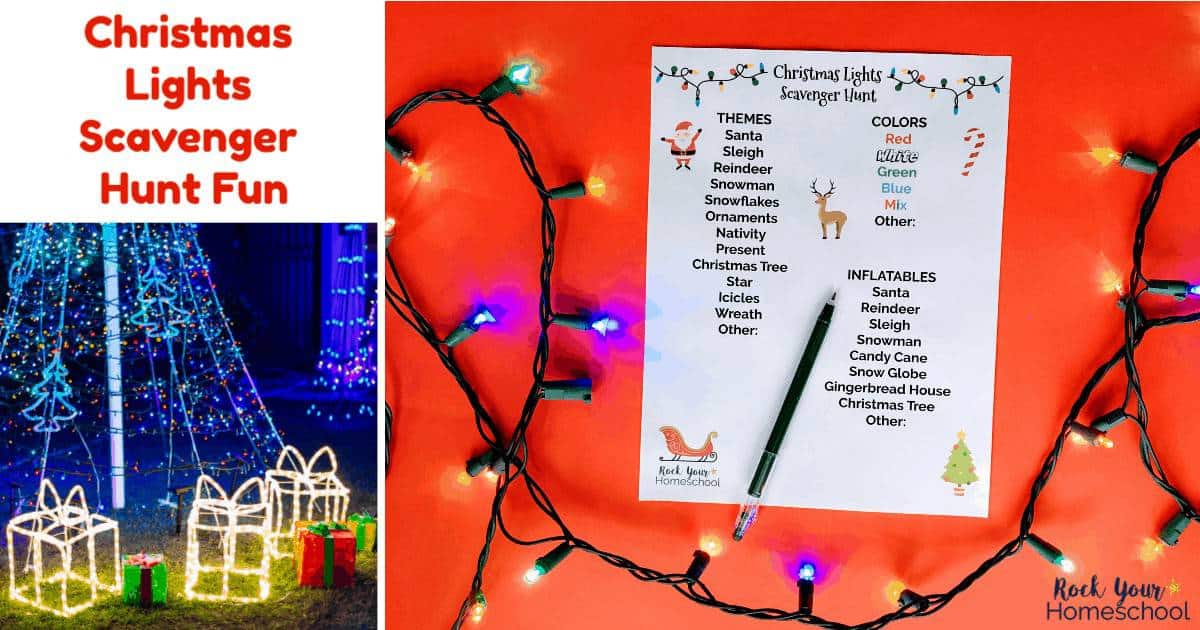 Make the Holidays Even More Fun with a Christmas Lights Scavenger Hunt
My family and I always look forward to the holidays. We each love it for a variety of reasons. And we all get so excited as it approaches!
The change of season brings crisp, cold air to gulp down and enliven our moods. Usually, the first snow (or two) has fallen, blanketing our evergreens with a coat of white and inviting us to come out and explore.
So many exciting things to do! Shopping, wrapping, and trying to keep presents well hidden. Baking, cooking, and planning fun events.
Decorating occurs both inside and out, with old and new ornaments and lights to ooh and aah over. Captain, our oldest, morphs into our very own Buddy the Elf. He leads his brigade of elf brothers through the adorning of our home and yard. It's such fun to have our family join together in such merriment!
And our holiday excitement extends beyond our yard! As we travel to and from soccer events and other extracurricular activities, we regale in the beauties of the season. All those glorious Christmas lights!
Traveling in our silver minivan (it's not a sleigh, but a soccer mom needs her space!), the boys and I take note of all the Christmas light displays we see. We smile over old favorites and point out new additions.
Such a simple yet powerful activity!
When the boys and I are gazing upon all those glorious Christmas lights, we're doing several things:
Paying attention to our surroundings (and not watching a video or on a phone)
Making observations
Discussing those observations
Breaking off into tangents about those observations (like, talking about the new Santa display down the street to wondering what type of circuits and such go into building something like that)
And most priceless part of it all:  easily turning a rather ho-hum event like driving into meaningful family fun for the holiday season (ho-ho-ho!)
If you want easy holiday fun with your family, plan on a Christmas Light Scavenger Hunt. You'll be glad you did 🙂
Great Ideas to Boost This Wonderful Time During This New Favorite Christmas Tradition
If you need a great idea or two to enjoy this fun activity with the entire family, here are a list of things to consider:
Make some hot chocolate or hot apple cider
Add a small prize or little prizes for a fun reward
Bring along some yummy Christmas cookies and treats
Have a candy cane while you look
Comment on different Christmas decorations that you find (and may want to get for next year)
Go to a Christmas light show, in your own neighborhood, or local neighborhood for variety of different light displays
Laminate your Christmas light scavenger hunt game and use dry erase markers to make it reusable
Work in pairs if in a larger group
Get Your Free Printable Christmas Lights Scavenger Hunt
As with most family events, keep your Christmas Lights Scavenger Hunt simple.
Before embarking on your journey, go over a few rules and expectations. For our family, those rules include:
Talking one at a time (takes a bit of practice but very worth it!)
Everyone gets a turn at holding the clipboard with our printable Christmas Lights Scavenger Hunt (using a clipboard makes it easy to record our observations and prevent its destruction)
All family members are encouraged to think about their favorite Christmas light and talk about it when our drive is done (or during dinner)
Depending on which boy is doing the recording and how long our trip is, we either cross out the item or place a dot (or tally mark) next to it. The latter option gives you a chance to chart multiple observations of the same item.
You can print out as many copies as you like of this free Christmas Lights Scavenger Hunt for personal use. Some kids (and adults) like to have their own copy to record, make notes, and doodle on. Do whatever works for your family! And if you know of a family who'd enjoy this activity, please share this post with them 🙂
To get this FREE printable pack of reindeer activities, subscribe to Rock Your Homeschool with your email address.
⭐️ You'll receive an email with a PDF file plus a password to open the VIP Resource Library to all RYHS freebies. Email Amy at rockyourhomeschool@gmail.com if you have any problems!
Oh, and you'll also get emails with ideas, resources, and encouragement to make life and learning fun 🙂
(Hey hey! Current RYHS members just need to access the VIP Resource Library page and enter the password in your welcome email.)
TAP HEREor on the image below to subscribe and get started with these free printable Christmas Lights Scavenger Hunt!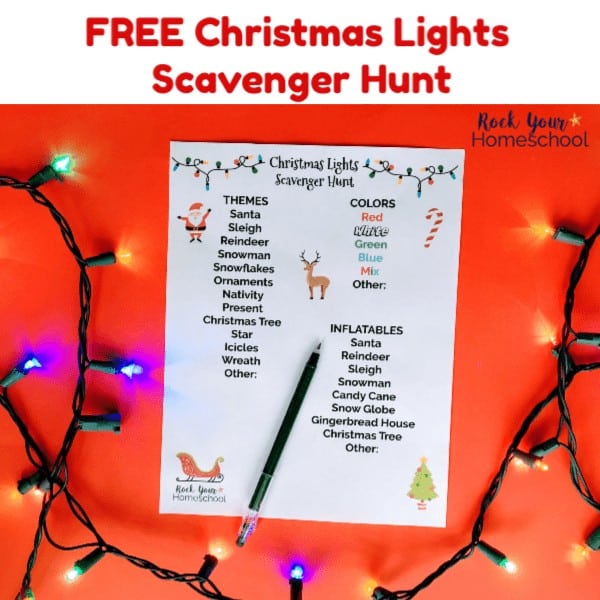 Do you like to look at Christmas lights with your family? What's your favorite type of lights?
​Wishing you and your family a great time with this simple way to enjoy holiday cheer together!
Got a fun idea on how to take this printable Christmas light scavenger hunt to the next level? Please share in the comment section at the bottom of this blog post.
Part of Ultimate Christmas Planning Link-Up for a Stress Free Holiday
More Free Printables for Christmas Fun
If you like this Christmas lights scavenger hunt, you'll love our other Christmas fun activities like: