Free Christmas Memory Game for Fantastic Holiday Fun
Enjoy a simple yet super fun holiday activity with kids using this free Christmas memory game.
Great hands-on way to keep kids busy as they practice important thinking skills!
Check out this free printable set and find out how you can use it to help your kids enjoy the holiday as they boost learning.
The Story of How Our Christmas Memory Game Came to Be
All of my boys love playing memory games with me. Our favorite kinds of memory games for kids have special themes related to a movie or television show.
Recently, I was playing this Toy Story Memory Game with my three younger boys. They wanted to play a game and I was tired from a long day of homeschooling and shuttling older boys to and from soccer. I pulled out this memory game for easy interactive fun.
As we were cheering each other on as we played the game, I thought it would be awesome to have a Christmas version to enjoy during the holiday season. All of the holiday hustle-and-bustle usually leaves me drained but I still want to share special moments with my boys.
I added Christmas Memory Game to my to-do list. I love creating printables, especially learning fun activities to use with my boys.
When I printed out these memory game cards, my boys couldn't wait to start playing. They love all things Christmas and don't care what time of year it is 😉
I'm so glad to have this simple, open-and-go Christmas game to play with my boys. The perfect game for when you don't have a lot of time or energy but still want to have fun!
Why Memory Games for Kids Are Excellent Activities
Did you know that memory games are fantastic activities for kids? These games might look simple but do a great job of building:
Concentration
Attention span
Differentiation
Visual memory
Self-awareness
Self-confidence
Problem-solving skills
I love how my boys talk their solution-focused strategies. They really have to pay attention to make sure they make the match.
Also, memory games are fabulous ways to practice growth mindset skills for dealing with challenges, patience, and perseverance.
Creative Ideas for Boosting the Fun of This Interactive Christmas Game
Take this Christmas Memory Game to the next level with these cool ways to bolster the fun.
Play Christmas music in the background. Here's a list of Top Kids Christmas Party Songs to help you set the holiday mood.
Have small prizes to award to the winner of each round. You don't need anything expensive or fancy. Christmas mini-erasers, pencils, stickers, and stamps are fun little prizes that your kids can use for their holiday school work.
Make it more of a challenge! When a player makes a match, they need to do ______. Some fun ideas are to use hands for antlers and do a reindeer dance. Or act out wrapping a present. Even something simple like clapping your hands three times.
Use the cards for a different type of game. Hide the cards around the room or your home. Players must find the cards and make a match. Great way to help kids burn off all that holiday energy 😉
200 Pieces Mini Erasers Assortment Mini Christmas Erasers Animal Erasers Kids Erasers Bulk Cake Erasers Mini Pencil Erasers Santa Erasers Assorted Novelty Erasers (Christmas)
LanMa 30Pack Christmas Erasers Christmas Puzzle Erasers Perfect for Party Favors, Stocking Fillers,Kids Christmas
7.5
48 Pieces Christmas Pencils with Eraser Xmas Wood Pencils Holiday Pencils with Christmas Elements for Christmas Gifts Party Supplies, 12 Styles
THE TWIDDLERS 50 Christmas Pencils with Eraser Toppers – Xmas Stocking Stuffers
Christmas Stickers for Kids 200 Holiday Stickers for Party Favors 8 Sheets
1000 Pcs Merry Christmas Stickers for Kids Roll 1.5 Inch Christmas Holiday Stickers, Snowman Snowflake Bell Santa Elk Hat Tree Christmas Sticker for Envelopes Cards Gift Bags Wrapping Party Supply
30 Pieces Assorted Christmas Stamps 10 Different Style Self Inking Stamps Colorful Christmas Stamps for Kids Gifts, Party Favors, DIY Crafts, Goody Bag Favors
Get Your Free Christmas Memory Game for Kids
Ready to add this Christmas Memory Game to your arsenal of easy and fun holiday activities?
You'll get 3 pages of these memory game cards for a total of 36 cards (18 pairs).
I encourage you to print the cards on cardstock for durability and to make sure you can't see cute Christmas images through the other side when playing.
For simple storage, put in a zipper sandwich bag or secure with a paper clip.
To get your free printable set of Christmas Memory Cards for Kids, simply tap here or on the image below.
You'll be able to subscribe to Rock Your Homeschool and join our fun community.
These printable cards will be sent via email in a PDF file. You'll also be added to our email list so expect an email with our password to the Subscriber's Library of Freebies (+ additional emails to help you make life and learning fun 🙂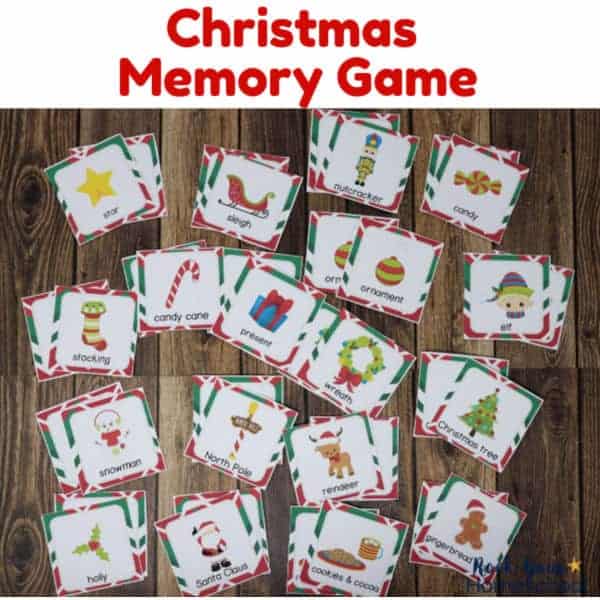 How will you enjoy this fun holiday activity with your kids?