Christmas Alphabet Game for Easy Holiday Fun (Free Printable)
Christmas Alphabet Game for the win!
Enjoy an easy yet fun activity with your kids this holiday season.
Find out more about this simple activity, creative ideas on boosting the fun, and get your free printable today!
Awesome Alphabet Game for Special Holiday Fun
Are you looking for an easy way to make your holiday event special? Sweet! You'll love this Christmas Alphabet Game 🙂
The alphabet game is a simple way to enjoy fun with kids. You can make it interactive, independent, or a team challenge.
All you have to do is think of words for all the letters of the alphabet. For this free printable activity, you'd write down Christmas-related words. It's a great way to enjoy a combination of holiday and letter recognition games. For example:
A = angel
B = bells
C = carol
D = decorations
E = evergreen
etc.
My boys and I have had a blast with our other alphabet game printables. I couldn't wait to make and enjoy this Christmas Alphabet Game with them, too 🙂
Wonderful Ways to Make this Holiday Activity Shine
If you're new to the alphabet game or just want to make sure this activity is super fun, here are some ideas and suggestions:
Special holiday-themed writing utensils can always boost this game 🙂
Great for an ice breaker at a holiday party!
Enjoy as an easy activity at your holiday party or classroom morning time.
Give your family and friends an extra challenge of thinking of more than word for each letter!
Place a copy of this alphabet game and a pencil in a frequently visited area. Attach a note that encourages passerbys to add a word or two.
While listening to Christmas carols, jot down words from the songs.
Use while you watch your favorite holiday movies.
Print out an extra copy of this alphabet game to use on a family trip during your holiday travels.
A perfect way to get started is to chat with your kids about each letter of the alphabet and which Christmas word you could use.
An extra challenge for older kids is to try to go only in ABC order with a Christmas theme!
Fun prizes or rewards can make this Christmas alphabet game awesome! I'll be picking a few of the items below to use with my boys 😉
Consider adding other holiday activities, like our free Christmas bingo game, Christmas memory game, and other printable holiday games!
7.5
48 Pieces Christmas Pencils with Eraser Xmas Wood Pencils Holiday Pencils with Christmas Elements for Christmas Gifts Party Supplies, 12 Styles
Christmas Winter Themed Pencil Set – 24 Count
Holiday Smelly Gellies – Scented Glitter Gel Coloring Sticks, Crayons, Highlighters – 5 Count – Gifts for Kids, Stocking Stuffer by Scentco
ArtCreativity Holiday Sticker Assortment – 100 Assorted Sticker Sheets of Christmas Themed Stickers – Great Christmas Party Favors, Goodie Bag Fillers, Holiday Decorations for Boys and Girls Ages 3+
Ornament Stickers Christmas Roll Sticker for Kids Christmas Cards Envelopes Seal Gift Tags 500Pcs
TINYMILLS 12 Pcs Christmas Holiday Stamp Kit for Kids – Christmas Santa Claus Self Inking Stamps Gift Party Favors Stocking Stuffers Party Rewards
30 Pieces Assorted Christmas Stamps 10 Different Style Self Inking Stamps Colorful Christmas Stamps for Kids Gifts, Party Favors, DIY Crafts, Goody Bag Favors
Get Your Free Printable Christmas Alphabet Game
Be ready for a wonderful holiday celebration with kids. Grab your free alphabet game with Christmas themes now!
You may print out and use as many copies of this Christmas ABC game that you need for for personal use with your party, class, homeschool, co-op, library, and family. Enjoy! If you know a co-worker, friend, or family member would enjoy this fun alphabet game, please share this post. Your sharing is very appreciated 🙂
When you join the Rock Your Homeschool community by subscribing, you'll get this printable activity in a PDF file in an email, along with a password that opens the vault to all RYHS freebies.
In addition to your freebies, you'll be sent emails with creative and easy ways to make life and learning fun 🙂
(Psst! Current RYHS members can click here >>> Subscriber Library page to enter the password that you receive in your welcome email. Please contact Amy at rockyourhomeschool@gmail.com if you have any questions or probelms.)
TAP HERE or on the image below to subscribe and get started with this free printable Christmas Alphabet Game for easy holiday fun with kids!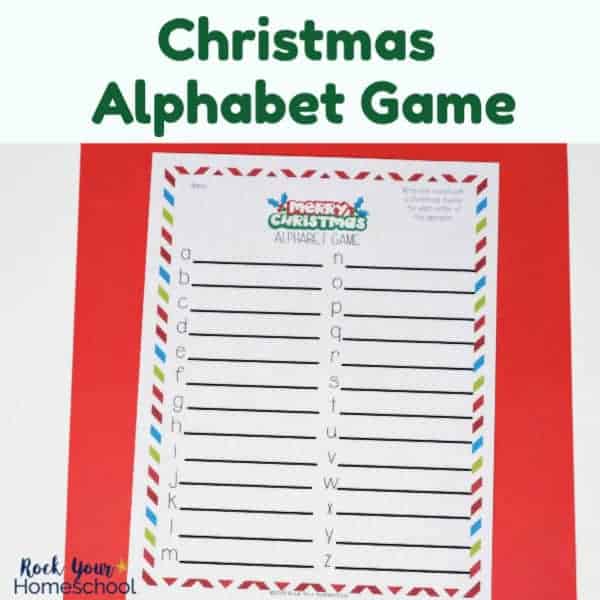 Wishing you and your family a very Merry Christmas season 🎄
Share how you and your kids will be using this Christmas Alphabet Game in the comments area below. And please let us know if you have ideas for different ways to enjoy 🙂
More Fun and Free Printable Christmas Activities