11 Fantastic Ways to Have Fun with Fox in Socks
Fun with Fox in Socks is a fantastic way to celebrate Dr. Seuss Day in your homeschool, class, and family.
These free printables and hands-on activities can motivate and inspire you to plan for awesome learning fun with your kids with this classic book.
My boys and I absolutely love this book. It's a great resource for early readers to practice sight words, rhyming, and more. We've shared many giggles over the silly scenarios and characters.
When I find a book that my boys enjoy, I seek out ways to extend the learning fun. These types of activities are fabulous ways to connect and get your kids talking about the book.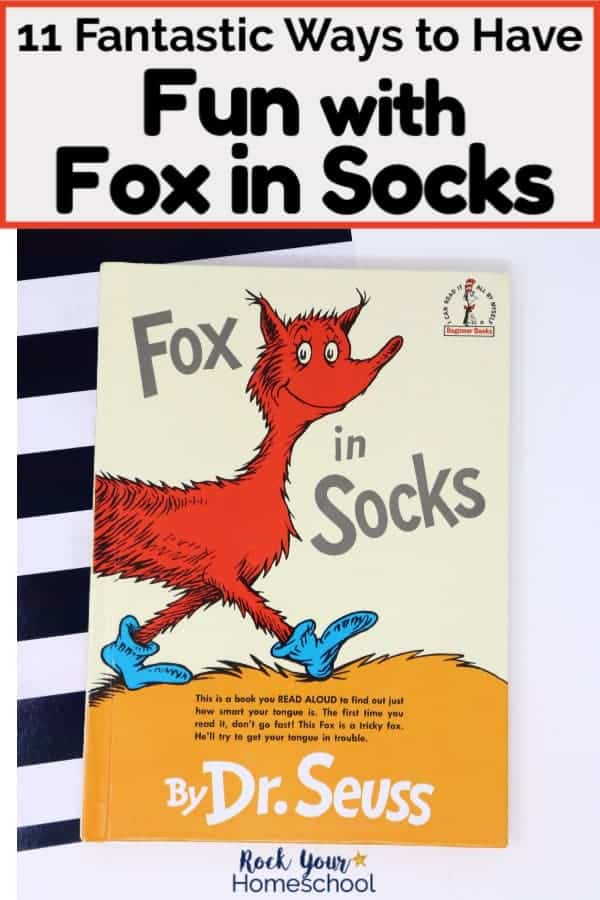 Have Fun Using These Free Printables for Fox in Socks
Free Learning Fun Printable Pack for Fox in Socks (Rock Your Homeschool): This free printable activity pack includes story cards, word scramble, and bookmark craft to boost learning fun with Fox in Socks.
Socks for Fox Printable (Early Learning, Mom Trusted): Use this free printable sock template to decorate and customize. Here's an example of how decorated socks could be used for a display.
Fox in Socks Mini Printable Pack (Enchanted Homeschooling Mom): Free printable pack with science and math activities about red foxes.
Fox in Socks Rhyme and Record Worksheet (Teach Junkie): Free printable worksheet to record CVC words found in Fox in Socks.
Reading and Rhyming with Fox in Socks (Lindstroms on the Road): Fun activity to practice sorting words found within Fox in Socks.
Printable Fox Mask Template (First Palette): Use this free printable to create a fox mask to wear during your Fox in Socks reading.
Fun with Fox in Socks with Hands-On Activities
Fox in Socks Tweetle Beetle Battle Bottle (Mad in Crafts): Super fun activity to pair with Fox in Socks! Includes free printable cards to boost the learning fun with this DIY iSpy game.
Twisting the Tongue with Fox in Socks (Babies to Bookworms): Check out these cute suggestions for learning with Fox in Socks. Includes ideas for tongue twisters and even making chores fun!
F is for Fox in Socks (My Bright Firefly): Here's an activity for preschoolers and older kids to rhyming and fine motor skills.
Fox in Socks Rhyming Activity (Miss Dana's Games): Make a DIY book for a rhyming activity and for a keepsake. Kids can draw their own pictures, cut out pictures from magazines, or use images from our free printable Fox in Socks pack.
Fox in Socks Sock Puppet (JDaniel4's Mom): Cute idea for a DIY fox sock puppet to use for read-aloud time with Fox in Socks.
If you like these free printables and hands-on activities to enjoy with Fox in Socks, find more great ways to have Learning Fun with Dr. Seuss here at Rock Your Homeschool! Here are a few of our favorites 🙂
2 Free Dr. Seuss-Inspired Cootie Catchers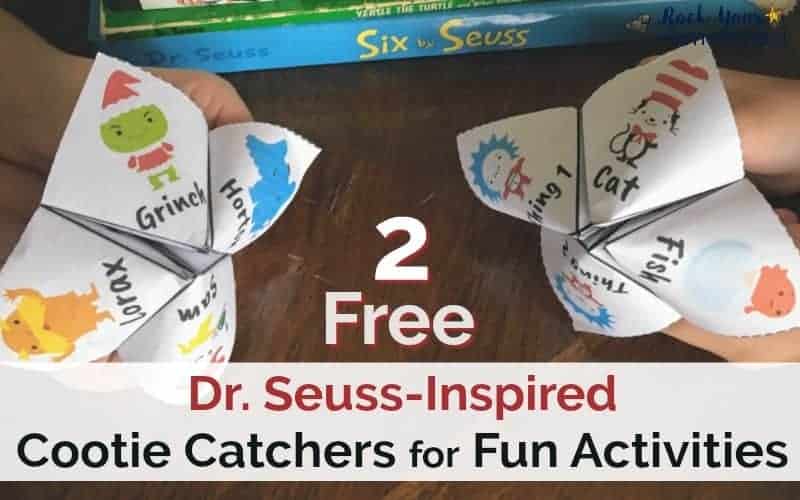 FREE Dr. Seuss-Inspired Bingo Game
FREE Dr. Seuss-Inspired Printable Pack of Learning Fun Activities