Free July Conversation Starters for Fun Chats with Kids
These free July conversation starters are easy ways to enjoy fun chats with your kids about seasonal and fun holidays. You can make the most of the special time you get with your kids this summer 🙂
Find out more and get started today with these fun discussion (or writing) prompts!
Looking for some great ways to engage your kids this summer? Check July Conversation Starters and how these printable prompts can help you have fun chats with your kids. Perfect for summer break, family fun, and homeschool activities!
July Conversation Starters Are AWESOME for Summer Fun!
Summer is such a fantastic time to hit the relax button. Longer days mean more time to play and hang out with family and friends. Wonderful opportunities to get your kids talking as you build strong relationships!
Hopefully, your summer schedule has some wiggle room for more leisurely breakfasts (or at least one meal!) and time to connect with your kids. Those moments are perfect for helping your kids learn invaluable conversation skills. You'll be able to get to know your kids better and have some fun as you talk about all sorts of things.
But, what if you feel like a deer-in-headlights when it comes to striking up a conversation with your kids? It sounds easy enough but when you finally have a minute to sit down and engage your kids in the discussion, your mind might be on a gazillion other things. Result: no idea what to talk about.
To help you be prepared and fully enjoy those special moments with your kids, get these July Conversation Starters. You'll have them in your fun mom tool belt to spark interesting discussions or for writing prompts.
Get Your Free July Conversation Starters!
These free July Conversation Starters include monthly, seasonal, and fun holiday themes. Keep it simple with these conversation prompts to get your family started and build on your conversational successes.
Print the 4 pages and use as-is or you can cut into strips. Some conversation starters coincide with homeschool fun days. You can adapt the conversation starters to best fit the ages and stages of your homeschool, classroom, or family.
There are 7 conversation starters per page with each page divided into 4 weeks (28 total conversation starters). Mix it up or follow the order in which they are presented. Customize to optimize your experience!
When you join the Rock Your Homeschool community, you'll receive these printables in a PDF download in an email, along with a super-secret password that opens the vault to all RYHS freebies. In addition to your freebies, you will be a weekly email with ways to rock your homeschool plus instant downloads to all new freebies.
(Psst! Current RYHS members just need to access the Subscriber Freebies page and enter the password in your welcome email. Or get the instant download in the email the week of this post)
Click HERE or on the image below to subscribe and get started on rockin' your homeschool with July Conversation Starters!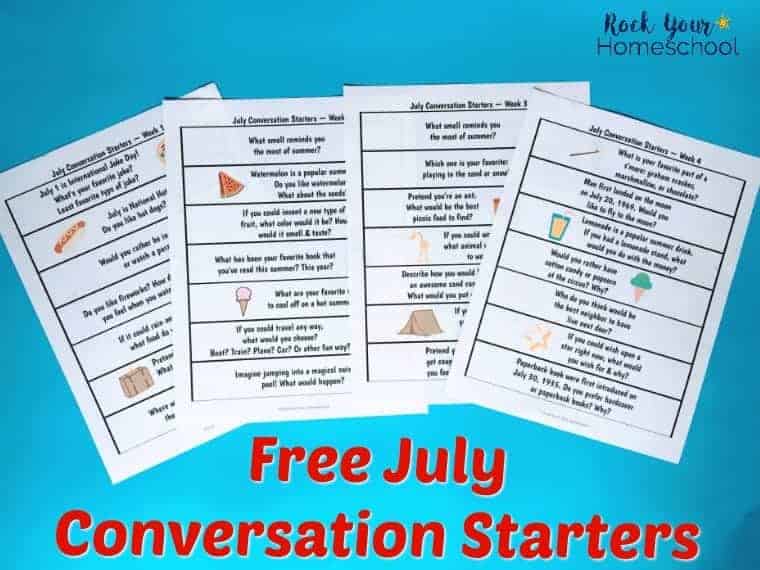 How will you use these summer conversation starters with your kids?
If you like these July conversation starters, make sure to check out all of our free conversation starters for kids! You can find them here and get your free printable prompts for fun chats.